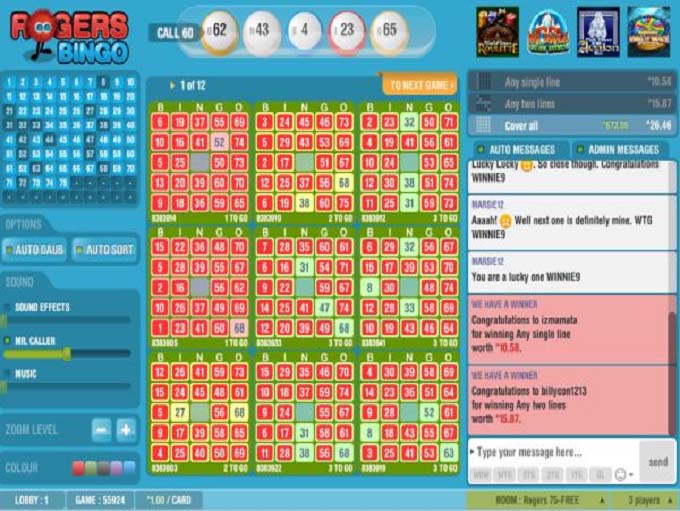 Even though I used to like the site very much I don't go to Rogers Bingo that often nowadays. There are many reasons, but one, probably decisive, is that there aren't many players. The bingo rooms are empty and often there are not enough bingoers for a game to start. This time I decided to buy tickets for all available rooms, and then do something else because I realized I wouldn't be playing bingo at all.
Most tickets were expensive I think; in a 75-ball room I needed €0.34 for a card, I thought that was too much though I was going to play only one game in every room, so actually that was affordable. There were three players at best, including me, and ten was needed. I decided to play in a free bingo room, where only one more, third player needed to join in and that one player was me. The prize money wasn't important and I didn't feel like playing at all, so I stayed for only one game. The game had three parts and I was hoping I could win one of those at least. Oddly enough, I was the only one who won nothing.
It was sad to see that nothing much was happening. Since it looked to me that bingo was like a dead valley I was going to play slots. I chose to play the "Sassy Bingo" slot. I had a lot of fun; I had triggered the bonus games quite a few times and I really had a feeling like I was playing bingo for real. It was important that I was winning; so if real bingo didn't work, this slot did.
I have found out later that I didn't win anything on games for which I had pre-bought the tickets. I kind of forgot about it so I wasn't too sad about it especially since I had luck playing slots.
Markotik
Back to articles
Your feedback
Please enter your comment.
Your comment is added.