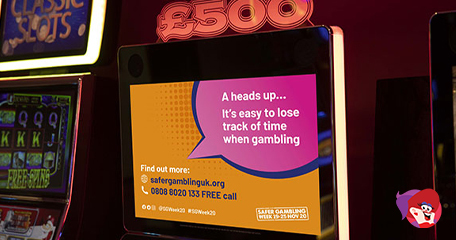 You may have noticed your favourite bingo/casino website has been promoting safer gambling more than usual this month, and this is to coincide with the upcoming Safer Gambling initiative. Each year, the gambling industry gets together to promote the importance of responsible gambling and dedicates a whole week to the cause. With an aim to get conversations flowing with customers, staff and the wider public, Safer Gambling Week 2020 will be driving home the message of how to gamble safely while providing the necessary tools to help people gamble safely all year-round.
From the amusement arcades to online casinos, the whole of the UK and Irish gambling industry will be making an effort to be noticed and will be readily available to provide resources for advice and support should players need it. We're giving LBB'ers an insight into what you can expect from 19th to 25th November right here, so go grab a cuppa and make yourself comfortable.
Very Informative
Being a responsible gambler has its perks; take Tombola for example, players will trigger a £1 bingo bonus for setting safer gambling tools in motion – a quid may not seem like much but it's free and anything you win from it will be credited as real money with no wagering. You can expect Tombola (and other online bingo sites) to hammer home the Safer Gambling Week message through its Facebook page– you'll find it with all the latest I'm a Celebrity Get Me Out of Here gossip and promotions.
Tips to help you stay gamble safe include:
Only spend what you can afford! This is super important. We urge our bingo community to make use of deposit limits, 'play time' and 'spend time' limits available to them within their account; these measures stop you depositing more than your stated limit, playing longer than your maximum time set and spending more by upping your stakes.
Don't gamble when you're angry, upset or drinking alcohol – all of these emotions alter your perception of responsibility and make it especially difficult to make clear decisions.
Don't let gambling interfere with your personal relationships nor your work.
How do you know if you have a gambling problem? For many of us it isn't as easy as looking at what we're spending, so knowing the signs will help you get help for yourself or a loved-one. If gambling is having more of a negative impact on your life than a positive one, the chances are you need help. According to the Safer Gambling website, here are the key signs for someone with a gambling problem:
Spending more money and time on gambling than you can afford
Finding it hard to manage or stop your gambling
Having arguments with family or friends about money and gambling
Losing interest in usual activities or hobbies, like going out or spending time with friends or family
Always thinking or talking about gambling
Lying about your gambling or hiding it from other people
Chasing your losses or gambling to get out of financial trouble
Gambling until all your money is gone
Borrowing money, selling possessions or not paying bills in order to pay for gambling
Needing to gamble with larger amounts of money or for a longer time to get the same feeling of excitement or 'buzz'
Neglecting work, school, family, personal needs or household responsibilities because of gambling
Feeling anxious, worried, guilty, depressed or irritable
Help is free and confidential and can be accessed on the GamCare or BeGambleAware website or by telephone on 0808 8020 133.
Bingo Society News
Back to articles
Your feedback
Please enter your comment.
Your comment is added.
TinTinn
11/13/20, 09:11:35 AM
Great tips! I've already seen messages on Facebook for this and find it quite useful.