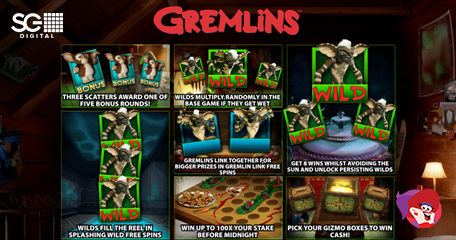 You've seen the movie – now it's time to play the game! Not all Mogwai are cute and cuddly like Gizmo, some are evil and want to cause as much havoc as possible. So, if you'd rather not have hell unleashed, you best stick to the three very strict rules; don't get them wet, don't expose them to bright light and don't feed them after midnight!
The thrills begin in the attic of Billy's home where not even he is safe from his dad's inventions. Brightly coloured bulbs surround the 5x3 slot machine, but all eyes will be on the horrific looking eggs – the birthing pod of the evil Mogwai! Posters adorn the walls and a calm and almost serene setting, but all that's about to change because the rules were broken!
SG Digital has teamed up with Red7 deliver a gaming experience like no other in the brand-new Gremlins themed video slot. Impressive audio includes the iconic soundtrack from the 1984 movie as well as growls and sniggering from Stripe – the evil leader of the first-borns. The hair on the back of your neck is guaranteed to stand up with every spin of those reels, unless you choose to switch the volume off.
Keep Gizmo Safe!
Stripe is the game wild while Gizmo is the game's bonus symbol; the former substitutes for standard symbols whilst the latter triggers the bonus game. During the base game, there is a chance that wilds symbols could multiply on the reels at the end of a spin. Trust me, you're going to want Stripe to get wet here!
Also, to keep things entertaining, there is a random feature which could see wilds being replaced by bonus symbols, and you know what this means? The bonus selector is triggered where one of the following is selected:
Splashing Wild Bonus Spins: Eight free games are awarded. When Stripe appears, he will jump into a pool and expand upwards to cover the entire reel. Additional bonus spins can be re-triggered via Gizmo bonus symbols.
Gremlin Link Bonus Spins: Free games begin with 3 lives. A life will be lost on any spin that fails to produce a Stripe wild. Lives will be reset on the presence of Stripe and each one of these symbols will hold a cash prize which will be collected at the end of the feature. When Gizmo lands, all active cash will be multiplied by 2x, 3x or 5x!
Avoid the Sun Bonus Spins: An unlimited number of free games are activated. After 8 winning spins, the persisting wild is brought into play (sticky wild). The free games end when a total of 11 or more sun symbols have landed.
Gizmo Box Hunt: A pick and click style bonus featuring nine boxes each level (4 levels).
More Cash After Midnight: Styled to resemble a board-game, you must spin the clock to move Gizmo safely around the board. He will pick up multipliers along the way. Land on any number between 1 and 11 to win – 12 you lose!
The new Gremlins slot game has an RTP of 96.47% making it a medium variance. The game should be live across the online bingo network very soon. Don't forget to let us know what you think when you play it!
Source: "Gremlins". SG Digital.
Bingo Games
Back to articles
Your feedback
Please enter your comment.
Your comment is added.
Member's Feedback (1)
Bubles12
03/24/20, 12:03:59 PM
There are slots for literally everything – Batman and Narcos. Why hadn't we thought of Gremlins before? It sounds pretty cool. Can't wait to play it.