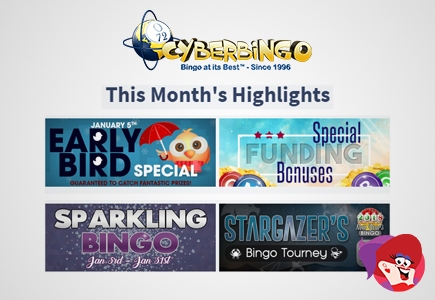 Cyber Bingo
believes in new outlooks and new beginnings – that's what the start of every new year should evoke in us, a yearning for novelties and new chances. As a part of their New Year Resolution, they've decided to start 2018 in unprecedented style – with bingo tournaments, cash prizes, guaranteed pots and specials and numerous other events – even the Grammy Awards Special! So let's get started with the overview, as there is a lot of ground to cover.
As an opener, the site has lined up the Stargazer's Bingo Tourney: played every hour in the New Year's Bingo room, it has a cash prize of $1000 that is shared by the top 10 players.
Slot action comes in the form of a Winter Slots Tourney, with prizes of up to $1000 ($2500 is a total prize fund) in cash on all winter-themed slot games.
Throughout the entire month, Wednesday nights (from 8 to 9 PM) will be something to talk about because this is when Sparkling Bingo takes place in the Diamond Bingo room, boasting amazing cash awards.
Winter Warmer $1500 Guaranteed Pots is the perfect remedy to ward off wintertime sadness. A guaranteed prize of $1500 in cash can be won on January 13th in the New Year's Bingo room, starting at 8 PM – and this promo comes with an excellent Buy 3 Get 2 Free card offer!
A horoscope variant is taking place on January 15th in the same room and it contains even more guaranteed cash prizes. The Buy 3 Get 2 Free offer is valid on this one as well.
The biggest prize of the month awaits on January 27th in Tourney Bingo room. Aptly named, Big Bingo Event, it gives away $13,000 in guaranteed cash prizes. The event begins at 10 PM EST.
Finally, one big event cannot go on without another one. On January 28th, Madison Square Garden in New York will be hosting the annual Grammy Awards, the 60th iteration since its inception. To celebrate the occasion, the site will be holding a Grammy Awards Special with great prizes. The fun begins at 8 PM in the USA Bingo room.
It is going to be a memorable January, so don't forget to join this site for an amazing bounty of promos...
Bingo Software
Back to articles
Your feedback
Please enter your comment.
Your comment is added.