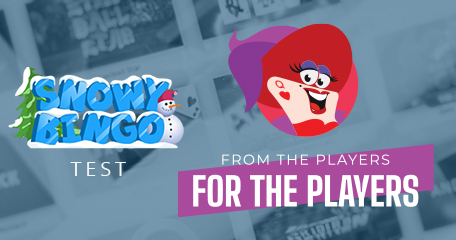 Since 2016 Snowy Bingo has been delivering a flurry of fun and a blizzard of jackpots for both online bingo and slots players. A delightful frozen and typical wintry theme waits to welcome players along with cool promotions and plenty of brrrilliant freebies. Newbies don't need to guess what's on offer here as the welcome page displays all of its exciting wears, along with the offer of free bingo games where you can win real money (up to £1K every Monday!). With all this in mind we wanted to put them to the From the Players for the Players test. Did our reviewer (and avid bingo player) discover some chilling surprises, or did everything run like clockwork? Stick with us as we reveal all there is to know about Snowy Bingo.
Tester of the day: tillythegolden
Registration: Existing player
Deposit date, amount and payment method: Deposited £150 via Visa Debit on Tuesday 12th April
Withdrawal request date: £75.21p via Visa Debit on Tuesday 12th April
Withdrawal received date: £75.21p was processed and received via Visa Debit on Thursday 14th April
Registration
On Tuesday, 12th April, our reviewer, tillythegolden, headed to Snowy Bingo to make a deposit, play some games and withdraw. Having previously registered, our reviewer first reset their password as it had been a while since the last login.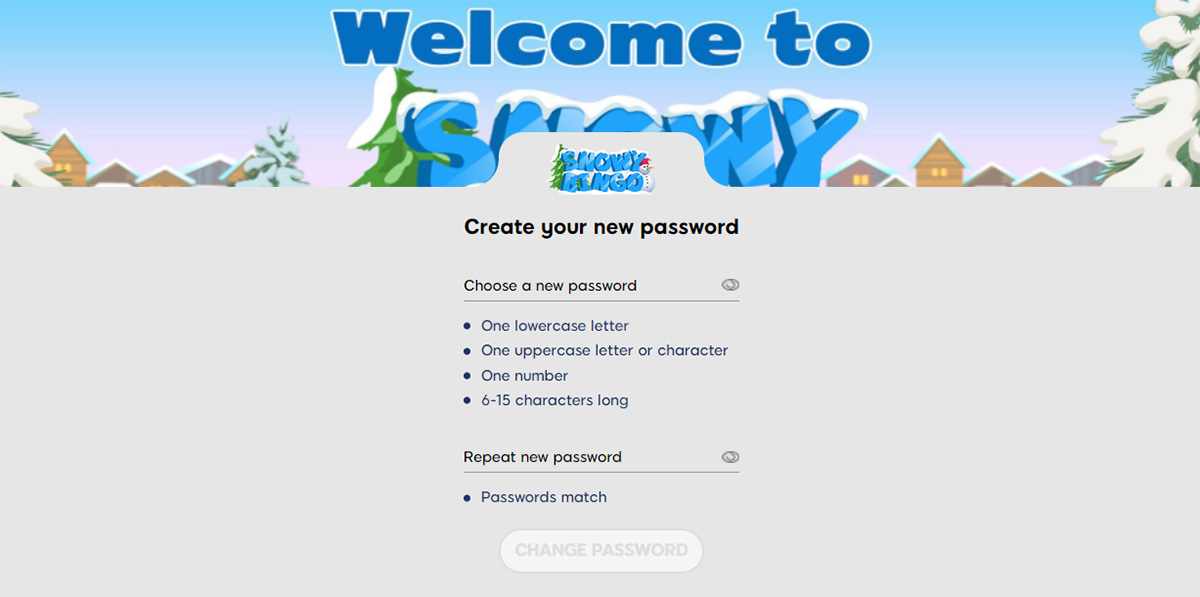 Once the new password was established, it was off to the cashier to deposit.
Initial Deposit
The bingo lobby is home to a very large and unmissable green deposit button, which is handy for new players. The banking options for UK players include debit card and PayPal. Considering the PayPal process and identity checks, Visa Debit seemed the slightly faster option.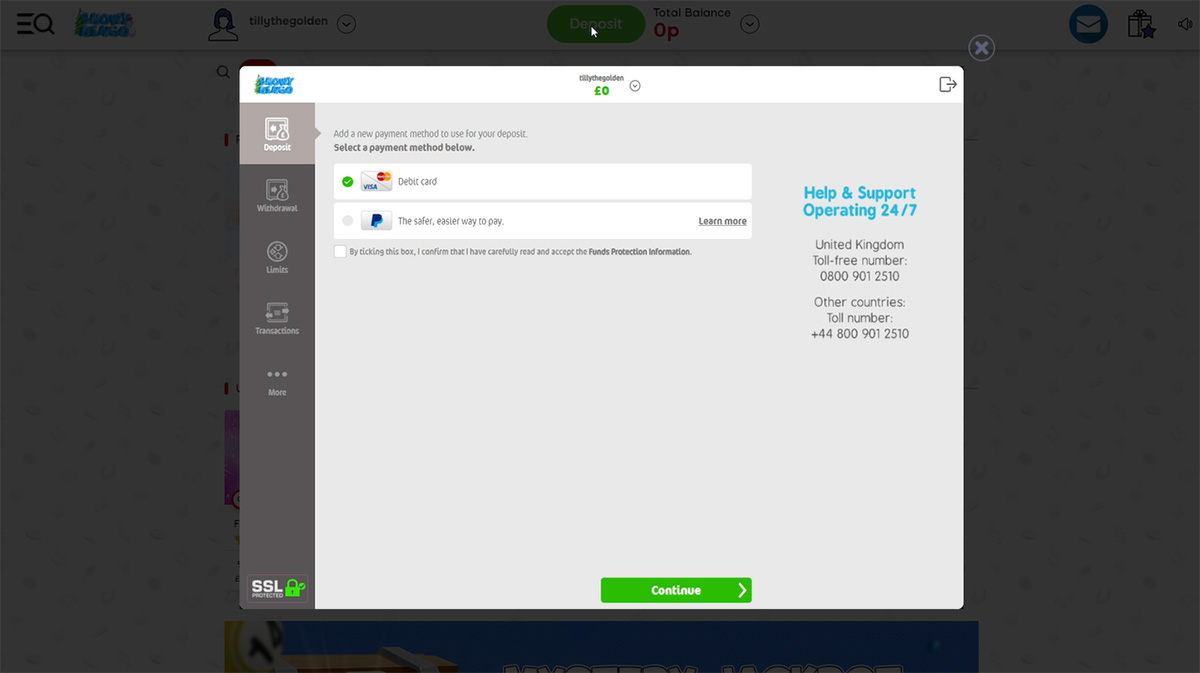 After tapping in the long card number and the expiry date and year, she reviewed her name and address details before proceeding. The next step was to choose the deposit sum from the pre-set values on screen. As none offered a deposit option of £150, tillythegolden manually typed this amount into the "others" box.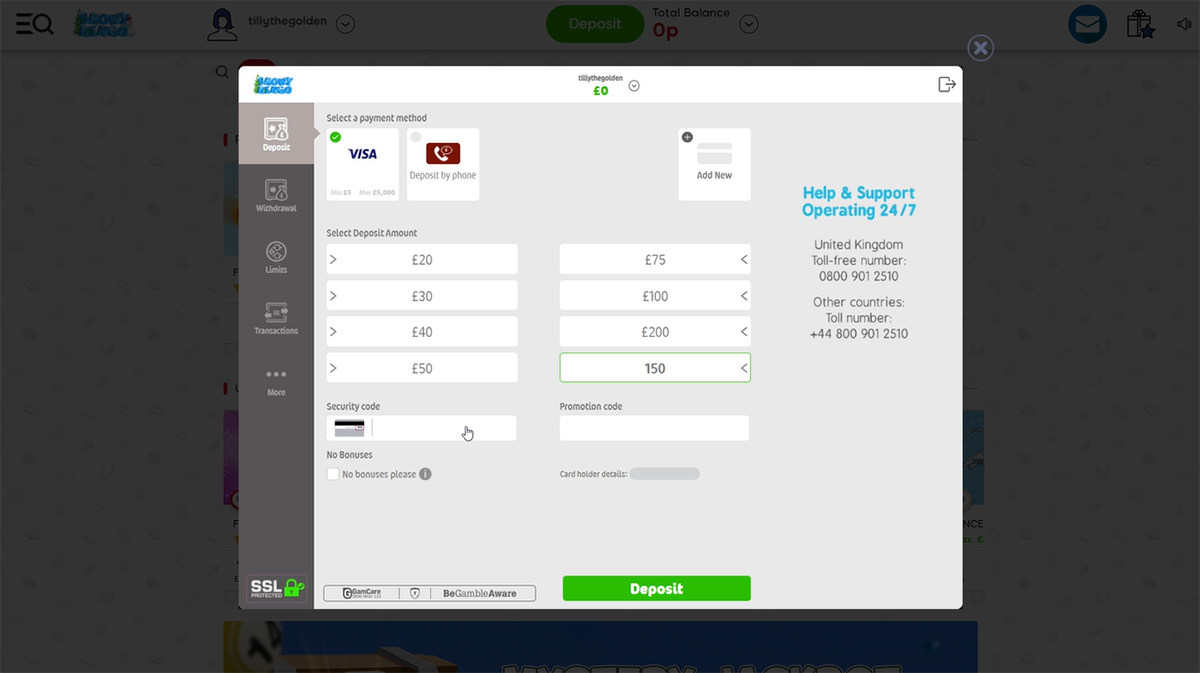 Adding the 3-digit security code from the back of her card and removing herself from any bonuses (to eliminate wagering requirements) she pressed the deposit button to proceed. The final step was to verify the transaction via her mobile banking app. This was done by opening her Lloyds Bank app on her smartphone and pressing the 'confirm deposit' button.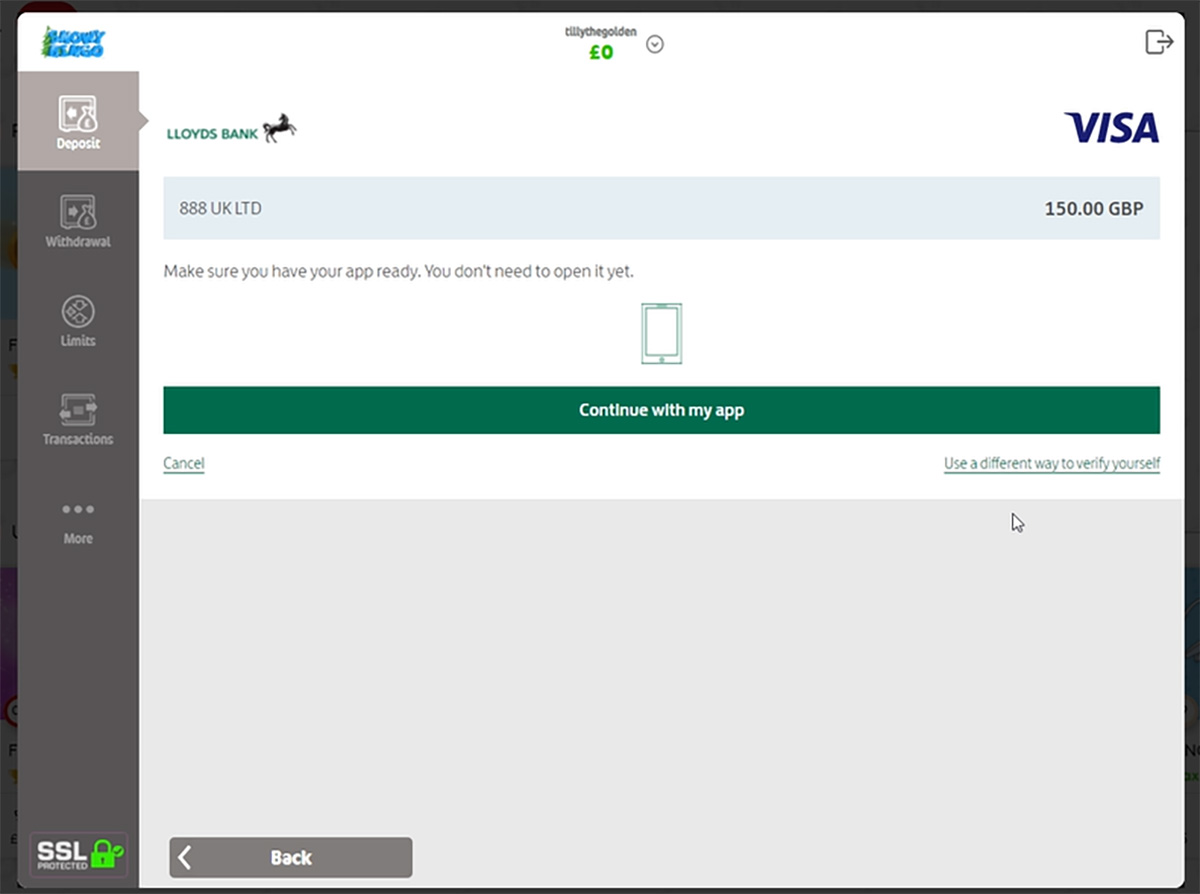 Once verified, the £150 was in her Snowy Bingo account.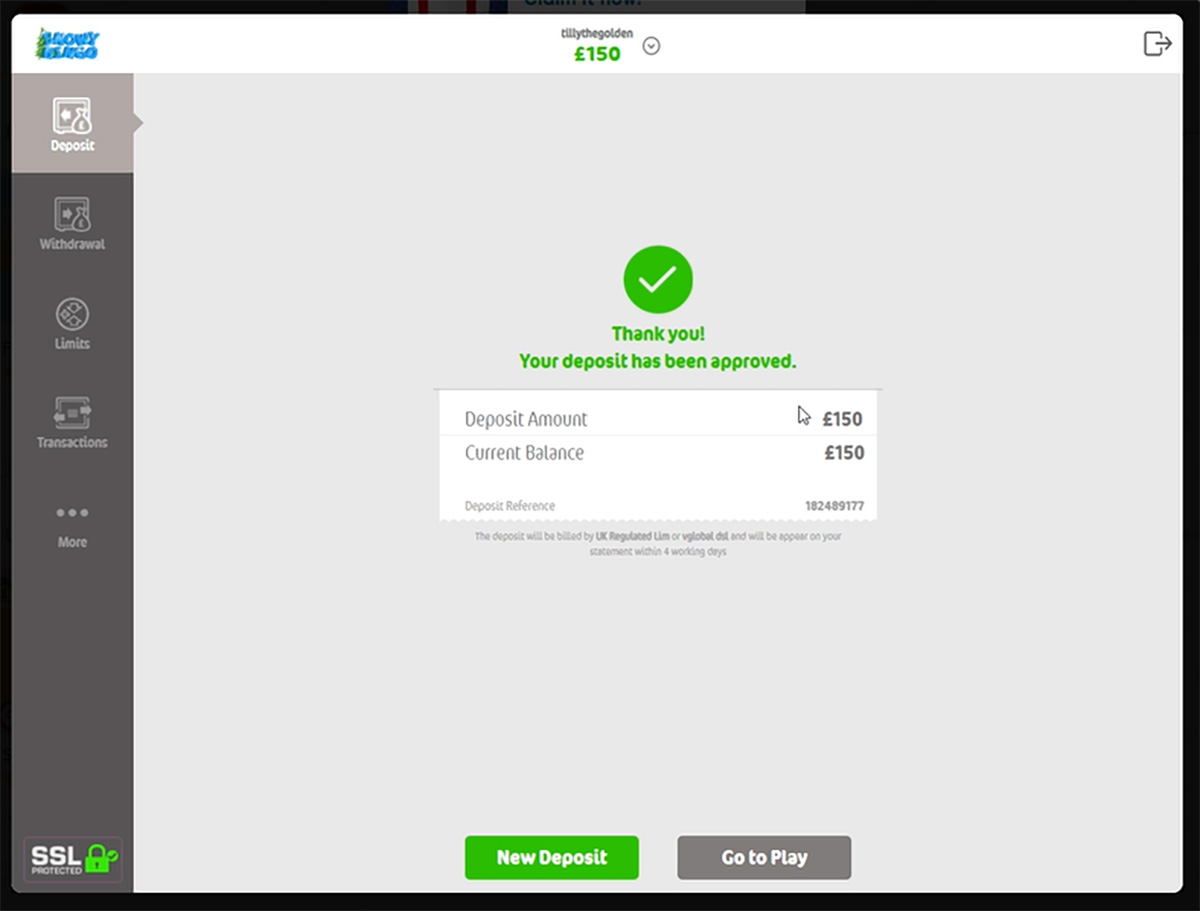 Gameplay
As soon as our reviewer made a deposit, a pop-up appeared on screen informing her she had received 600 shop coins. Snowy Bingo's shop has bonus spins, free bingo tickets, games bonuses and real money prizes (up to £10) that are all available in exchange for coins. They even have sales and tickets to rooms offering a chance to win (with fewer players).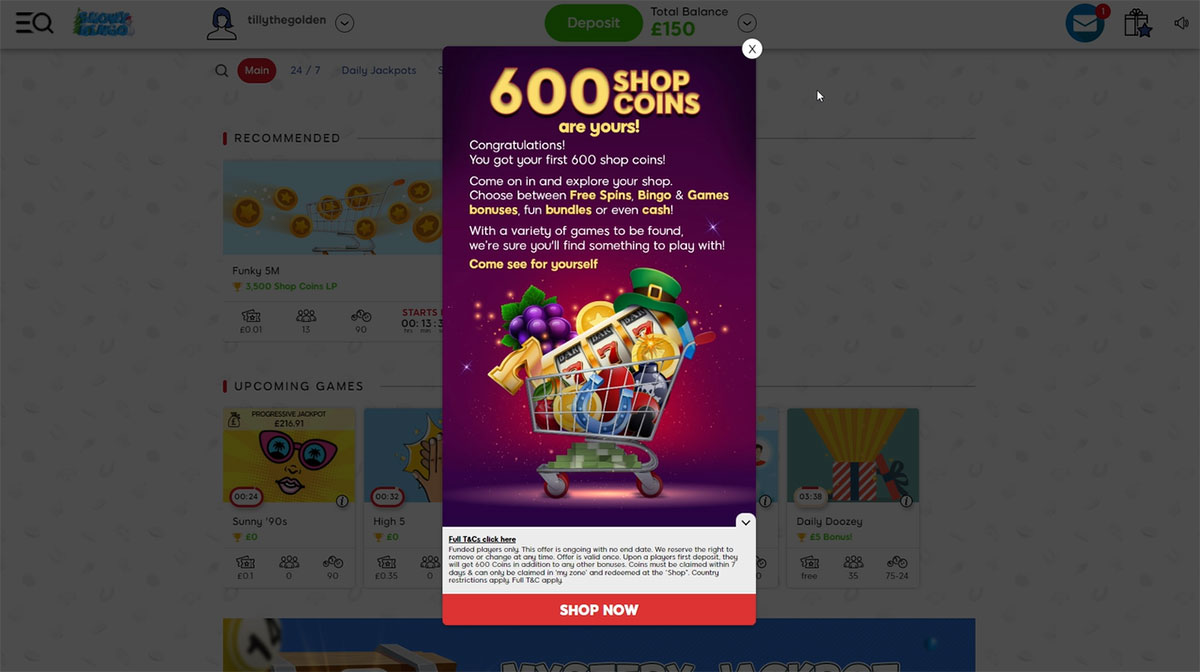 The bingo lobby offers a snapshot of what's available at Snowy Bingo with quick links to 24/7 bingo rooms, daily jackpots, specials, exclusive games and freebies. Details on each bingo room include start times, ticket prices, the number of players in the room, the bingo variant and whether there are any jackpots, and all this info is there to help players find the rooms that suit their style of play. Fewer players in the bingo rooms equal higher odds of winning. More players mean less chance to win but bigger prizes.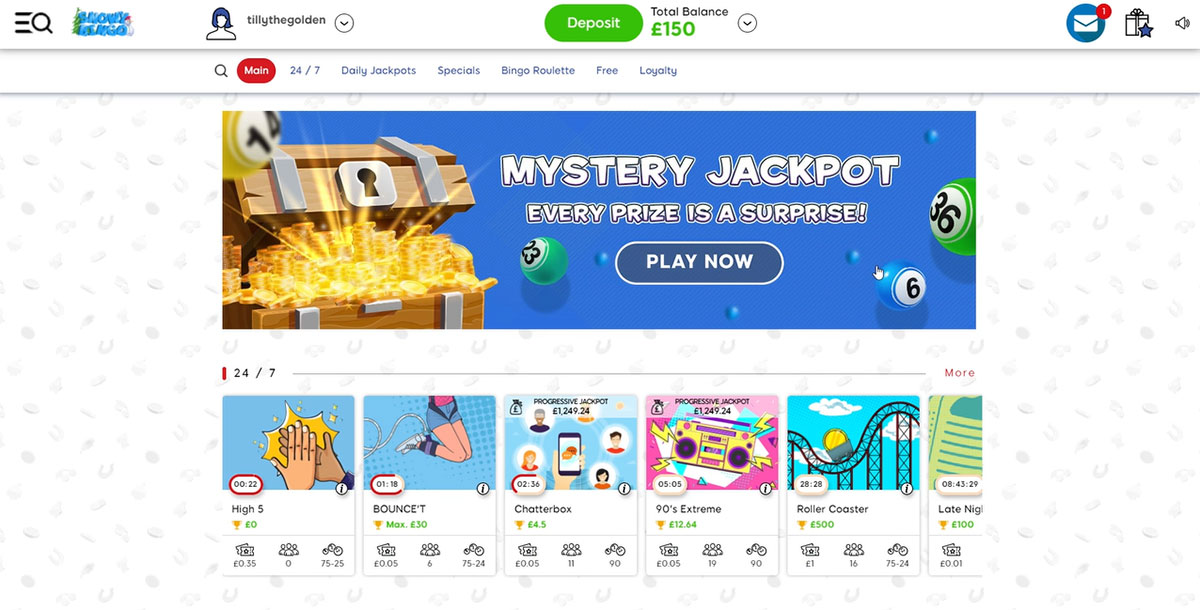 The Snowy Bingo wintry theme is very much left at the door with the bingo lobby and (multiple) bingo rooms boasting more of a bright and cheerful design. Bounce'T is just one of the rooms sporting a summer theme with animations to match. All bingo rooms come with their own unique theme, but they do have a few things in common which include side games, the ability to play in more than one room at a time and chat. If playing in multiple rooms you can only view one at a time. Our reviewer noted the dabbers came as standard with no option to customise plus the chat feature can be hidden if you'd rather not take part in chat games and quizzes. Bingo bonuses (or shop coins) can be won in frequent chat games, however, the rules state players may only win 1 chat prize per hour.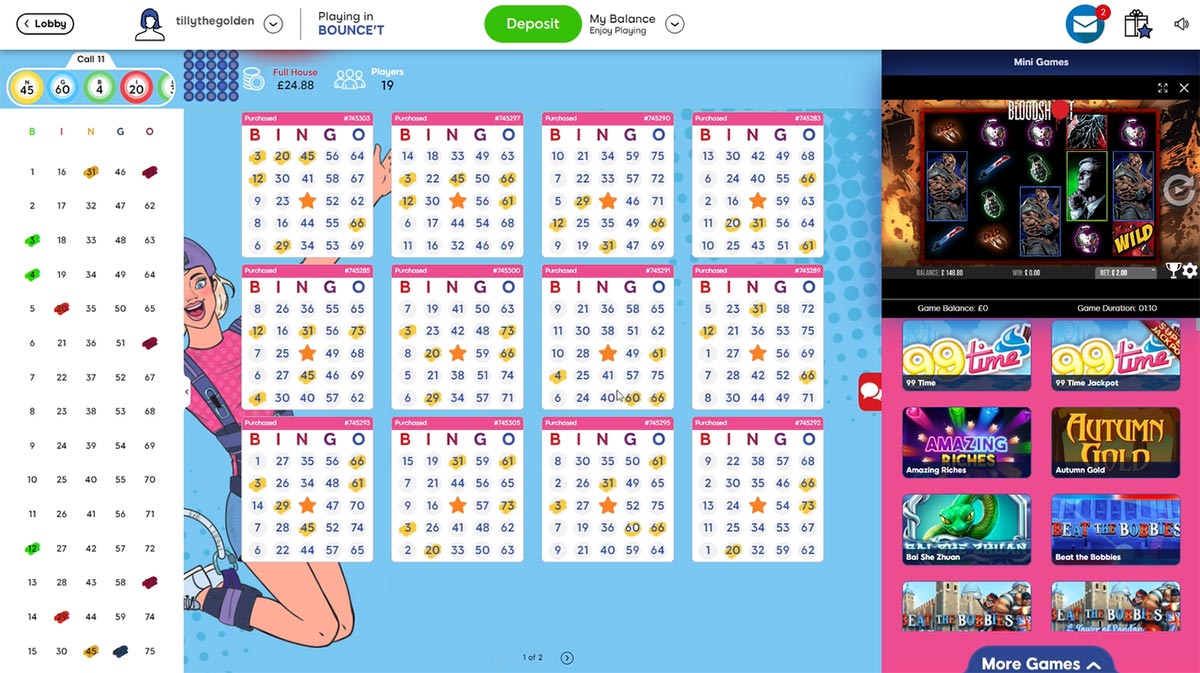 Weekend bingo tournaments are a popular feature at Snowy Bingo as it offers more chances to win extra funds without the extra spends. As our reviewer was playing on a Tuesday, these rooms were closed. Other special rooms include card-based bingo with a standard deck of 52 cards being used in place of bingo balls, mystery jackpots and an even stevens room where all participating players have the same chance of winning.
The mystery jackpots room delivers big surprises with every game with tickets never costing more than 10p each. Off-peak times tickets are just 5p and 10p during busier periods. A max of 96 tickets may be purchased in each game but players won't know what they can win until ticket sales close. As soon as that timer reaches zero a treasure chest appears on screen to reveal the next full house prize. Each game is a coverall with one prize per game.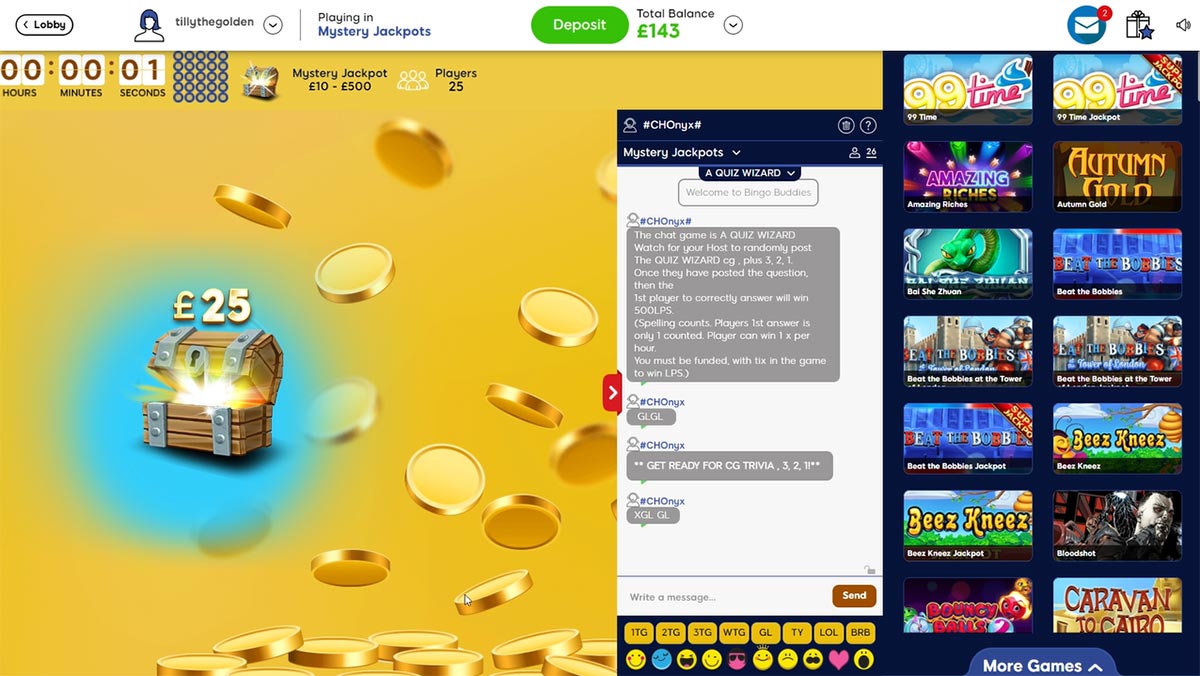 Progressive jackpots are featured in a few of the rooms with an extra prize available should players be lucky enough to win a full house within the stated number of calls. At the time of our review, the chatterbox 90 room guaranteed three prizes per game along with a pot of £1,250.58p for calling that full house in 32 calls or less. Alas, it wasn't won when tillythegolden was playing.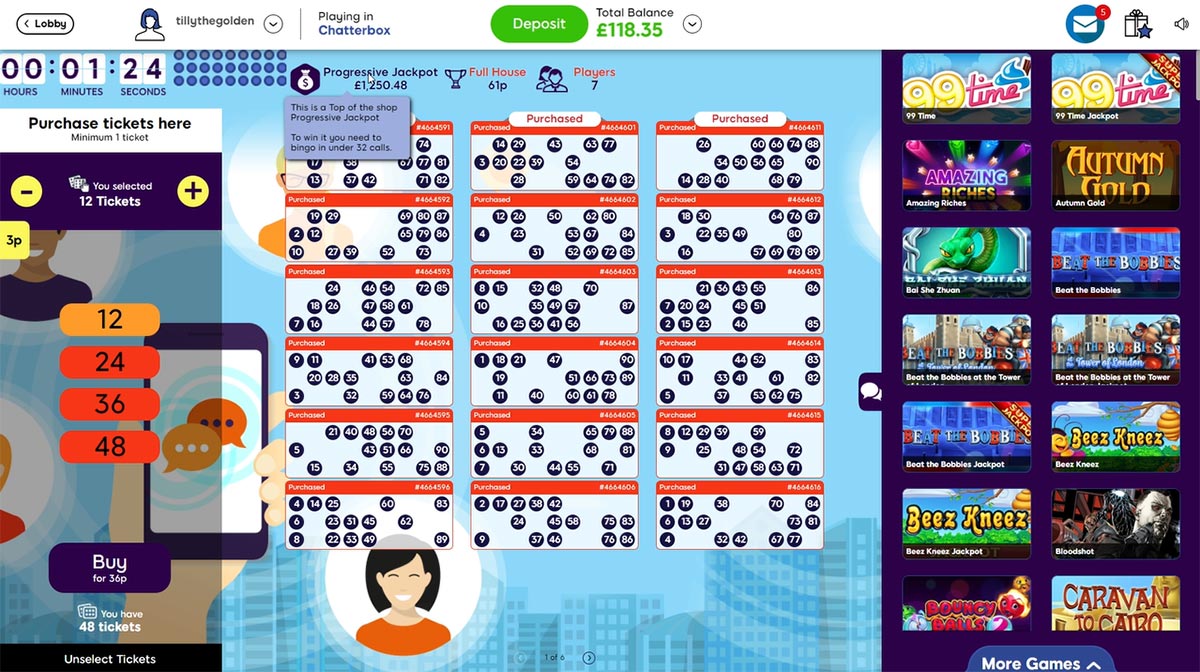 Snowy Bingo is home to more than 500 online slots with titles from the likes of NetEnt, Microgaming, Eyecon, PariPlay and Red Tiger Gaming. Hall of Gods and Mega Fortune are among the biggest progressive jackpot paying games available with a must drop jackpot guaranteed every 24-hours via Red Tiger's jackpot network.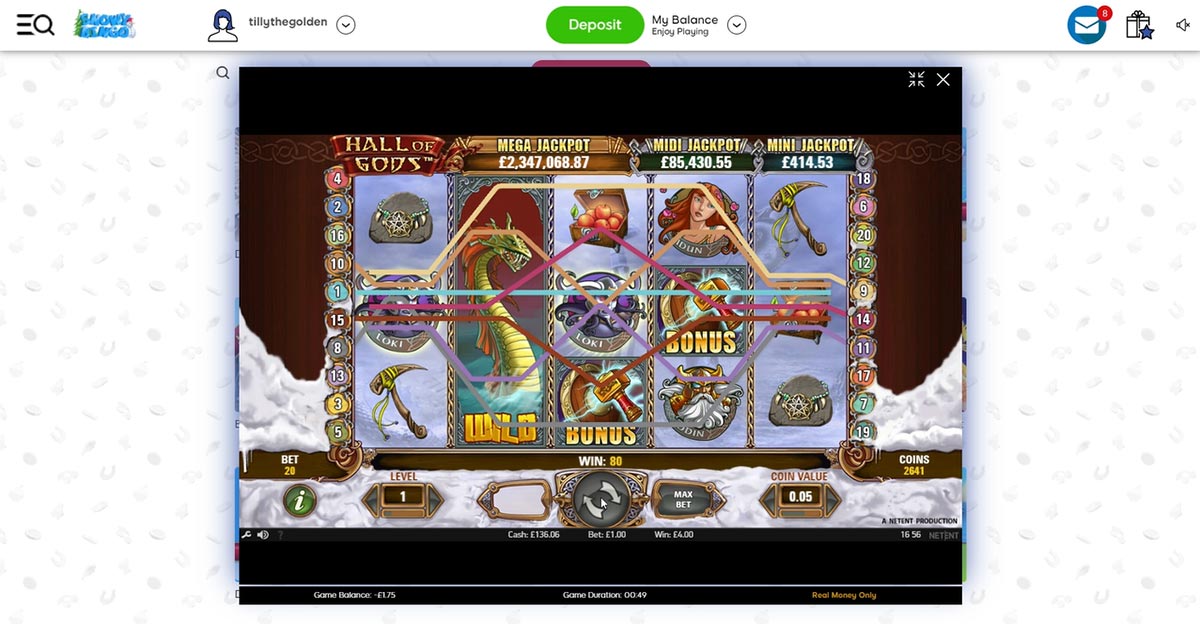 When playing slots, a pop-up will appear centrally on the player's screen with their balance hidden at the top of the page. The available balance is displayed via the game pop-up along with a timer showing how long the game has been running plus profit/loss statistics.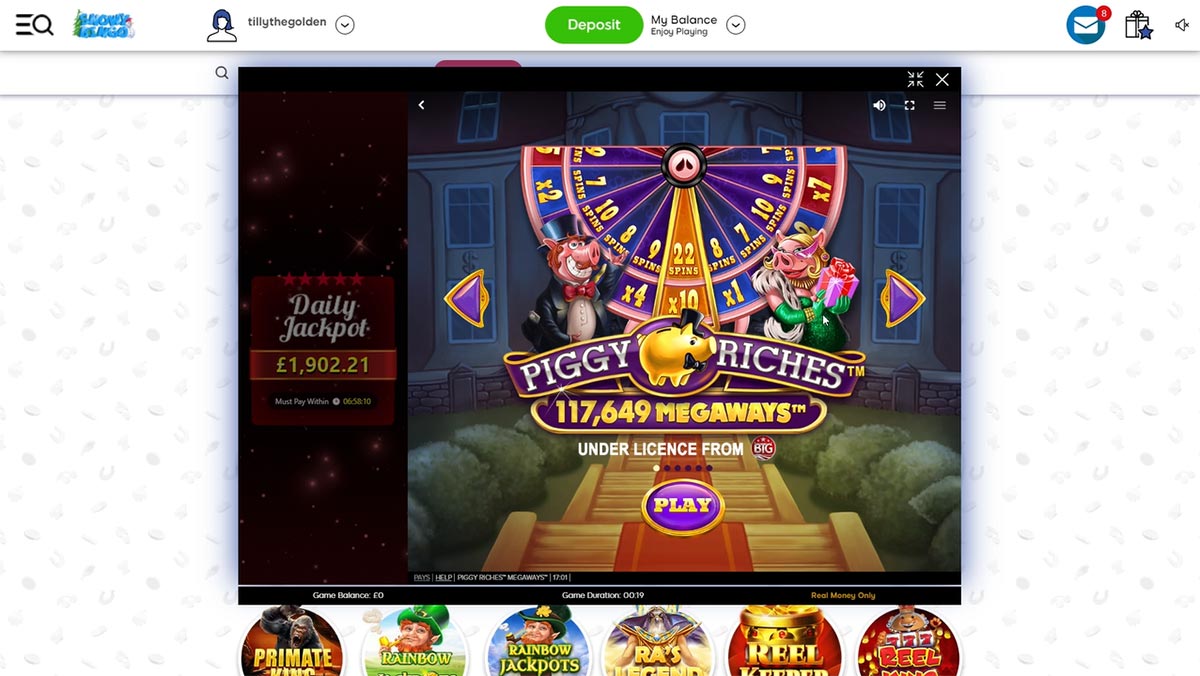 Requesting a Withdrawal
On Tuesday, 12th April, tillythegolden decided to withdraw her entire remaining balance of £75.21p. To withdraw, players must head to the 'deposit' tab where the first screen offers a quick deposit feature.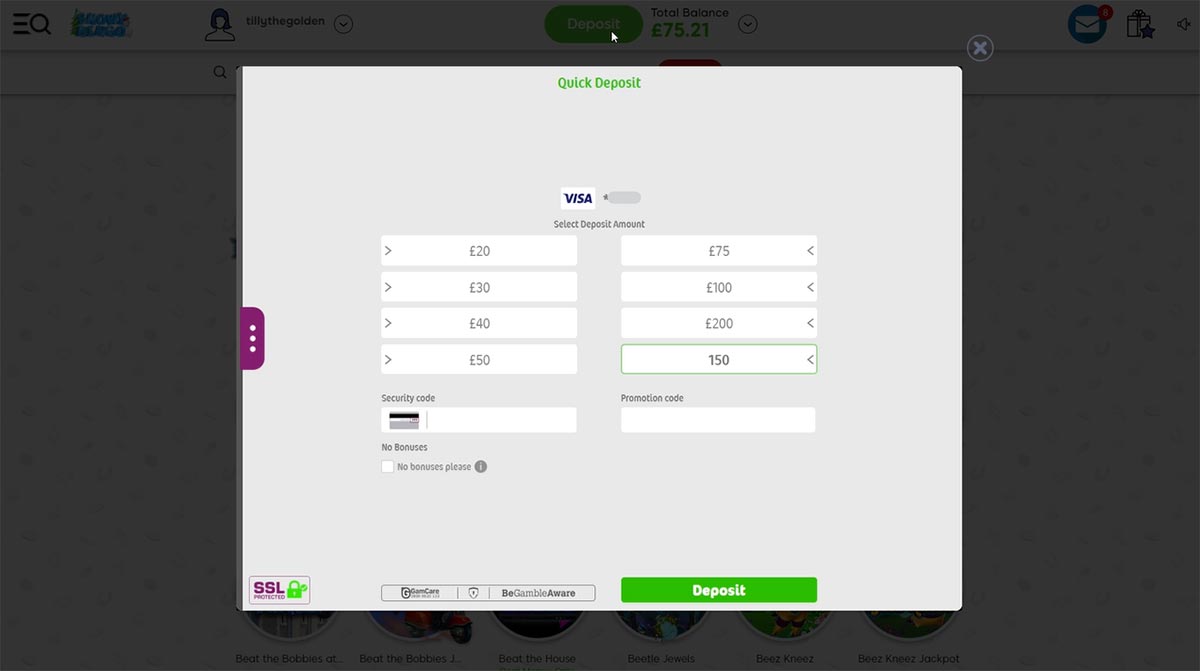 By pressing the purple button to the left of the screen our reviewer was then able to navigate to the withdrawal cashier. As Visa Debit was used to make the deposit, Visa Debit was to be used for the withdrawal. Popping in the amount to cash out (£75.21p), she was asked to review her request.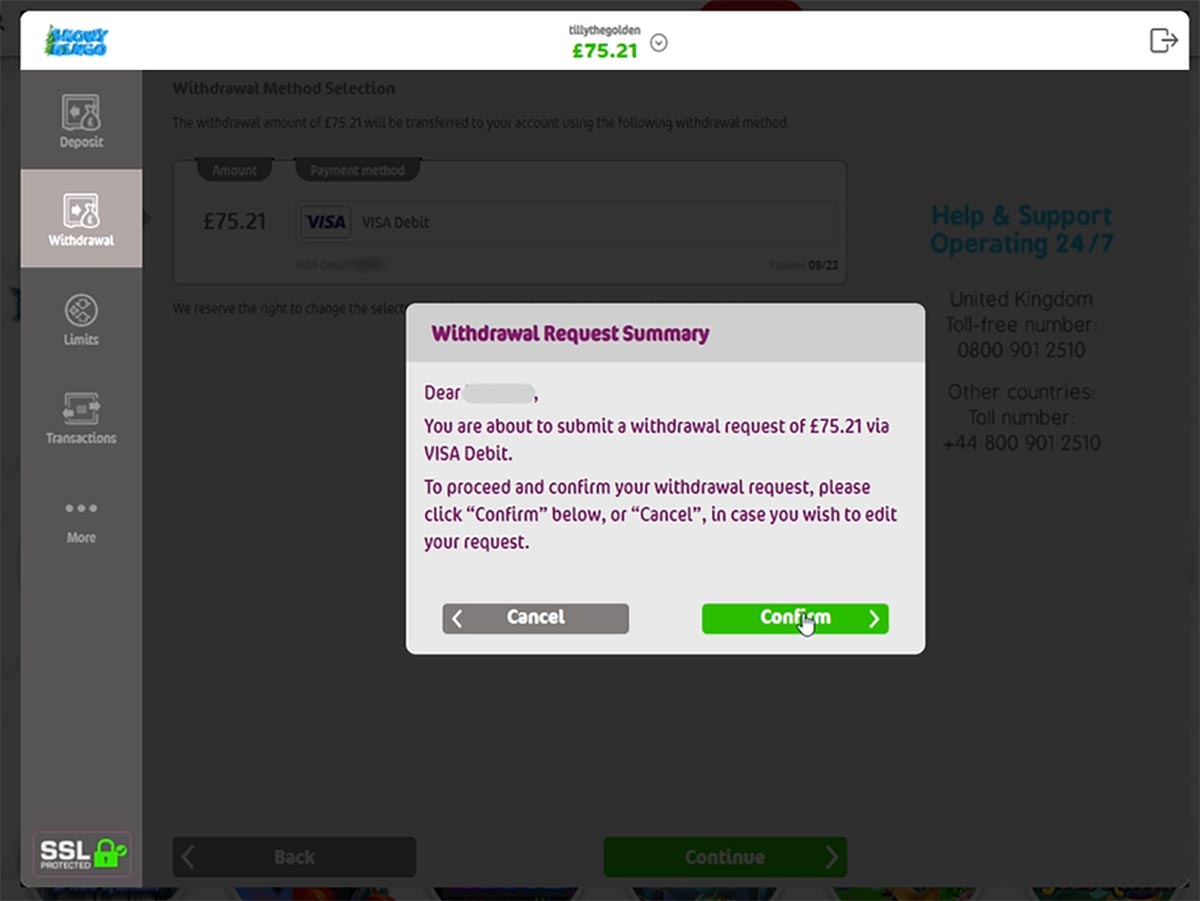 Players can monitor the progress of withdrawals via their Snowy Bingo account by selecting 'transactions' within the cashier.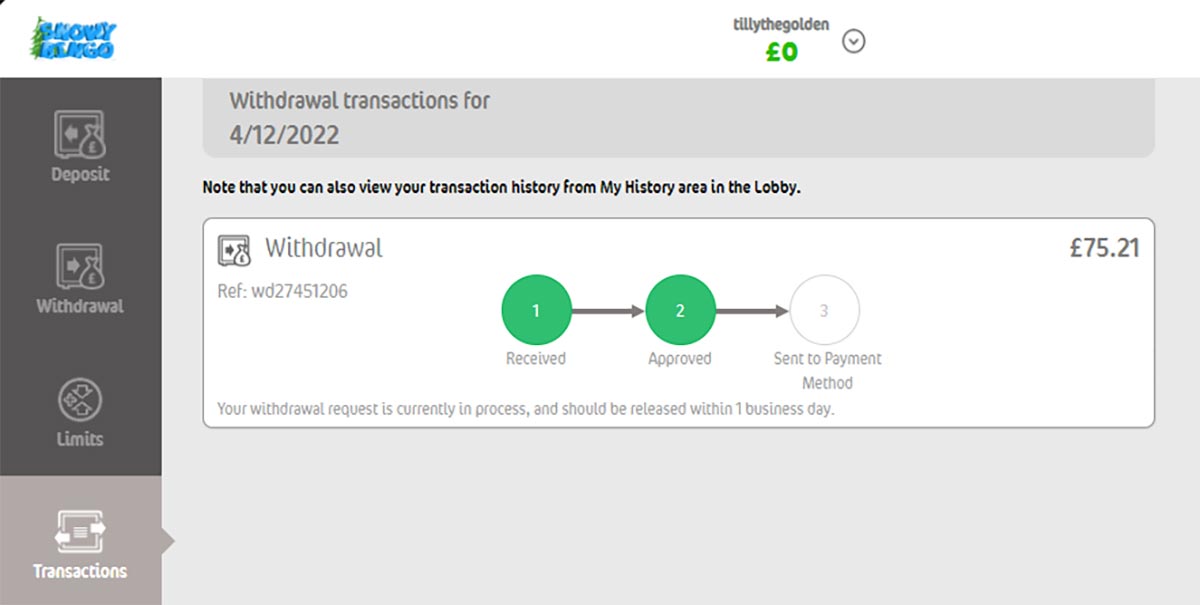 On Thursday, 14th April, our reviewer received an email and a text message stating the withdrawal request was successful and the funds would be in her account within the hour. The funds were there as soon as the email was sent.

How Does Snowy Bingo Stack Up?
Snowy Bingo is home to a vast selection of online bingo games. Our reviewer faced no problems when testing the online bingo site other than forgetting her password, which was no fault of the operator. The Visa Debit withdrawal was processed and received within 48 hours, a fair result.
The ability to play for free and win bonuses and cash prizes is great however, not all rooms are open 24/7 and some have minimum deposit requirements. The shop is a brilliant feature even for those who don't want to have to mess with wagering requirements. From start to finish Snowy Bingo delivered a pleasant gaming experience, one which our reviewer intends to experience time and time again.
This information concludes this extensive test as part of the project From the Players, For the Players. If you are a member of Snowy Bingo or consider making a deposit, we hope this report provided some useful information.
From the Players for the Players
Back to articles
Your feedback
Please enter your comment.
Your comment is added.
Member's Feedback (2)
bridgetjones
05/06/22, 01:05:14 PM
Always glad to see another report where the tester had a good experience, my list of good bingo sites to play at is getting bigger :) Thanks for the report!
Bixy
05/06/22, 11:05:09 AM
It's a decent report, the cashout time frame is relatively fast when compared to other operators. I found a great advantage that Snowy Bingo offers the lobby with...
It's a decent report, the cashout time frame is relatively fast when compared to other operators. I found a great advantage that Snowy Bingo offers the lobby with quick links to 24/7 bingo rooms.
Show more