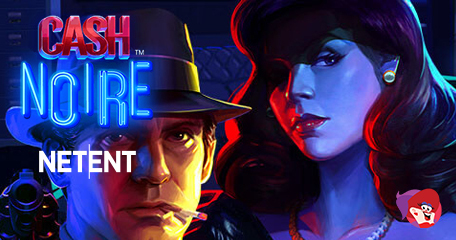 I've always been a sucker for a crime thriller. Midsomer Murders was (and still is!) one of my favourite television detective series. How a small, sleepy village can produce so many murderers is beyond me. Who in their right mind would want to go and live in an area where several murders (at the very least!) take place each month?
Solving the clues, eyeing the suspects and trying to solve the case is what most of us do whether we're watching Jonathan Creek, Midsomer Murders or even Murder She Wrote. And thereward for picking out the culprit? Bragging rights over your friends and family.
NetEnt, the award-winning software provider, must have more than just the odd one or two who enjoy a good crime thriller, and it's evident with the release of Cash Noire, a magnificent casino game packed with thrills, shocks and jaw-dropping features!
One of the suppliers much-loved features is the avalanche mechanic (found in the delightful Gonzo's Quest title!) and it returns for another thrilling slot experience packed with mystery, murder and mayhem! The criminal underworld needs a hero and that hero just happens to be you.
Solving the case of a recent murder (or possible two!) is high on the agenda and where better to start than the crime-ridden, gritty streets of San Cayetano. When speaking on the latest casino game release, Andy Whitworth, NetEnt Chief Commercial Officer said:
"Cash Noire™ is a mechanically thrilling game set against the backdrop of a murder mystery that will leave players on the edge of their seats. With the return of Avalanche™ and a strong feature set which ramps up to solve the crime, the gameplay has huge engagement and retention potential and we look forward to it being enjoyed by a wide variety of players."
It's Bad but It's Sexy
Cash Noire isn't just a slot machine, it's a gripping, immersive and enthralling title that has a fascinating story to play out. A voice-over provides encouragement and reasoning behind suspicions and adds to the overall gaming experience tremendously.
Your journey begins in a darkened office overlooking the bustling city. Your partner in crime (or not!), sits poised on the desk contemplating her thoughts whilst puffing on a cigarette (it's very lifelike!). The moonlight shadow casts much-needed light over the trail of suspects, but it's only when those wins start to fall does is all become clearer.
Mystery symbols, transforming symbols, a crime zone and bonus spins hide within the 5x4 grid. Solve the 13 clues to claim your reward – 6 free games. Hit wins during the feature to move around the interactive map of the city streets, picking up additional spins and multipliers along the way. Get to the end of the city chase map to close the case and move on to the next!
Keep your eyes peeled for its launch across the entire NetEnt network of online bingo sites.
Source: "There's a Murder to be Solved in NetEnt's Latest Release Cash Noire". NetEnt. June 24, 2020.
Bingo Games
Back to articles
Your feedback
Please enter your comment.
Your comment is added.
Bubles12
06/27/20, 05:06:46 PM
Cascading reels (avalanche as they call it) allow for more wins than a typical slot, so any game boasting this feature is brilliant in my eyes. Can't wait to ty...
Cascading reels (avalanche as they call it) allow for more wins than a typical slot, so any game boasting this feature is brilliant in my eyes. Can't wait to ty it!
Show more