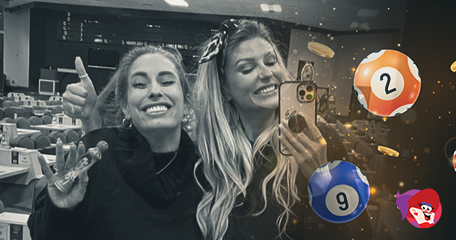 Night of Laughs and Excitement
Stacey Solomon is famed for a variety of reasons after coming third on The X Factor in 2009. Ever since she's been crowned the Queen of the Jungle in the tenth series of I'm a Celebrity Get Me Out of Here, become the voice of Butlins family holidays and has a following of some 4.6million on Instagram alone! Recently, the heavily pregnant Loose Women star decided to throw caution to the wind and enjoy a night out with her pal – another top celebrity, Mrs Hinch, a British influencer whose Instagram account features tips for home cleaning.
Bingo Clean-Sweep
Looking to 'clean-up' at bingo, the pair headed to their local bingo venue for an evening of laughs, excitement and hopefully wins! Social media has been awash since Friday with images of the pair laughing, joking, playing tricks on each other, but as soon as the bingo game began, the pair were in full concentration mode! Even if those sat near them were giggling at Stacey's fluffy slippers! Fans were treated to a video of the pair dabbing tickets with the caption "Friday Night Goals."
Among all the fun and (bingo) games, the pair who have been friends for more than 13-years, knew the rules on how to play and understood that when the bingo caller begins to call those numbers, everything must remain silent. I'm sure lots of the regulars were keeping a close eye on the pair just in case they happened to get into difficulty.
The bingo venue of choice was Mecca Bingo. They must have heard about the new Mecca Dream come true campaign! Celebrities have been visiting bingo halls a lot lately, the most recent was Martin Kemp, and on the subject of celebrities, did you know you could be hosting your very own street party for you and 19 friends/family with a top celeb courtesy of Mecca Bingo? Now you do!
Whether you'd like to rub shoulders with a celeb while dancing in the street (quite literally), or would prefer to invite one into your home to orchestrate a makeover on three of your rooms for free, there is only one place that is guaranteeing these types of prizes and that is Mecca Bingo! If you're not familiar with the details, you can find everything you need to know in our previous article – raffles, prize draws and no deposit freebies, and yep you read that right… entry is free https://latestbingobonuses.com/news/tombola-news-free-fiver-for-all-and-a-makeover and as long as you have your name into the weekly draws, you have a chance of winning some unbelievable prizes!
Source: "Stacey Solomon and Mrs Hinch in Fits of Laughter as They Enjoy Bingo Night Out". OK!. September 4, 2021.
Bingo Society News
Back to articles
Your feedback
Please enter your comment.
Your comment is added.
Member's Feedback (1)
lollipops321 09/08/21, 07:09:34 AM
I don't know what I'd do if a celeb turned up to my bingo hall! Love Stacey and Joe, the videos on Facebook are so funny! Mrs Hinch gets paid so much money just...
I don't know what I'd do if a celeb turned up to my bingo hall! Love Stacey and Joe, the videos on Facebook are so funny! Mrs Hinch gets paid so much money just to tell us what we already know though, so not a huge fan of hers.
Show more