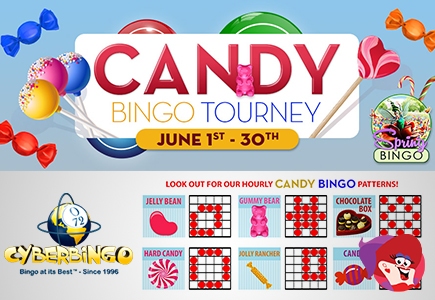 We don't know if there is one special month of the year that specifically celebrates candy – after all, the entire year should be dedicated to sweet treats, not just one month, right? Nevertheless,
Cyber Bingo
decided to make the month of June all about those irresistible things that our parents and doctors have been telling us our lives to steer clear off. To heck with their advice – sometimes it's necessary to go overboard and forget about moderation!
The Candy Bingo Tourney is the promotion's name and it lasts until June 31st; and yes, it's every bit as salivating as you'd think. In total, there is $3,000 in prizes to be won and all the games are played in the Spring Bingo room. Candy Bingo Tourney games are played every hour and each game comes with
an awesome cash prize pool that grows with players' deposits!
During the hourly games, you need to be on the lookout for the candy bingo patterns: jelly bean, gummy bear, chocolate box, hard candy, jolly rancher and candy. The top 20 players will be awarded with either cash or free play bonus prizes, and the player who collects the most patterns, that is, who collects the most points by winning the most bingo games, will end up ranked first. He or she will win $1000 in cash, while the 2nd player gets $500 in free play bonuses. The third-ranked player gets $350 in free play bonuses, while $350 and $150 will be collected by 4th and 5th place respectively.
The winning player's account will be credited with the cash prize automatically on July 1st. Make sure you read through the promo's T&C's before opting in – and hurry. There may be enough time before the end of June, but the sooner you start, the more points you will collect...
Bingo Tournaments
Back to articles
Your feedback
Please enter your comment.
Your comment is added.