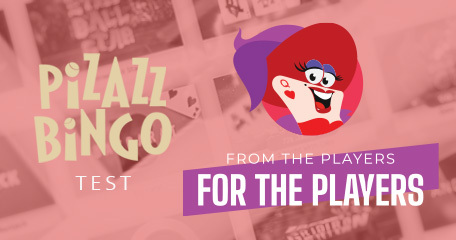 Since 2020, Pizazz Bingo has been delivering a varied and delightful catalogue of games stretching from online bingo to the latest online slot releases. Bingo rooms where you've one of the best chances to win, others offering bonus spins prizes in exchange for penny tickets and free bingo rooms to win £1K in cash every Monday are just a few reasons why players choose to come back time and time again. With all this in mind we wanted to put them to the test to see how they performed and how they handled a withdrawal request. Did our reviewer of the day encounter any issues? Stick with us as we find out all there is to know about Pizazz Bingo!
Tester of the day: kleebingowinner
Registration: Existing player
Deposit date, amount and payment method: Deposited £150 via Visa Debit on Wednesday 2nd March
Withdrawal request date: £75.22p via Visa Debit on Wednesday 2nd March
Withdrawal received date: Tuesday 8th March, £75.22p via Visa Debit.
Registration
On Wednesday 2nd March, our tester headed to Pizazz Bingo to make a deposit. This wasn't her first time at the bingo site, so registration was not required. As soon as her username and password were entered she was welcomed back to the lobby with a preview of the upcoming bingo games and the latest game of the week release, Irish Luck.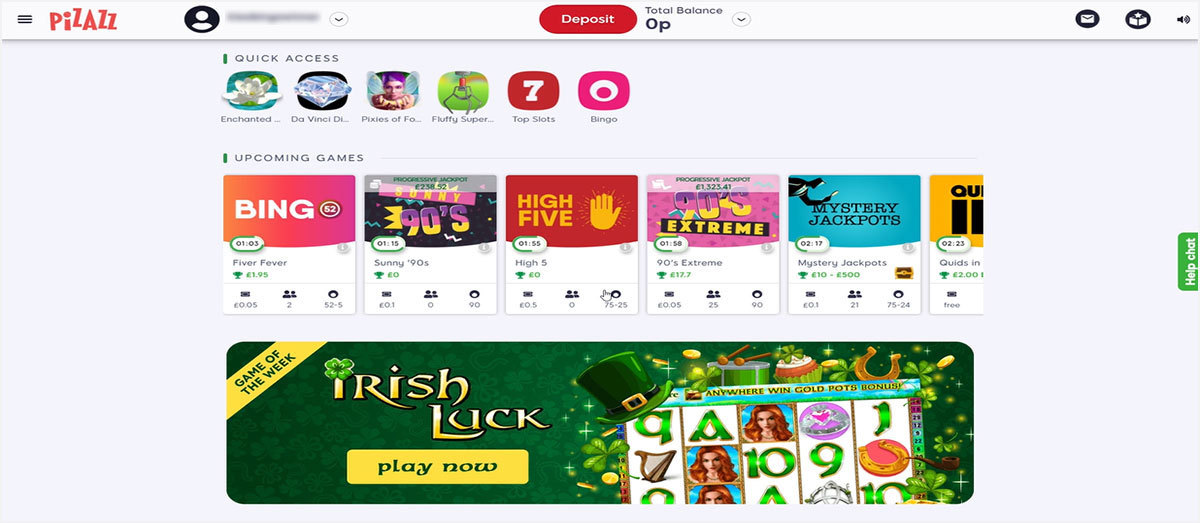 Initial Deposit
Pizazz Bingo has free bingo rooms, but our tester of the day wanted to try her luck in the bigger prize paying rooms and this meant buying tickets with real money. Heading to the cashier, kleebingowinner noted how uncluttered and easy to navigate the website was with quick links to just about everything, even promotions.
The cashier offered deposits via debit card, PayPal or PaysafeCard. Visa Debit was selected and authorised for use instantly once all details were submitted. There were pre-set deposit amounts within the cashier only there was no option for £150. Manually inserting £150 into the 'other' box, kleebingowinner entered her 3-digit security code off the back of her card and selected the 'no bonuses' option. Opting out of bonuses would eliminate wagering requirements. Once confirmed her bingo account was credited with £150.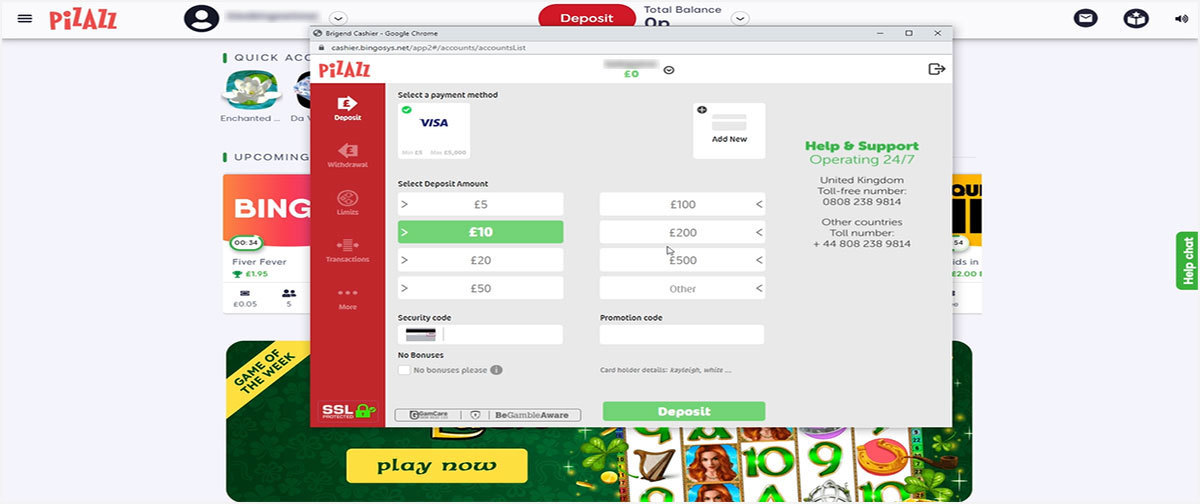 Gameplay
Bingo rooms are open 24/7 with off-peak hours offering the greatest chance of a win. Strategies to improve your chances of winning can be implemented at Pizazz Bingo freely, what with there being rooms with fewer than 20 people playing, and one of those rooms is Mystery Jackpots. There is no mystery to how these games play – you buy your tickets (never cost more than 10p) and wait for the treasure chest to reveal itself once ticket sales have closed. When that lid is lifted, a prize of up to £500 will appear and this is what you can win by completing a coverall.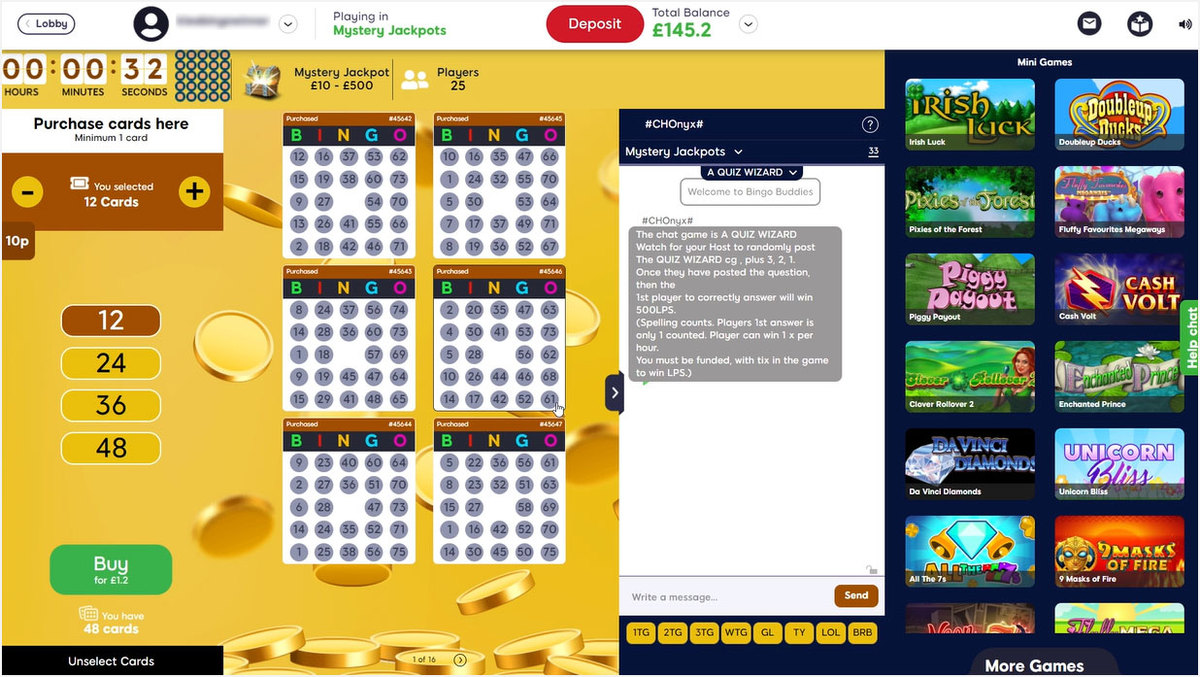 Quids In was a hive of activity even during the day with more than 160 players competing to win bingo bonuses in triple chance games every couple of minutes. The Daily Doozey room also offered bingo bonus prizes only this time, it was winner takes all in patterned bingo games. Can you win real money prizes from free bingo games here at Pizazz Bingo? Yes, you can! Every Monday £1K is won for free!

Special bingo games offer something a little different with Bingo Roulette ditching tickets for a roulette wheel and betting cloth, Even Stevens where everyone has the same chance of winning and WOW – this is where penny tickets can win you some bonus spins for top-rated slot titles!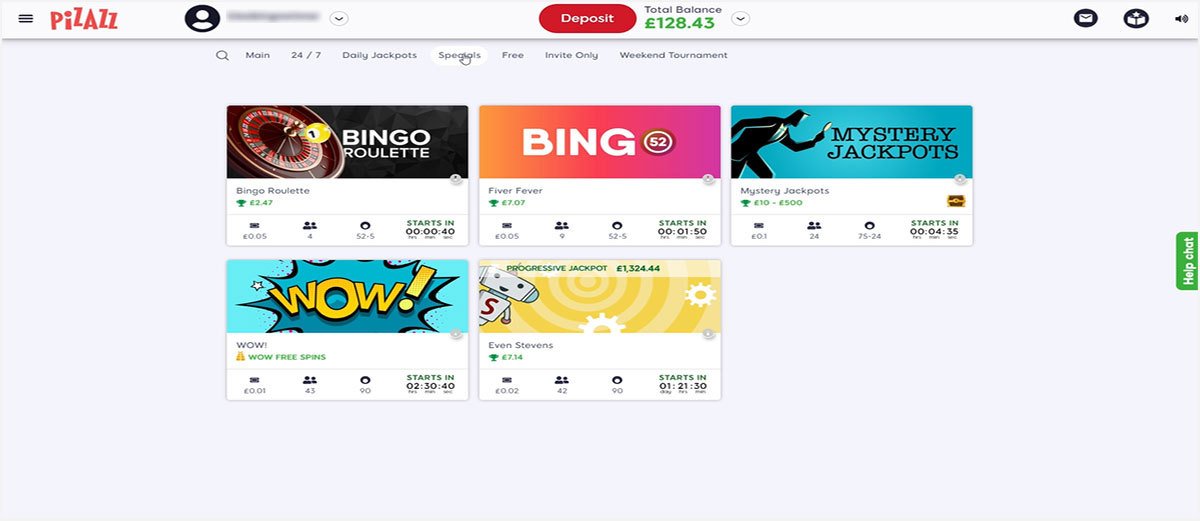 All bingo rooms feature audio where traditional calls are used including "was she worth it 56" and "Doctors Orders Number 9". You do have the option to mute these – same goes for the chat community however, by collapsing chat you could be missing out on chat games and quizzes for extra bingo bonuses. The only downside is not being able to personalise your dabber shape/size/colour.
Now for the games. Our reviewer is a fan of both bingo and slots and was thrilled to discover such a wide choice of online slots from top-tier software providers, you know, the type you only typically tend to find at online casinos. Red Tiger Gaming's must drop jackpot network (Dragon's Fire Megaways being one) was a popular category at Pizazz Bingo only unlike other websites, the jackpots were only guaranteed to drop once every 24-hours. Others offer a must drop jackpot every 10-minutes to an hour.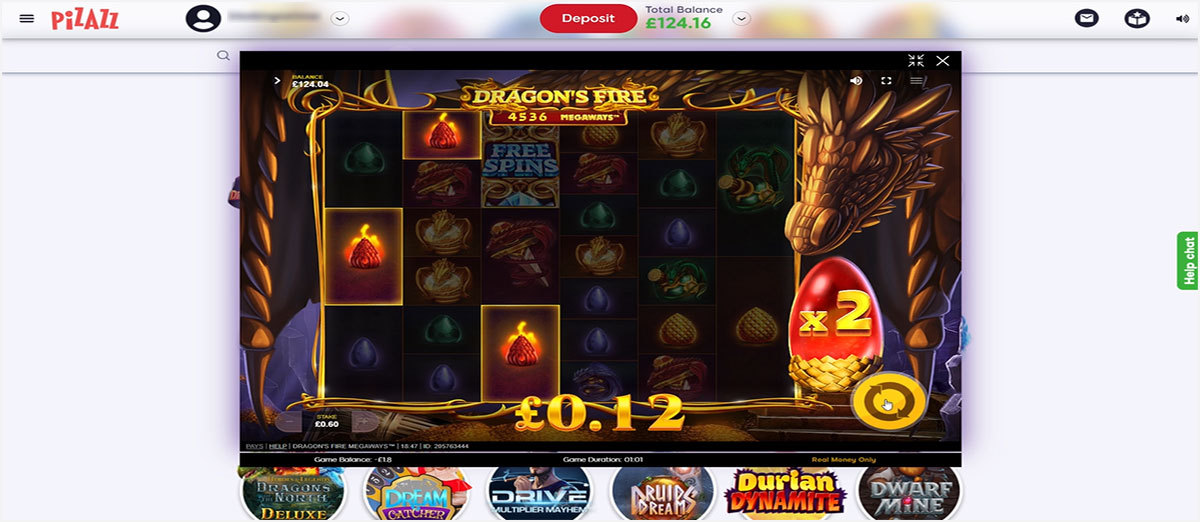 A few of the games had issues loading including the new Millionaire Genie Megaways, Neon Links and Atlantis Megaways. A couple of browser refresh actions sorted this. Games were placed into the following categories:

Requesting a Withdrawal
Her luck had definitely left her and kleebingowinner decided it was time to cash out her remaining balance. At first, she had no idea where to go to request a withdrawal as there were no visible options for this, so she pressed the "deposit" button. It took a few seconds for her to realise there was a hidden menu within the "quick deposit" screen. After pressing to view more options the one she was looking for appeared – withdrawal!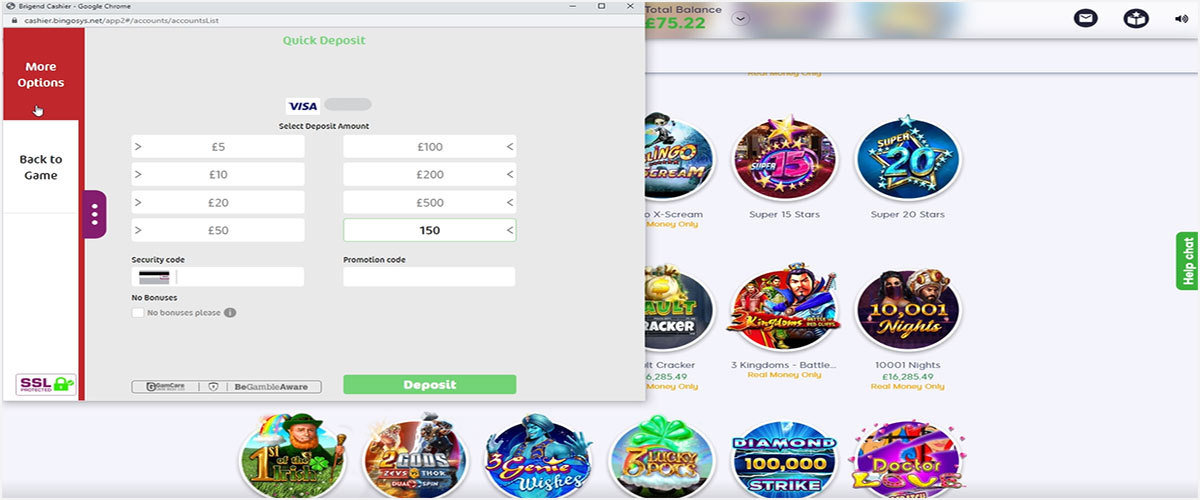 On Wednesday 2nd March, a withdrawal request was made via Visa Debit for £75.22p. The message within the cashier stated that her withdrawal request should be released within 1 business day. On Thursday 3rd March, exactly one business day later there was no update. Two business days later still no update. On Saturday 5th, the progress of the withdrawal request had gone from received (step 1) to approved (step 2).
On Tuesday, 8th March, the withdrawal of £75.22p was (finally!) approved and sent back to the original funding source instantly – Visa Debit.

How Does Pizazz Bingo Stack Up?
Our investigation into Pizazz Bingo revealed slow withdrawal processing in comparison to other operators offering same and next-day payouts. Although this is in line with the T&Cs, four business days to process a Visa Debit cashout is not as quick as we had hoped.
You can't fault the choice of bingo rooms with ticket prices to suit all budgets. Free bingo games are an ideal way to top up your balance without any risk to your cash, but these little incentives come with wagering requirements. Surprise offers of free tickets and bonus spins can appear in your account without warning so it's always a good idea to log into Pizazz Bingo to see what freebies you have yet to claim.
This information concludes this extensive test as part of the project From the Players, For the Players. If you are a member of Pizazz Bingo or considering depositing, we hope this report shed some light on what you can expect.
From the Players for the Players
Back to articles
Your feedback
Please enter your comment.
Your comment is added.
Bixy
04/04/22, 07:04:03 AM
I don't like when I need to investigate where to find the option "withdrawal"! I think it should be clearly seen on the site and not to search the one among the options. Four business days to process a cashout is slow as per my opinion.