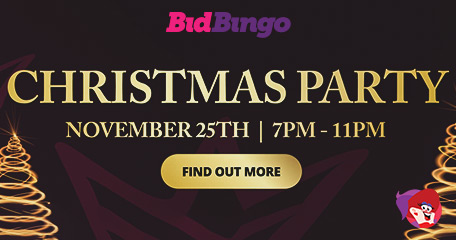 Festive Fun with Great Spot Prizes!
Dust off those party hats LBB'ers, Bid Bingo's annual Christmas party celebration is back, and it promises to be an evening of fun, laughter, excitement and prizes! Not only can you win prizes for dabbing those tickets but for taking part in chat games too. Loyalty points to Amazon vouchers, there are plenty of chances to win between 7pm and 11pm, will you be joining in?
We've managed to get our hands on the full chat quiz schedule, and instead of letting you sweat until the big day, we thought it would be a good idea to let you in on what you need to do to win. First thing's first, you've got to be a registered player! If you haven't signed up yet, you are eligible for the following offer:
Boost your deposit by 100% up to £50 and receive 35 bonus spins with our reader exclusive. Use code: BID100 in the cashier.
Bingo Night Fever
Join in with the Bid Bingo fun on Thursday November 25th in the Royal Room for four hours of entertainment and prizes. All chat games throughout the night will pay out a minimum of 1,000 loyalty points and each player can win up to 3 tangible gifts. Daily free bingo, tickets to the monthly £10K game, bonus spins, real money cashback, exclusive slot tourney access and other special offers are available through acquiring loyalty points, making the Christmas Party a must for bargain bingo seekers.
7pm to 8pm – Christmas Sleigh Ride: Prior to the bingo games taking place, you need to give your chat host a Sleigh Ride number, and it's reverse number, example 34 and 43. When both Sleigh numbers are called, the first to shout, SLEIGH RIDE in chat will win a prize.
8pm to 8:30pm – Sing Along with Santa: At random, the chat host will type lyrics from a popular Christmas song into chat. The lyric will have one word missing. The first three player to correctly shout the missing word will win points. First to shout wins 5 points, second to shout wins 3 points and third to shout wins 1 point. At the end of the game, all points will be added up and the top five will each win a prize.
8:30pm to 9pm – Pass the Pressie: If you call house on an even number, you win a pressie, if you win on an 'odd' number, the friend you choose win the pressie. Pay attention! You or your mate have to shout HOHOHO to get the prize.
9pm to 10pm – I Hugged Rudolph: Give the host a random number from – a Reindeer number. When your Reindeer number, is called plus the number that directly follows it in sequence, example your number is 17 and 18 follows, shout I HUGGED RUDOLPH to win a prize.
10pm – Amazon Voucher Time: The player who wins the full house in the 10pm game will also win a £20 Amazon Voucher.
10pm to 11pm – Naughty and Nice: Choose two numbers, one even and one odd, and tell them to the host. When both your numbers are called, the first to shout NAUGHTY AND NICE will win a prize.
Bingo Promotions & Bonuses
Back to articles
Your feedback
Please enter your comment.
Your comment is added.
Member's Feedback (1)
HangingAround
11/18/21, 02:11:59 PM
Great fun! The chat hosts are always giving points away here and not just in quizzes, you can be chatting and points end up being added to your account.