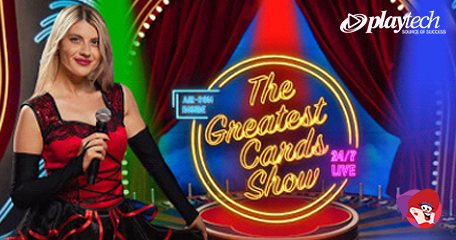 Play From 10p to £100 To Win Up To £250K
The Greatest Cards Show 24/7 Live is the latest live casino invention by Playtech with multiple betting options, a wheel, live host, a jokers bonus game and the chance to win up to 5,000x on any bet!
Set within an immersive studio designed to create a bricks-and-mortar environment, players are able to place bets on any of the many bet positions in an attempt to trigger a bonus or win big cash prizes. Pay close attention to the cards with silver and gold status, as these are the only cards in the name with the potential to trigger the spotlight or the light show bonus games, each one with multipliers of up to that 5,000x!
The spinning of the wheel could result in the joker bonus game activating where participating players pick a card champion to duel other card champions for first, second and third prizes. If more than one joker appears in consecutive spins, all joker bonus game multipliers will receive an additional boost!
How To Play and Hopefully Win
Game flow of Playtech latest live casino game show is as follows:
On the screen is a betting map and this displays the betting position of all the number and face cards present in a standard 52-card deck.
Wagers can be placed on any card by pressing on the preferred suit corner of the bet position.
Several cards are then chosen at random and assigned to trigger either the spotlights bonus game or the light show bonus game.
Once the timer reaches zero, no more bets can be made. The live casino host will spin the wheel. If the result of that spin is a non-triggering card's label, the result is announced and the game ends. If the spin result is silver or gold card or the joker label, the respective bonus game is triggered.
Spotlight bonus game sees the triggering card appearing at the centre of the wheel. Three spotlights appear, displaying multipliers of between 50x and 2,000x. The silvery card moves to one of the spotlights and the multiplier multiplies the bet.
Light show bonus game sees the triggering card moving to the side of the screen and a grid with lightbulbs is revealed. Pick one colour: blue, yellow or green. Each lightbulb will be assigned a random multiplier ranging from 50x to 5,000x.
The Joker bonus casino game features 4 joker card characters. Participating players must pick one to become a champion card. Chosen cards will duel the other cards over three consecutive rounds. Multipliers of 60x to 1,000x can be won during this bonus.
The Greatest Cards Show 24/7 Live is available to play at Play OJO, the home of no wagering and real money rewards.
Bingo Games
Back to articles
Your feedback
Please enter your comment.
Your comment is added.