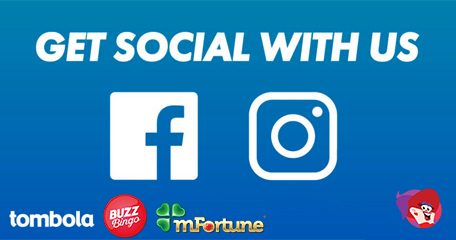 I'm not sure you know this, but Facebook is a great place to pick up some goodies; from freebies to top of the range gadgets and holidays. The majority of companies post competitions regularly as a way of driving their fan numbers and to reach a wider audience, but I bet you didn't know that of all the companies featured, online bingo operators reward their fans the most often.
Take mFortune for example; numerous times a week they host giveaways via their social media page. This last week alone there were three chances to win little extras, starting with the Winter Wongaland special. Fans were invited to choose one of the seven images from the popular slot to win one of many £5 bingo bonuses…
…shortly after there were quizzes in both the bingo rooms and on social media. And the most recent was another pick and click style bonus with even more bingo bonuses on offer.
Come Join the Fun
Tombola, the UK's biggest online bingo operator have a fan base of more than 170K players, which is much more than mFortune's 97K. Every day you'll find posts relating to current promotions as well as the latest gossips from the celebrity world. Monday 6th saw the launch of a new competition; January blues buster…
…simply tell the team what your current January mood is by Sunday 12th at 11pm, to win one of 10 pick me up hampers. If I were to sum mine up it would be 'awful.' I'm not liking the New Year at all.
Regular Tombola players may be wondering when the new daily game is making a comeback and thanks to social media, I can reveal that it's to be very soon. 'Worlds' was given the elbow over the Christmas period to make way for the festive raffles and advent calendar prizes and now players are wanting it back.
Sadly, 'Worlds' won't be returning but, in its place, will be another daily game only this time, one boasting magical elements. Think Aladdin and you won't be far off. I would guess Monday 13th for its launch and I'm never usually wrong.
Feel the Buzz
The competitions may be a little less forthcoming with Buzz Bingo, however, there are still chances to pick up wager-free bonuses now and again and details on latest casino game releases. Recent news from the online bingo giant revealed how they have had four major jackpot winners in the last three weeks– and in just two bingo clubs! Buzz Bingo in Kilmarnock and Washington won £193,202 between them. Impressive.
Huge cash can be won every day online and at your local bingo club, and every single penny is credited as real cash. No wagering requirements to meet ever. Probably what makes them so popular.
Want to hear about the latest info on bingo giveaways before anyone else? Head to the operator on Facebook and hover your cursor above the 'Following' icon and select the 'See First' option, allowing for the latest posts to enter into your feed first.
Have you ever won anything from following companies on Facebook? Let us know below.
Promotions & Bonuses
Back to articles
Your feedback
Please enter your comment.
Your comment is added.
Bubles12
01/06/20, 11:01:04 PM
I follow many bingo pages on Facebook, Twitter and Instagram, although Facebook is probably the most active in terms of prize draws and giveaways. It's a great way to keep up to date with promotions and I've picked up a few bonuses here and there. Last one was £100 in vouchers from Tombola.