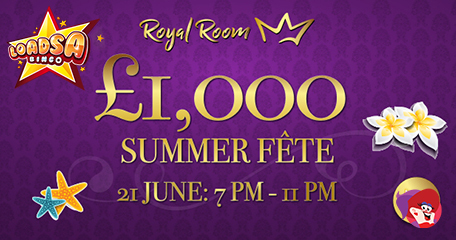 A summer fete to end all summer fete's is coming to a bingo site near you very soon and to get in on the action you simply need to be a member. Loadsa Bingo is renowned for throwing a bingo bash (or two) every now and again, but this time, they're doing things a little differently…
…not only will there be wager-free, real cash prizes to be won on the night, but a few extra surprises thrown in to keep players entertained. Sounds like fun – so, when can you get involved? I'll dish the details on the promotion very soon eager beavers.
RSVP Roomies:
First thing's first; you need to be a member – a depositing member. The Royal room is a 90-ball bingo rom open to players who have previously funded their account. If you meet these criteria then you're half way to winning, but if you're yet to join OH MY GOSH! How many times do I need to say this? …
…Loadsa Bingo is a no wagering EVER bingo site and do you know what that means? Everything you win; whether it be from a bingo bonus or your own cash, will be yours to keep with no exceptions. Jumping on board? Great – your first £10 deposit will trigger £50 in free bingo tickets and 50 bonus spins on Fluffy Favourites – the Eyecon powered slot with more arcade fun than you can probably handle.
Back to the promo now. The game is pencilled in for Friday 21st of June between 7pm and 11pm. Ticket prices will vary throughout the four-hour bingo session, but Loadsa Bingo promise they'll never cost you more than 10p; some are even going to be free!
The geniuses behind the bingo website are desperately waiting for the arrival of summer (so are we), so to encourage the warmer weather to finally get it's backside into gear, they're hosting this very special summer fete. During those four hours, they will be giving away £1,000 in real cash but there will also be some lovely surprises revealed on the night too.
The Bingo Schedule:
There will be three different ticket prices throughout the night; free, 5p and 10p. The prize distribution for the summer fete games will be as follows:
Free bingo ticket games: £1.00 a line, £1.50 for two-lines and £2.50p a full house

5p bingo ticket games: £3 for a line, £5 for the two-lines and £7 for the full house. There will be prize pots of £3 and £2 shared between 1TG and 2TG players respectively.

10p bingo ticket games: £7 for any one-line, £10 for two-lines and £20 for the full house. There will be prize pots of £8 and £5 shared between 1TG and 2TG players respectively.
The winnings may not be much, but the value of the ticket is what makes these games so spectacular, that and the fact you won't be hit with turn over terms and conditions should you be lucky enough to win.
Be lucky!
Bingo Promotions & Bonuses
Back to articles
Your feedback
Please enter your comment.
Your comment is added.