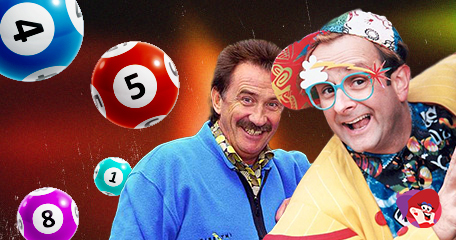 Many of us grew up with Timmy Mallet and the Chuckle Brothers, three iconic personalities who brought smiles to the nation. Made famous for his striking visual style, bold glasses and his trademark of hitting people over the head with 'Mallet's Mallet,' Timmy will always be remembered for what he did off the screens, not on them, after taking on the big guys – West Ham to be precise!
In 2002, Mallet instructed the EPL football team to remove their mascot; Herbie the Hammer from their club shop after he complained it looked too much like his 'Pinky Punky' hammer. Guess what, the major football team removed their mascot!
His career started in 1982 when he tried his hand at radio presenting, but he knew his talents lied elsewhere. Just a year later, Mallet became the face of Saturday morning TV after landing a spot on TV-am. Other roles have included presenting the Wide Awake Club and being in his own shows – Timmy Towers was just superb!
Another afternoon staple of many a 90's child was the Chuckle Brothers, featuring two moustached siblings creating havoc with their famous "to me to you" phrase. The English comedy double act consisted of real-life brothers Barry and Paul Elliot who captivated audiences from 1985 to 2018.
Oh Dear Oh Dear
In 2018, tragedy struck when Barry Elliot passed away – this resulted in the end of the Chuckle Brothers. But, in order to keep the smiles coming and the laughter, Paul vowed to keep on entertaining and this has been achieved through online bingo!
Yes, you've read that right – online bingo has recently seen both Timmy and Paul come together for an evening of thrills, wins and fundraising activity hosted by a Huntingdon-based events management company. Rob DJ from Don't Panic Promotions came up with the idea for weekly Facebook sessions and as a result, £2K will be winging its way to an NHS hospital in the area.
The lucky players were treated to an insight of what to expect with video clips from Chuckle Brother Paul, X Factor contestant Wagner and The Inbetweeners star Jay, James Buckley. "It's an amazing cause and a very important one," James said.
Local companies have been showing their support for the cause by donating prizes from food to flowers. Even Timmy threw in one of his giant pink foam mallets for them to auction off as a bonus! Jordan Mason, owner of Don't Panic Productions, said: "We wanted to give something back to the hospital that they would see and remember. The rest of the money we continue to raise might go towards a night out for staff at the hospital or a Christmas party when all this is over.
The idea for the virtual bingo started off as just being a thing between friends and now there are more than 100 people taking part. Everyone has been really supportive and even the celebrities we contacted were happy to get on board – including Rob's look-a-like Timmy Mallett."
I wonder how many more will be taking part now?
Source: "Celebrities Back Virtual Bingo Games by Huntingdon Company to Fundraise for NHS Heroes at Hinchingbrooke Hospital". The Hunts Post. May 17, 2020.
Bingo Society News
Back to articles
Your feedback
Please enter your comment.
Your comment is added.
Member's Feedback (1)
Bubles12
05/18/20, 06:05:39 PM
I'll have to try this on Facebook – it sounds so much fun!