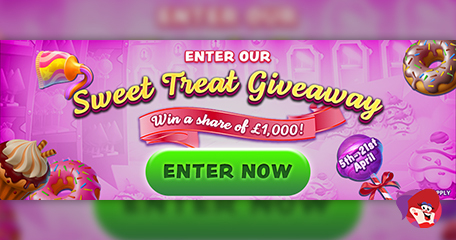 Sweet Promotions with Tasty Prizes
Nobody loves a prize draw better than me and I'm pleased to be able to tell you about two that are currently up and running over at All Star Games – the online gaming destination where the community benefit from batches of bonus spins. Easter may be long gone but that doesn't mean we need to start giving up the treats, so we'll start with this eggcellent eggstravaganza first.
You've got a whole month to get involved in this one and it's not the usual wager the most to earn points on a leader-board, it's a prize draw where entry tickets are generated through a £10 spend. Naturally, the more tickets you have in play, the more entries you'll have, but that doesn't mean you need to make multiple deposits. If you win a tenner while playing and decide to play that through, there's an additional entry right there!
Prizes Galore Instore for April
All Star Games is giving away 2 electric bikes and 2 activity trackers this month and I can safely say, after all the chocolate I ate over Easter weekend, I'm going to need all the exercise I can get before summer opens up! To be included in this draw, just play through £10 on the Barcrest Action Bank slot. Yet to try it? It' delivers a gaming environment where you are attempting to crack into a safe in some hidden vault somewhere, and the rewards for doing so could be epic!
Five or more golden safe dials appearing in any spin will trigger the big bank bonus where sapphire, ruby and diamond multipliers can boost your winnings. The number of golden dials will determine the number of your free games with spins ranging from 5 to 30. Three additional symbols are thrown onto the reels during the bonus, a double X, double bar and double red 7. The big bank bonus will allow you to pick and click from 15 doors to win either of those three previously stated multipliers.
The final prize draw is one packed with cash…
…£1K to be precise and to win a share of the wager-free cash, all you need to do is wager £10 (or more) on Sweet Crush, the totally tasty title with lip-smacking bonuses. There's a top prize of £500 up for grabs with 1x £250, 2x £100 and 1x £50 going to four other players. Play anytime until the 21st to be included in the draw.
Registered players can simply log in, deposit and play to take part. New players will need to sign up before being able to join in the fun. Newbies who deposit £10 into their account will trigger a spin of the wheel where as many as 500 bonus spins can be won! There's Amazon vouchers up for grabs too, but please note: the welcome offer does not guarantee you a win.
Bingo Promotions & Bonuses
Back to articles
Your feedback
Please enter your comment.
Your comment is added.
Member's Feedback (1)
TinTinn
04/12/21, 09:04:31 AM
Electric bikes are so expensive! I would love to win one! Would mean I could leave the car and take the bike.