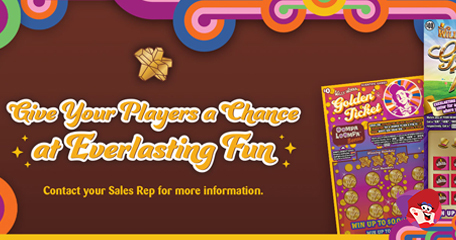 Could you imagine what winning $1 million would be like? Now imagine winning $1 million every year for life because that's what Scientific Games are giving players with their latest invention; the chance to net a life-changing sum over and over with the new Willy Wonka Golden Ticket Game. The record-breaking game is back only this time, the thrills and cash spills have been increased with a new lottery style draw.
Back in September, Willy Wonka Golden Ticket was launched with the Colorado Lottery with a price tag of $10 and due to its success, additional US lotteries are scheduling to launch the game by Q2 of 2021. What can players expect from this totally tasty new lottery game? The Everlasting Million Second Chance feature offers a four day, three-night trip to Las Vegas is 2022 for winners and their guest, with round trip flights included as well as hotel, transportation, spending money and the opportunity to take part in the Everlasting Million Challenge.
Tom Seaver, Director of the Colorado Lottery said: "We were pleased with how well the first game performed, indexing at 155 over the first 15 weeks, and we are thrilled to be the first lottery to kick off the newest Willy Wonka Golden Ticket game. Our players like fun, excitement and value. The Willy Wonka brand delivers the fun and excitement, while the Everlasting Million Second Chance opportunity delivers the added value in the form of a chance to win a lifetime prize of $1 million."
Such a Delicious Opportunity
The Everlasting Million Challenge is set to be a spectacular event – a showdown if you like, between all winners. A total of three rounds of games will take place and will see winners progressing until they reach the final. Each round of games will be fitting to the following themes; Golden Egg, Everlasting Gobstopper and Golden Ticket. Every winner who gets this far will be guaranteed a prize from $1K up to that highly sought-after $1,000,000 in cold-hard cash every year for life!
Rogers added: "Our game design and marketing teams knocked it out of the chocolate factory once again. Like the everlasting gobstopper from the movie, the everlasting million-dollar prize never gets smaller and never disappears. The new Willy Wonka Golden Ticket game has all the elements to be even better than the first."
Many lotteries are expected to make golden profits from the launch of the Scientific Games-powered game and with it comes the opportunity to trigger instant trip wins! Kyle Rogers, VP North American Instant Products for Scientific Games said: "Willy Wonka Golden Ticket is inspired by one of the most beloved films of all time, and in the lottery industry it is especially known for the record-breaking linked instant game that lit up U.S. lottery retail sales in 2017-18 with over $1 billion in lottery tickets printed over the course of our first offering."
Source: "Scientific Games All-New Willy Wonka Golden Ticket Launches with Everlasting Fun for Players, Golden Profits for Lotteries". Scientific Games. November 9, 2020.
Lottery & Scratchcards
Back to articles
Your feedback
Please enter your comment.
Your comment is added.
MadamMilly
11/16/20, 09:11:10 AM
Why can't the lottery here in the UK be like this! How exciting does this sound! US players are very lucky.