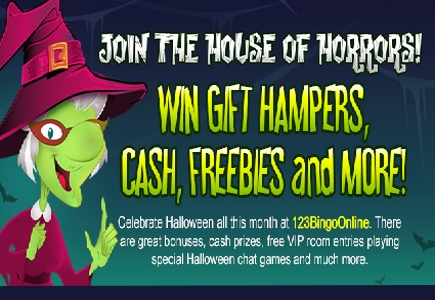 Dracula is in charge during the month of October with Halloween setting the tone for a screaming good time! 123 Bingo is in the mood for the season with lots of treats waiting players.

The Vampire Masquerade Ball - It's a Halloween celebration and time to dress up for the occasion. Be daring and creative by changing your alias to a Halloween themed one and might be the winner of 100 BBs.

Three players will be chosen by the number of votes polled by member at 123. Voting is until October 29th, 2015 and winners will be announced October 31st in the Green room at 9:00 p.m. sharp so be there!

To change your Alias or register your vote simply contact Live Help who will be happy to assist you. Only one name change is permitted during Masquerade Ball promotion.

VAMPIRE'S BANQUET CHAT PARTY – Join this fun party with Free $50 Bingo Games! All players that have redeemed the House of Horrors coupons, the "JOKER" code or any 15 deposit coupon codes by 11:59 p.m., 29th October, 2015 will get an entry into the Vampire Banquet Chat Party in the VIP room from 6:00 p.m. to 10:00 p.m. on 30th and 31st of October, 2015. All qualified players will be eligible for the free $50 games and some scary Halloween day chat games.

Still can't get enough of Halloween? That's the spirit! It wouldn't be Halloween without pumpkins so get a chance to win a guaranteed $25 prize on the PUMPKIN patterns in the Quarters (Green) Room.

And if you can collect at least 3 of the PUMPKIN patterns in a single day you get 10 BBs and if you collect all the patterns in a week, you will get 50 BBs!


Bingo Promotions & Bonuses
Back to articles
Your feedback
Please enter your comment.
Your comment is added.