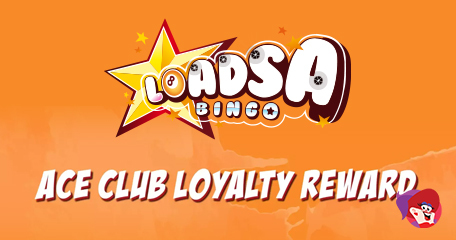 Get Up To £350 of Free Tickets Every Month!
Bingo loyalty schemes have been around since the conception of online bingo and yet, very few people understand them. If they were run with a one-cap-fits-all policy they would be all the clearer, but unfortunately each and every one is different. There are wagering requirements to take into consideration as well as the maximum you can win, then you have a points to bonus/cash tally and that's just the tip of the iceberg!
It's safe to say bingo loyalty schemes can be mindboggling, unless you're playing at Loadsa Bingo that is! Daily, weekly and monthly perks flow off the bingo conveyor belt and directly into the accounts of real players, all easy to understand with no wagering and no complications.
A Rewarding Bingo Experience
Rewards flow from level 1 and level 1 is awarded as soon as a Loadsa Bingo account is opened. The bingo community are eligible for as many as 20 bonus spins and 15 free bingo tickets every day plus even more bingo tickets to the big monthly event and up to £100 in real money cashback too! The level of loyalty will determine the rewards you'll receive. The only downside is you need to log in daily to use them or you will lose them.
Free bingo ticket winnings and wins from bonus spins will both be credited to your real money bankroll – Loadsa Bingo specialise in nothing but wager-free promotions, even from daily jackpot games! From the bingo room where you can win bonus spins prizes for top-rated slots to the mystery jackpots room, the must drop bingo jackpots to the free bingo rooms, everything is real money!
Bigger and better loyalty rewards are triggered by being 'loyal,' hence its name. No you don't need to be a high roller just a member of the community who loves to play bingo games at Loadsa Bingo.
Loyalty Scheme FAQ
Q: Can I Win Real Money From Bingo Loyalty Schemes?
A: Yes! The bingo tickets and bonus spins award real money with no wagering. Are you guaranteed a win - sadly not. Even the cashback is that – cash back into your account.
Q: What Happens If I Forget To Claim My Free Offer?
A: The offers must be claimed daily, manually. If you forget to log in one day you will lose the offers. Rewards do not roll over.
Q: Do The Loyalty Bonus Spins Have Wagering Requirements?
A: Absolutely not! As we said earlier, every offer and freebie on the Loadsa Bingo website has no red tape. As long as you have more than the minimum withdrawal amount, you can request to cash out your money at any time.
Q: I Claimed My Daily Bingo Tickets But Missed The Bingo Game – What Happens Now?
A: All claimed bingo tickets will play out as normal. If you had a winning ticket but were offline, you will still be credited with your winnings.
Q: Can I Play Bingo on Mobile and Still Earn Loyalty Bonuses?
A: Yes! Whether you play on a desktop, laptop, mobile or tablet, there are rewards to trigger and claim!
Bingo Promotions & Bonuses
Back to articles
Your feedback
Please enter your comment.
Your comment is added.
lollipops321 09/26/22, 07:09:06 AM
The monthly bingo game is a good one, and those free tickets (worth £10 each) are activated on level 2!