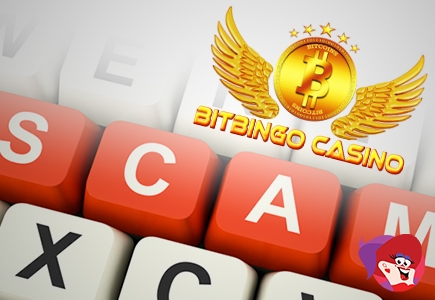 There was a time when we were excited to see bitcoin break into the online bingo market. One of the few brands to base their entire site on the virtual currency was
BitBingo
. Just when players began to take notice, their customer service fell off the face of the earth along with their ability to make their cashback payments. We spent nearly one month of our lives, time that we'll never ever get back, trying to reach them on behalf of a member seeking our help but it seems they've gone MIA. Our only regret is that we were unable to resolve the problem for the player, but what we can do is take this opportunity to warn all other players. Do not deposit your money at BitBingo!
And so it begins
On February 5, 2017, a member initially posted a complaint calling
BitBingo rogue for not paying
a cashback bonus on February 5, 2017.
Their welcome bonus boasts 200% on your first deposit but players must read the offer in its entirety to realize that it's not granted at once but rather in 25% increments as cashback on losses. There's no doubt that this is not a great offer but that's not the problem. The real problem here is that they can't even honor an offer as crappy as that.
The actual complaint: 'Please be aware that after depositing here twice and over 40 emails/chat request (they say they have chat support!) Please know that the "200% bonus" is NOT really a bonus but a "cashback" 25% released over a period of days,25% per day gmt +2 hours everyday at midnight if you lost (equaling up to 200% of your original deposit) and NOTHING has been put in my account! Waited 48 hours now, NOTHING added "33ish PENDING" and I would avoid this site like the plague!'
Where is the Live Help?
Live chat is offline day and night in any time zone. Players may send messages while support is unavailable but no one ever responds. For LBB, as affiliates, it's the same deal. They have a messaging system within the affiliate program and after 4 messages, it was clear that we were being ignored too. Needless to say, we weren't happy.
Email Couldn't be Found?
While our affiliate messages seemed to get lost somewhere in cyberspace, we sent a private message to the official bingo rep and, of course, no reply there either. We then sent an email to the address listed on the rep's forum account, which was support@bitbingo.io. Lo and behold, our email was immediately rejected with the following message:
Address not found
Your message wasn't delivered to support@bitbingo.io because the address couldn't be found. Check for typos or unnecessary spaces and try again.
Time's Up
It's been nearly one month and we haven't heard a single peep from anyone at BitBingo. Based on the lack of response and failure to make good on their bonus offer, we have slapped a warning on them. We do not recommend that anyone deposit here, in fact, don't even bother registering period.
As for the outstanding complaint, it's unfortunate that we couldn't mediate but it's not due to a lack of effort on our part. The player also confirmed that their bingo account had been closed. After two deposits and umpteen messages, they close the player's account. Trifling!
General Bingo News
Bingo Warnings
Back to articles
Your feedback
Please enter your comment.
Your comment is added.