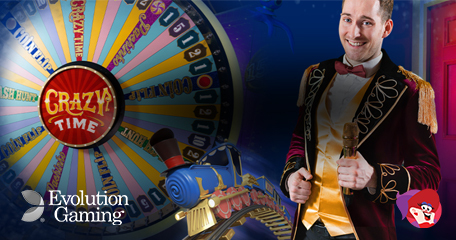 Famous for pushing the boundaries with their online casino games, Evolution Gaming have surpassed all expectations to create yet another mind-blowing masterpiece. Crazy Time is the latest invention and it delivers huge doses of fun, player engagement and interaction with every spin of the wheel.
It's not so much Wheel of Fortune, but a mega wheel of mega opportunities and we're about to reveal all. Branded the 'craziest game ever' with multipliers in every round, the unique online game show may look a little familiar, what with being based on the successful Dream Catcher wheel.
Interactive fun and excitement promise to reach new levels with the chance to boost your winnings with varying multipliers in the 'top slot' game. If that wasn't thrilling enough, there are four tantalising bonus games to benefit from too! interactive elements and advanced technology have made it possible to create such a game which will undoubtedly leave players on the edge of their seat!
It's Wheel-y Good!
Crazy Time (along with 11 other casino games!) were revealed at ICE 2020 in February this year. Todd Haushalter, Evolution's Chief Product Officer, couldn't wait to tell attendees all about the upcoming game:
"We have been hard at work for the last year creating what I think is our best game line-up ever. We are making the core games more fun; we are enhancing games to make them more relaxing and comfortable to play; and we are also launching our craziest, most bonus-laden, game show ever – Crazy Time. Personally, I think Crazy Time is the most fun casino game ever created and I can't wait for it to be live."
And now that game is live, along with engaging features and wins of up to 25,000x…
…it's both fun to play and to watch and is brought to your devices (including mobile!) from a dazzling studio in Europe. The entertaining studio includes the main money wheel, top slot bonus, cash hunt, Pachinko, coin flip and crazy time bonus rounds.
To play, drag and drop your chips on the betting table (1, 2, 5 or 10) and/or the bonus games – and two of these offer an extra decision and that means you won't always win the same prize! Each round will see the main wheel spin and the top slot (packed with spins!) at the same time.
To win, simply place your bet on the where you think the wheel will come to a standstill. 1, 2, 5 and 10 will produce multipliers of that same value while the bonus games offer additional ways to win! It really has to be seen to be believed and you can witness it in action over at Mr Green.
Source: "Craziest, Most Fun Game Yet Among Evolution's 12 New Games at Ice 2020". Evolution Gaming. February 3, 2020."
Bingo Promotions & Bonuses
Back to articles
Your feedback
Please enter your comment.
Your comment is added.
Member's Feedback (1)
Bubles12
06/19/20, 08:06:42 AM
Wow! I've been waiting for this for what seems an eternity! When I read about it back in February, I was impressed by what it has to offer. A single game with many...
Wow! I've been waiting for this for what seems an eternity! When I read about it back in February, I was impressed by what it has to offer. A single game with many different bonus game rounds and ability to win is bound to be good in my eyes!
Show more