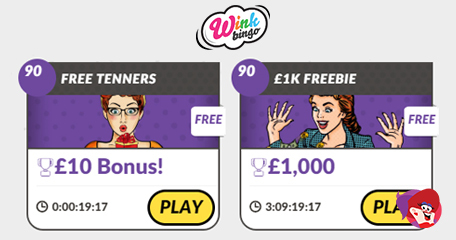 Did someone say free bingo? If that's what you're looking for, then you've come to the right place Why is it we are nation of free bingo lovers? Maybe it's because you can't beat daubing away for free in the hope of triggering something small to keep you playing, but Wink doesn't just award small prizes; they create big prize winners!
From the moment you join, the freebies start to flow. First up is the newbie bingo room where you'll enjoy the warmest of welcomes with exclusive access to the newbie room. Every new member is rewarded with 3-days access to the rooms where bingo tickets are free…
…and you there's up to £900 in bingo bonuses on offer. The newbie room is a 75-ball bingo game which plays every 10 minutes with prizes of £5, £2 or £1 in bingo bonus with every game. Three-hundred pounds in bonuses is paid every day and it's ever so simple to win; the first player to cover the pattern wins and everyone has the same chance of winning, because they each have the maximum of 6 free tickets each in every game.
Best of Both Worlds:
Wink Bingo has lots of free bingo games in the new and improved free bingo games and games run daily. Free bingo games give away both bingo bonuses and cash prizes, proving that the best things in life can be free. The free bingo games are available in two variants; 90-ball and 75-ball. Head on over to the 'free zone' in the lobby to view the various offers and bingo rooms.
Calling all mobile users; there is a free game available every Sunday just for you! Log in via mobile or tablet devices and the free bingo game will appear in the lobby.
The Schedule:
Three chances to win are featured in every 90-ball bingo game. Here's what you can win a share of in these free games:
Free For All: To win a £1 bingo bonus

Free Tenners: To win a £10 bingo bonus

Forever Free: To win a £50 bingo bonus

£1K Freebie: the weekly game for a share of £1000 in real cash.
In the 75-ball games, you will find two free bingo rooms:
Newbies: To win a £5 bingo bonus

Free Sunday: To win a £250 cash prize.
Pick Up More:
There are many ways to pick up free tickets to the big paying jackpot games and the Wink Rewards scheme is just one of them. The unique rewards program allows you to collect rewards as you play; the more rewards you have, the more shopping you can do. Complete the Wink daily challenges and more to exchange your rewards for bingo bonuses, free bingo tickets and even bonus spins.
Bingo Promotions & Bonuses
Back to articles
Your feedback
Please enter your comment.
Your comment is added.
JaniceJ 06/08/19, 11:06:15 AM
Free bingo is great. I always try to take part in the bigger games but be warned; the rooms are full!