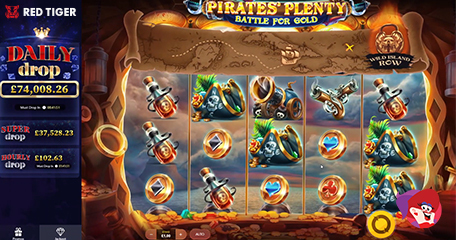 Cast your mind back to the summer of 2016. While we were basking in the glorious sunshine without a care for tomorrow, sipping on chilled drinks and listening to the sounds of birds, one software developer was about to change the face of the online casino industry. Forever.
Red Tiger Gaming (RTG) created a series of must drop and daily drop jackpots that have taken online casinos by storm, but how do they work and why are they so popular? In this explainer, we tell you how they work and why you should be playing them.
Some of RTG's most popular titles are hooked up to the must drop and daily drop jackpots – both of which are progressive jackpots that must pay out before a specific time of the day. Every day. As the deadline draws closer, the jackpot builds; growing bigger and bigger. So does the chance of it dropping with a life-changing win.
These real money jackpots are that popular, many online casinos have opted for a games lobby all of their own! To give you a little insight into the games, Carl Ejlertsson, RTG's Director of Business Development explained:
"Ahead of the 2016 World Cup, Paddy Power asked us to develop a concept that would add excitement to playing a slot game at the same time a World Cup game was coming to an end…
…We came up with the idea of having a jackpot that would drop at a certain time during the game and then adapted this to be a daily thing. So, it was an idea born out of necessity and we stumbled upon what has become a very popular concept."
How Do They Work?
Both must drop and daily drop jackpots work the same way as other progressive jackpots, the only difference is these ones are guaranteed to be won by a certain time each day. A small percentage of every bet placed on these titles will go towards the pot, so the more who play, the larger the pots get.
You can't miss the must drop and the daily drop slots; each one has a window firmly fixed to the left-hand side of the screen with details of all progressive jackpots and the amount currently available to be won.
All titles deliver a multitude of bonuses – from re-spins to wild expanding reels to bonus spins and even cascading reel engines. Rio Stars featuring a full-on carnival feeling and Piggy Riches Megaways with filthy rich pigs are just two of the most played games to date.
How Do You Win One?
Triggering one is straight-forward. Land three jackpot symbols during the base game to activate the jackpot wheel. On that wheel there will be different coloured sections to reflect the corresponding progressive jackpots. The wheel begins to spin and when it comes to a stop, that's the jackpot you'll receive.
The average daily drop jackpot reaches between £40 and £50K, although it can be higher (or lower) depending on the number of people playing). "Thursday and Friday nights tend to be the peak periods for Must Drop and Daily Drop jackpots so if you are seeking bigger potential wins, that is the time to play," says Carl.
The biggest daily drop win (to date) was £78,429 which was claimed by a lucky Betsson player on 24th September 2019. Other big wins include £65,774 at Casino Calzone and another £65,000 win at bgo.
What makes RTG's jackpots different to the other? Carl reveals: "The problem the industry had with jackpots was that operators needed to pool a lot of resources and liquidity to make them attractive to players. This tied up a lot of money in one prize that could only ever be won by one player…
…Daily drop jackpots are smaller but still offer a desirable prize, squaring the circle between urgency and attainability. In short, they are a shot at the big-time and a life-changing amount of money but at the same time are attainable. We've actually created a new breed of player – those that chase attainable jackpots."
Where can you play these high-attractive casino games? Why not take a browse at the 40 online bingo sites powered by Red Tiger Gaming software, you may just find the perfect place to play (and win!).
Bingo Games
Back to articles
Your feedback
Please enter your comment.
Your comment is added.
Member's Feedback (1)
Bubles12
02/18/20, 02:02:29 PM
Easier said than done. I'm no closer to winning one now than I was years ago when I first started playing. It's the luck of the draw at the end of the day.