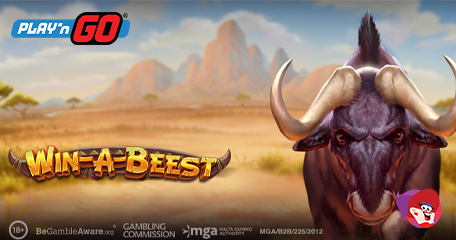 A slot machine every week for a year was promised by one of the most creative game developers back in January, but how are they getting on? 'Win-A-Beest' and 'Riddle of Reels: A Case of Riches' see Play'n GO reach the halfway point with releases 25 and 26, but as we enter week 32, it would seem they're a little behind.
They're known for the speed in which they produce their games and we have seen three or more come in the same week, so that target of 52 is easily achievable. The two latest titles are very different in terms of themes, pays and bonuses; one offers a wild adventure in the plains of Africa while the other offers rewards for tracking down the stolen riches (both offer bonus spins!).
The wildlife-themed Win-A-Beest is not a typical 5-reel slot, instead, it's what's called a 2-4-4-4-2 diamond grid slot focusing on one of the most magnificent animals in the African continent – the wildebeest. Serving as a 'super symbol', the wildebeest is not only the highest paying of the game, but you only need a two-of-a-kind (instead of a minimum of three) to trigger a win!
Martin Zettergren, Play'n GO CPO, spoke about this release in a recent press release: "This is a game all about power. The Wildebeest is a powerful animal, and it combines with a strong pay table to give players more powerful wins. The features, multiplier wilds and grid expansion are all designed to add into the excitement and energy that a 'wild' slot like this should generate, we know players will enjoy what it has to offer."
Beest mode and beest mode spins see random bursts of excitement – you never know when the reel engine is going to expand from 256 ways to win to 1024! The re-spin and win feature can spring into action on any spin and sees only high value symbols landing – the more than land, the larger your win!
Crack the Case
From Midsomer Murders to Agatha Christie, I've always been a fan of detectives and admire the skill and determination these individuals have for cracking the case. I don't know why, but here's something extremely rewarding about solving riddles and watching the criminals being put behind bars.
If you've ever fancied a shot at becoming a sleuth yourself, now's your chance in the supplier's Riddle of Reels: A Case of Riches! Inspired by the world-famous Sherlock Holmes, this game features its very own pipe-smoking agent and his assistant Dr Watson, but they need your help – if you can solve the clues, you could end up benefiting from a whopping great win of up to 5,000x your bet!
Set in Victorian and Edwardian England where oil-filled lamps would line the cobbled streets, an array of characters come under suspicion. The innocent need vindicating, the guilty need punishing and it's your job to do just that in what's being described as an "interactive experience that puts players right at the heart of the mystery."
The 3x3 reel engine packed with multipliers, bonus spins and a board-game style bonus will draw you in from your very first spin, especially when you land three magnifying glass symbols! All you need to do is roll the dice, move around the board, solve the clues and trigger big wins, re-spins and additional bonus spins, all while tracking down the criminal(s)! A little tip: your odds of winning big are greater via the bonus!
Martin Zettergren, Chief Product Officer had this to say on casino game release 26 of 52: "This game makes the players the central part of the story. Sherlock isn't solving the mysteries; he's just assisting them in reaching their final goal.
We've created a whole world for players to be part of and with the game's unique features, there are so many possibilities that they'll want to play again and again. That's where the value comes from for them, providing a game that will keep people entertained and keep them guessing!"
Source: "Play'N Go Crack the Case with Riddle Reels: A Case of Riches!". Play'n GO. July 30, 2020.
Bingo Games
Back to articles
Your feedback
Please enter your comment.
Your comment is added.
Member's Feedback (1)
HulioSas 08/04/20, 10:08:30 AM
The mystery game is very difficult to understand, especially during the bonus round. You need to be a detective to understand how you're winning! Although, it's...
The mystery game is very difficult to understand, especially during the bonus round. You need to be a detective to understand how you're winning! Although, it's super fun and offers big wins even for the smallest of stakes.
Show more