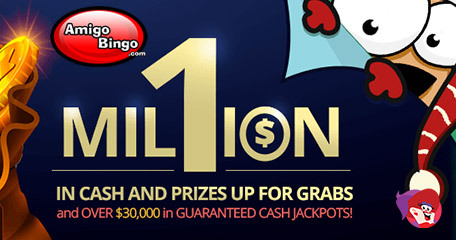 More Than $1M Up For Grabs This December
It's all go over at Amigo Bingo this month with multiple promotions all designed to give away mega sums of money! In just the one promotion, $1million is up for grabs, well why not, it is the most wonderful time of the year after all!
Santa is coming and whether you've been good as gold all year or a little naughty, you have a chance to win a prize from his massively over-flowing sack of gifts! There's one million – no, scrap that, there's over one million dollars to be won with over $30K in guaranteed cash jackpots! Due to its success last year, the famous 12 Days of Christmas has made an epic return with even more thrills and cash spills than ever before!
How does the 12 Days of Christmas work?
Every day during our contest, Amigo Bingo will give one lucky roomie a chance to shake the Christmas tree filled with wonderful gifts. Patterns have been running from the 1st of the month and will continue right up until New Year's Eve, meaning there is plenty more opportunities to win!
Bingo on the Christmas Wreath, Christmas Tree, Christmas Bell, Snowflake, Reindeer, Gifts, Hot Cocoa, Blanket, Candy Cane, Santa's Cookies/Milk, Basket Gift, Santa's Letter, Ginger Bread, Poinsettia, Ginger Bread/Sugar Cookie to be in with chance of winning even more prizes!
Upcoming Christmas tree prizes are as follows:
Wednesday 14th: Ring Video Doorbell – 1080p
Thursday 15th: $100 Cash
Friday 16th: $50 Amazon Gift Card
Saturday 17th: Fire 7 tablet (7" display, 16 GB) - Black
Sunday 18th: $250 Bingo Bucks
Monday 19th: Roku Express 4K+ 2021 Streaming Media Player
Tuesday 20th: $50 Walmart Gift Card
Wednesday 21st: Echo Show 8 - HD Smart Display with Alexa
Thursday 22nd: $75 Cash
Friday 23rd: $50 Starbucks Gift Card
Saturday 24th: $250 Bingo Bonus
Sunday 25th: Toshiba 50-inch LED 4K UHD Smart Fire TV
A grand prize draw…
…will take place on January 5th, 2023, and one lucky player from all casino and bingo participants, will receive $1K in cash! The casino contest will award prizes based on points accumulated as well as a random and fair system. With three weekly draws remaining, one will be determined via leader board standings, the remaining 2 via random draws from all those who qualified!
The Amigo Bingo slots are paying out over $15million a month, and last month they had over 1000 jackpots of $1,000+, more than 425 of $2,000+, and 250 jackpots of $3,000 or more. To participate, play any popular Parlay and Mobilots games.
How to collect points?
Get 5 points for every deposit you make during each weekly tournament.
Get 3 points for every $30 wagered on Mobilots.
Get 1 point for every $50 wagered on Parlay slots and casino games
Weekly prizes that will be won (in addition to prizes triggered via the game wagers) include the following, along with weekly $1K cash prize winners:
1st Place: $300 cash plus 200% bonus
2nd Place: $200 cash plus 150% bonus
3rd Place: $100 cash plus 100% bonus
4th Place: $100 bingo bonus and 100% extra bucks
5th Place: $150 bingo bonus and 100% extra bucks
And All This To Come Too
Other Amigo Bingo promotions will be paying out $250K in a bingo tournament, $500K in a holly jolly bingo room, delivering 50 no deposit spins every week and so much more! To get 100% risk-free casino spins, log into your bingo account every Wednesday and Sunday for 25 free games on the machine of the day. Absolutely no crediting the account required!
In a similar style to both the casino prize draw and the bingo contest above, the bingo bake-off has a cool quarter of a million dollars up for grabs, just for bingo-ing on special patterns. To maximise your chances of winning a weekly prize, as well as the full house prize, follow the contest rules, pay attention to game times for the perfect recipe! Oh, and all cards will be on a buy 30 get 5 free offer!
Each contest game win gets you 1 point into the weekly contest.
Every $10 wagered on contest games gets you 2 points into the weekly contest.
Each deposit made within the weekly contest gets you 3 points into the ranking.
Extra Prizes are as follows, alongside weekly grand cash draw spaying 4 x $1K:
Best taste: $250 BBs + 250% Deposit Bonus
Best presentation: $150 BBs + 150% Deposit Bonus
Originality: $100 BBs + 125% Deposit Bonus
Skill level: $75 BBs + 100% Deposit Bonus
Best use of games: $50 BBs + 100% Deposit Bonus
Best Effort: $25 BBs + 100% Deposit Bonus
Last but not least you have Bitcoin bonuses and rewards, a free bingo room with 24/7 bingo with cards priced at 0c…
…a daily bonus of up to 200%, $1K freeroll player appreciation, Birthday perks, bonus back offers and a member lotto draw! Deposit $30 or more between Friday and Wednesday to receive a free bingo lottery ticket. Submit your (5) number picks for the chance to win up to $100 bingo bonus on Thursday.
Don't forget to check out the Amigo Bingo bonus calendar as it details what you can claim and when. Calculating your bonus is easy. Step one: choose the day of the week to know the daily bonus you get on that day. Step two: choose your loyalty level (view this via your profile). Step three: check out the total bonus amount you can get according to the amount you plan to deposit.
Bingo Promotions & Bonuses
Back to articles
Your feedback
Please enter your comment.
Your comment is added.
lollipops321 12/12/22, 07:12:52 AM
I love how you can get to know the chat team by reading interesting facts about them, plus you have the chance to win extra bonuses when you engage with them.