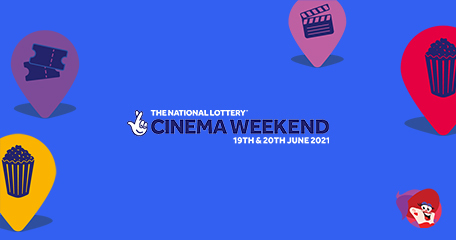 Lights, Camera, Lottery Ticket = Cinema Tickets!
Every time you play the National Lottery, you are helping to raise £30m a week for good causes in the UK, including heritage projects, communities, sports, arts and much more. To say thank-you for making a difference to those who need it most, the National Lottery have given all tickets the power to unlock a freebie, and not just a free lottery ticket, but a pair of cinema tickets for you and a mate to enjoy without spending any extra money!
How does it work? There are over 200,000 pairs of tickets up for grabs this month to enjoy a movie at plenty of participating cinemas up and down the country. Session times are up to you, but viewings are restricted to Saturday 19th and Sunday 20th only. As long as you've played any National Lottery game, you can apply for your adult admission tickets online from June 15th. As this will be a first come, first served basis, you will need to get in quick.
All you need is your National Lottery ticket, scratchcard or instant win game to apply, and not from a recent purchase either. The terms and conditions state it can be any purchase made online or in retail since 1st January 2019! I have a few tickets laying around myself, so I'm off to claim mine before they all go! The good news is there are more than 500 cinemas participating in this promotion, so there should be plenty of availability for your chosen venue.
Claiming your Tickets
To claim a cinema ticket (or a pair!), choose the cinema you want to visit from the those showing as participating cinema venues listed on www.cinemaweekend.co.uk. You will then need to supply your details as well as an email address before setting a password. The final stage is to insert the code from your lottery ticket (more precise details will be shown on the website) and choose whether to go solo or with a mate!
A booking confirmation and unique code or link to the cinema specific page will be sent to you along with instructions on how to claim the offer. Click the link supplied and you will be able to select the movie you want to watch and at a time that suits you. Next up, you either choose to sign up to the cinema or continue as a guest to complete the booking process.
Once complete, you'll receive booking confirmation with details on how to claim your tickets! The only thing left to do is stock up on treats because nobody likes to pay £5 for a pouch of sweets at the cinema!
Nothing quite beats a freebie, and talking of free, have you seen what you could win over at Mecca Bingo for just the price of a first-class stamp? It's amazing!
Lottery & Scratchcards
Back to articles
Your feedback
Please enter your comment.
Your comment is added.
HulioSas 06/14/21, 12:06:42 PM
Nice to see them giving back to the players! I love the cinema but haven't been for about 2-years now, so thanks for this! I have the page bookmarked to claim mine first thing in the morning!