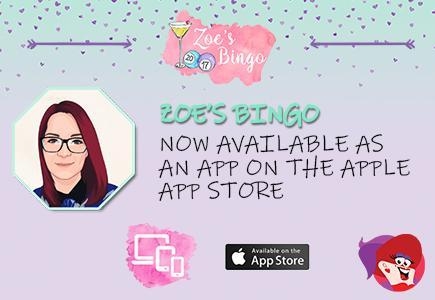 In order to bring you mobile compatible games, some sites must compromise on quantity, meaning a smaller choice of games, but I'm delighted to see that the new
Zoe's Bingo
app means they don't compromise on quality nor quantity! Players can now access the full suite of bingo games from an Apple device; whether that be an iPad or an iPhone, thanks to the new App.
If you're scratching your head and thinking that Zoe's Bingo was mobile compatible before – then yes, you're right – it was indeed, but there's a bit of a difference between logging in (or registering) through an app and doing that through the browser on your device...
...and I'm about to explain those differences.
Mobile Compatible vs A Mobile App:
Any smartphone or tablet will have access to the bingo site – including Android devices. If you own an outdated mobile or the latest tablet release, you can enjoy Zoe's Bingo games by launching the internet facility on your device. This way, you access games through a browser, which means you have to take time to not only navigate to the internet, but then you have to insert the web address before logging in...
...but with an app, you simply press the icon and it takes you directly to the bingo site without having to type in any long-winded URL – basically, it makes your life that little bit easier.
Sadly, the app is only available to iOS users, so I would miss out, because I own the Samsung Galaxy Note 9 – also known as an Android. If you have an iPhone or an iPad, you can head to the App store and download the free app onto your home screen for instant access.
What's Different?
You won't find a whole lot of difference to be brutally honest, but compared to playing through your browser, it's a lot more pleasant. Players will instantly recognise that the menu bar and address bar are gone, with more screen space for playing bingo and games...
...talking of games, they now launch without needing a new browser window and in my opinion, there's nothing worse than having more than one 'tab' open at a time.
The selection of bingo rooms remains the same – you don't lose out for choosing to play on mobile and this also means being able to enjoy free bingo 24/7. The promotions featured are available to desktop and mobile players, including jackpot games. To be brutally honest, the only thing that is difference when compared to the desktop site, is the choice of slots and casino games...
...because not all slot titles created are HTML5 enabled, but this has nothing to do with Zoe, it's purely down to the software provider, who probably released the games before mobile technology was introduced.
Experience the same great bingo community, enjoy side games whilst chatting to other like-minded bingo players, and contact support (should you wish) all through the app. Let us know what you think of the app below.
Terms and conditions apply
Bingo Software
Back to articles
Your feedback
Please enter your comment.
Your comment is added.
DomLatVit
01/19/19, 09:01:47 AM
I've notice that some bingo sites have an app, but they have a smaller selection of bingo rooms to choose from Zoe's Bingo offers them all!