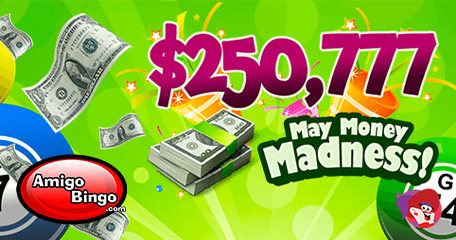 May (Money!) Madness Guaranteed
Do you have what it takes to win a share of more than $250K this May? Bring your poker face on and join Amigo Bingo in the main bingo room for a chance to hit jackpots of up to $10K in cash in the May Madness promotion!
This May, Amigo Bingo are bringing you an exclusive Casino Royale-themed bingo contest with $250,000 in guaranteed prizes! Plus there are Triple Cherry Bingo games for the chance to win extra prizes in chat too! The fun kicks off at the top of the hour – every hour, with a chance to win the $10,000 jackpot…
…this is followed by two or three contest games per hour. And because this promotion is casino themed they'll also be teaching you how to play blackjack, gin, poker and roulette bingo style, while giving you even more opportunities to win bingo bucks in the 24/7 chat rooms. To take part, simply deposit, play and bingo (win!) on the contest bingo games in the main room throughout the day. For each bingo game you win you'll earn 1 point towards the weekly contest. Every $10 wagered on contest games gets you 2 points and each deposit made within the weekly contest gets you 3 points in the ranking.
The winners will be chosen from top 5 ranking on the leader board on week 1 and 3 while weeks 2 and 4 winners will be drawn at random, to keep it fair. Extra weekly prizes (in addition to the jackpot cash prizes) include bonus and deposit packages. Oh, and at the end of each contest week 3 extra players will be chosen to win $500, $350 and $150 in cash!
Other Amigo Bingo promotions this May include:
Get No Deposit Spins: Log in every Wednesday and Sunday to receive 25 casino spins on the machine of the day. No deposit needed. That's 50 free games every week absolutely free!
High-Speed $250K Bingo: Bargain bingo at its very best! Deposit and purchase your cards for each multipart speedy games with a $3.50 cash fee per game. This fee covers a set number of cards for each of the $150 - $500 guaranteed cash games. That's just $0.14 per card, giving you a more bang for your buck.
Fifteen Million Slots Tournament: Amigo Bingo slots are paying US bingo players over $15 million a month, and you could win a share of that cash by participating. Last month they had over 1000 jackpots of $1,000+, more than 425 jackpot winners of $2,000+, and 250 jackpot winners of $3,000 or more.
Winning Bingo Spells Extra Prizes: Come up with words or sentences using your bingo wins every week to take part in a raffle for extra bingo bonuses. Three participants will also receive their scrabble letter point value in extra bingo bucks!
New to Amigo Bingo? Get started with 600% extra (bonus) on the first deposit, 400% on the second one and another generous bonus on the third. In addition to the promotions and offers above there are daily bonuses, reloads, refer your friend offers, Bitcoin boosts and so much more!
Bingo Promotions & Bonuses
Back to articles
Your feedback
Please enter your comment.
Your comment is added.