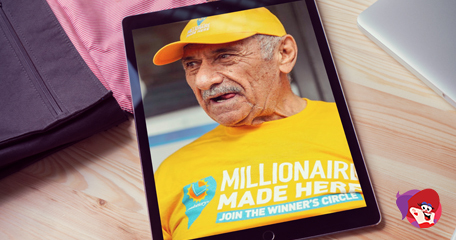 Big Powerball Jackpot Is Finally Won!
On Saturday November 5th, the Powerball jackpot was estimated to be worth a staggering $1.5bn after 39 previous consecutive drawings with no winner. On the 40th drawing a winner was found, a single ticket holder scooping $2.04bn (£1.7 billion) – substantially more than the estimated figure!
Drip by drip, details of the lucky winner are started to emerge, with the latest information revealing the lucky Powerball ticket was purchased in a very poor neighbourhood in Southern California! The winning ticket was sold at Joe's Service Center in Altadena, Southern California. The owner of the shop, Joe Chahayed, has also won a maximum Powerball bonus of $1m just for selling the ticket to the winner!
"I'm very surprised. Very excited. Very happy," said Mr Chahayed. "I wish I knew the person but most people who buy tickets from me are from the neighbourhood. I hope one of them will be the winner." The lucky shop owner has plans to spend his winnings on his family, including his 10 grandchildren!
Only Four Previous Draw Winners Top $1bn
As news of where the winning Powerball ticket was purchased started to spread, local media started to flock in their droves. Speaking to Pasadena Star News, Mr Chahayed said: "[It is a] very poor neighbourhood...It's a very poor neighbourhood. From the bottom of my heart, I hoped somebody would win...they deserve it. The poor people deserve it."
The winning numbers drawn on Tuesday at the Florida Lottery draw studio in Tallahassee were white balls 10, 33, 41, 47 and 56, and the red Powerball was 10. The winner can choose to receive their prize over 29 years in annual payments, or a cash lump sum, minus taxes and duty, which could equate to $997.6 million.
Odds of winning the jackpot are 1 in 292.2 million. No details on whether the lucky winner has come forward yet. What we do know is that whoever has won has just become the 1,292nd richest person in the world, according to the Forbes billionaires list.
To date there have only been four previous Powerball jackpot winners of $1bn. The recent winner takes home the life-changing sum after no winners were produced in 39 consecutive drawings, starting on August 6th.
The new Powerball jackpot prize smashes the previous record prize of $1.586bn (£1.398bn) won in 2016 by three Powerball players in California, Florida and Tennessee. The game is played in 45 states, as well as Washington DC, Puerto Rico and the US Virgin Islands.
Source: "Shopkeeper Who Sold $2bn Winning Powerball Ticket: 'It's A Very Poor Neighbourhood. I Hoped Somebody Would Win'". The Independent. November 9, 2022.
Bingo Society News
Back to articles
Your feedback
Please enter your comment.
Your comment is added.
HulioSas 11/10/22, 07:11:14 AM
Imagine winning a sum of money that large. It would be mind-blowing. From rags to riches overnight. Let's hope they seek financial support as there are a lot of rogue people out there who will do their utmost to get the winner to part with their funds.