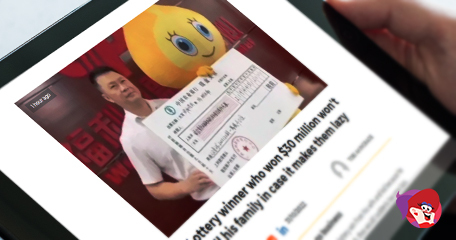 40 Lottery Tickets All Struck Gold!
Picture this, you're married and have kids. You live a fairly simple life with no extravagance then all of a sudden your other half starts buying items that you really can't afford. Extra treats, eating out more often, a new car and possibly even a move to a dream location…you'd be wondering where in the heck all this money has come from right?
Well, one man from South China will soon be faced with multiple queries from his family after landing a win of $30million on the lottery. Usually lotto winners with a mega win decide to remain anonymous from the world, but this fella is choosing to keep his win away from his own family!
Why? Because he believes his family would turn "lazy" and expect handouts! Blimey!
Going Undercover
The winner has chosen to go by the pseudonym 'Li' so that his family won't spot his name on any winners list, allegedly bought 40 tickets into the draw and every single one of them matched all seven numbers!
So that his plan was fool proof, he even attended the Guangxi Welfare Lottery Distribution Centre on October 24th in a full head-to-toe costume! How's that for commitment.
He said: "I have not told my wife or kid. I am concerned that they might feel superior to other people and will not work or study hard in [the] future."
We're not sure he's stingy or a genius! Oh, well, he must be a genius because we've just discovered he donated $5million to charity.
And on the subject of big jackpots, Heart Bingo's Make Me A Millionaire has just smashed the £1.3million mark! The exclusive video slot is part of the Jackpot King Network of titles where randomly on any spin (of any value), all reels could turn royal red with golden crowns. Should this occur, a jackpot could very well be dropping!
The reels will begin to spin and every golden crown appearing is gathered and added to the cash trail. After any spin a pick and click bonus may be offered. Choose one of the four golden tokens to either progress or to end the bonus to keep what you win! A minimum of 15 golden crows are required to trigger the Jackpot King Deluxe system…
…however, unlike Microgaming slots where the jackpot bonus means a jackpot is a 100% going to happen, the Blueprint Gaming mega pots of cash are not guaranteed! Access to the "end game" could result in a small win, medium win, large win, mega win or one of three progressive jackpots.
Source: "Lottery Winner Who Won £30 Million Won't Tell His Family In Case It Makes Them Lazy". Joe. October 31, 2022.
General Bingo News
Back to articles
Your feedback
Please enter your comment.
Your comment is added.