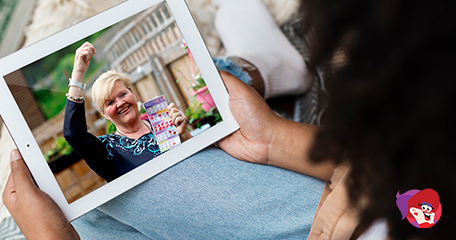 Lightning Strikes Twice for Cardiff Bingo Venue
Is there such a thing as beginner's luck? I know when I first started to play bingo I had no luck whatsoever, but lately we're seeing more and more instances of newbies winning big cash, so it must be a thing.
Only last month one lucky fella decided to google for fun things to do while he had a rare night away from his kids, and the top suggest put to him was bingo, so off he went and he won £150K! A few weeks before him, a woman landed tens of thousands of pounds on her very first visit to a bingo hall, and now we're back with another newbie big bingo win!
Timeline of Events
On Saturday 13th August, a massive £50K jackpot was won at the Club 3000 Bingo venue in Cardiff and despite the winner remaining anonymous, we now know she was a returning player having stayed away for some years and even more surprisingly, she was only there to celebrate her 40th Birthday!
The woman who is thought to be a Cardiff local, was out with her husband, brother and some friends when she won the life-changing sum of money. With her being away from bingo for some years, she had to re-register on the night in order to play. How did she win? By playing The National Bingo Game link flyer. The special 50-ball bingo game delivers a guaranteed full house prize in every club as well as a trio of jackpots for a full house win within a set number of calls.
Call a full house within 24 calls for an additional £100 prize
Win a full house within 20 calls for an extra £1K prize
Call that full house (10 numbers) within 16 calls for a guaranteed £50K!
Reflecting on her win, the woman said: "I was emotional and shocked as the numbers came up so quickly. It was unbelievable. I only joined the club on the night, and it was certainly a lucky night for me and made it an extra special birthday." She added: "The atmosphere was amazing when I won, everyone was celebrating with us. I am planning to use the money to learn to drive buy a car, go on holiday, and hopefully put a deposit down for a house."
Many from the local area believe the Club 3000 Bingo venue is lucky after another woman from the won £50K at the same club back in May!
Speaking about the latest jackpot win at the bingo hall, Club 3000 manager Sally Morgan said: "The atmosphere in the club was electric. All the customers burst into applause and started cheering, the mood in club was very much uplifting, which was wonderful. Nights like these is what makes bingo so special. We are so happy for our winner who only joined on the same night and was celebrating a special birthday. The win created the best party atmosphere ever!"
Source: "Cardiff Woman Celebrating Her Birthday Wins £50,000 at The Bingo Having Not Played For Years". WalesOnline. August 19, 2022.
General Gambling News
Back to articles
Your feedback
Please enter your comment.
Your comment is added.