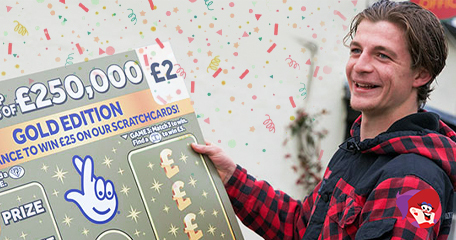 We all love a winner's story – me more than most. Discovering how someone went from rags to riches in some obscure way gives me hope that one day, I too might land a life-changing win. I believe in all things in moderation, unless it comes to chocolate, that's my weakness, so I have limits in place for my bingo and slots. Something you should all have in place by now.
Instant wins – what's the most you've ever won on a scratchcard? I'll never forget winning £500 because it was a day that went from disappointing to amazing! I may have mentioned this before, but I specifically gave my mum instructions to buy 2x £5 scratchcards with the understanding that if there were none there, to bring the £10 home. Mum returns with three £3 cards and a single £1 scratchcard. I was so disappointed so left them on the side for a few hours. When I did get around to revealing them, I had five lines of £100! My mum tapped my arm and told me to stop moaning! This was a few years back mind.
Pick Up a Pint and a Win
George Bates is one of The National Lottery's latest big winners after discovering he had an instant win card in his pocket while having a pint. He was in the pub, sat at his table on his own when he remembered he had bought an instant win from his village post office. Out he pulls a this £2 'Gold Edition' card and started to rub away at the coating. The pub was aghast when he began to leap and shout – he had won £250K – quarter of a million in real money!
Instantly, the elated winner was ordered to sit down due to the new guidelines, but that didn't stop the rest of the pub cheering! Reliving the moment, he said: "I'd just got a pint and sat down at my table when I remembered the scratchcard I'd bought a bit earlier at the village Post Office. As I revealed the £250,000 prize symbol I leapt up and started to shout and cheer, I was buzzing!
"I'd bought the scratchcard earlier that day, shoved it in my pocket and carried on. I can't believe I was jumping in and out of the car, and all the time with the equivalent of £250,000 in my pocket. Once I'd seen what that little piece of card was worth, I pretty promptly finished my pint and headed home to tell my mum and give it to her for safekeeping."
So, he sat there, finished his pint calmly…
…before going home? I'd have been in bits! Forget the car and the 12-mile journey back home, I'd have been that ecstatic, I'd have run all the way home! George continued: "Telling my mum was epic; my brother was there too, and we were just whooping and shouting – I think my mum was in total shock. I confirmed the win with Camelot and signed the back and gave the Scratchcard to my mum, knowing it was definitely safer with her than me! It was an amazing feeling all weekend, rounded off nicely with me being able to treat my mum and two brothers to a slap-up Sunday lunch at the pub."
He has a plan to travel North America and drive diggers in a goldfield, well, does have a job in operating large machinery so it is a dream come true for him! He's not forgetting his roots though and he promises to share his newfound wealth with his mum and hiss brother. "It's been a rubbish year; this is a pretty awesome way to finish it off – we're going to have one hell of a Christmas!" I bet you will George, I bet you will!
You can learn more on responsible gambling in our Safer Gambling week article.
Source: "George's Marvellous Scratchcard Win". The National Lottery. November 12, 2020.
Bingo Society News
Back to articles
Your feedback
Please enter your comment.
Your comment is added.
Member's Feedback (1)
HangingAround
11/20/20, 08:11:23 AM
What a superb way to find out you've just won quarter of a million pounds! I play them every now and again, but even though I don't win much, the potential to win...
What a superb way to find out you've just won quarter of a million pounds! I play them every now and again, but even though I don't win much, the potential to win huge sums is there.
Show more