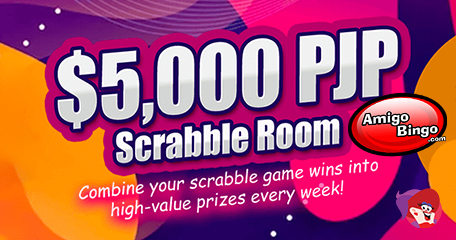 Multiple Promotions Paying Multiple Jackpots
New month means new Amigo Bingo promotions and this means even more chances to pick up big wins, jackpots and free offers than ever before!
The popular US-based gaming parlous is packed to the rafters with winning opportunities and not only for those who can afford to buy maximum cards in every game…
…and it's all thanks to the random weekly draws! That's right LBB'ers, each and every tournament hosted by Amigo Bingo gives ample chances to win with players topping the leader boards scooping the prizes as well as those who do not.
So how does it work?Unlike other online casinos, Amigo Bingo believes in giving everyone a fair chance and this means whether you go all-in every game or play conservatively, you could still pick up one of multiple weekly prizes. Oh, and the weekly prizes are in addition to what's up for grabs in every game!
Example number one…
The fifteen million slots tournament will run from the first until the last day of the month with jackpot prizes guaranteed to be won. The slots this month are paying out over $15 million and any spin could land a mega win! In February there were more than 1,600 real money jackpot winners in this promotion alone with over 1,000 members picking up $1K, more than 425 winning over $2K while just over 250 lucky spinners bagged more than $3K!
There are two ways to win, the first is by collecting as many points as you can to top that leader board; the second is on a random draw. There will be four weekly draws alternating between leader board scorers and a random draw to make it as fair as possible.
Getting those points in is as easy as 1, 2, 3…
Get 5 points for every deposit you make during each weekly tournament.
Get 3 points for every $30 wagered on Mobilots games
Get 1 point for every $50 wagered on Parlay Slots and casino games.
Weekly prizes are awarded to either the top 5 ranking players or the first 5 players pulled from the virtual hat at random:
1st Place: $300 cash and 200% extra bonus
2nd Place: $200 cash and 150% extra bonus
3rd Place: $100 cash and 100% extra bonus
4th Place: $100 bingo bonus and 100% extra bonus
5th Place: $50 bingo bonus and 100% extra bonus
March 1st to 7th will be based on top 5 rankings, March 8th to the 14th will be a random draw, March 15th to the 21st will be based on rankings while March 22nd to 31st activity will be a final random draw. Wait! That's not all! At the end of each week there will be $1K in cash up for grabs in an additional raffle! First prize is $500, second is $350 while the third is a generous $150 in cash!
Other Amigo Bingo promotions this March include:
#1 - Get No Deposit Spins: Log in every Wednesday and Sunday to receive 25 bonus spins on the machine of the day. No deposit needed. That's 50 free games every single week this month!
#2 - Bingo Tournament: Get ready for this LBB'ers! How would you like to combine your scrabble game wins into high value prizes every week? The new bingo tournament will award letters with wins and every letter counts towards making a word. The more words you make, the better your prize potential!
All games have a buy 15 get 5 free offer with cards priced at just 10c each. There's a weekly raffle to win bingo bonuses too! Three roomies will receive a scrabble letter point value in extra bingo tickets.
Point value is as follows:
(1 point)-A, E, I, O, U, L, N, S, T, R.
(2 points)-D, G.
(3 points)-B, C, M, P.
(4 points)-F, H, V, W, Y.
(5 points)-K.
(8 points)- J, X.
(10 points)-Q, Z.
Example: If you submit 'Happiness is yelling bingo!' (The scrabble score is 36 point = $36 bingo bonus).
#3 - $1K Player Appreciation Freeroll: Could you win the Player Appreciation this week? There's $1K up for grabs and all you need to do to qualify is to deposit! The free event plays at 7 pm (EST) on Wednesday every week with lots of prizes up for grabs! The only downside is you must be present to take part in the games. There are 10 guaranteed games paying 3 x $25 in cash with 7 x $25 bingo bonuses.
*To get an entry to this exclusive bingo event players must have deposited at least once over the last 7 days and not have any approved withdrawals since said deposit. Members have until Wednesday at 6pm each week to make a deposit to qualify for this free money bingo promotion.
#4 - Guaranteed Jackpot Games: Another leader board-random draw contest only this time with bingo instead of slot games. There's $150K to be won this March and winning a slice of that cash pie is as easy as purchasing bingo tickets! A special buy 30 get 5 cards offer will be running with cards priced between 25c and $1 each.
Weekly winners will be selected randomly or by the top 5 depending on the contest week, so every player has a fair chance to win. The five winners get to choose their own prize from the following list:
Double the daily bonus on the next deposit up to 350%
Cashback bonus based on the overall deposit total from the previous week (up to $500)
Five lottery tickets to win up to $100
Two team bingo entry tickets for the same weekend
$50 bingo bonus to play any of the games featured
Each contest game win gets you 1 point into the weekly contest.
Every $10 wagered on contest games gets you 2 points into the weekly contest.
Each deposit made within the weekly contest gets you 3 points into the ranking.
#5 - Free Bingo: Open to all members, the free bingo room is awarded $5 bingo bonuses in every game with chat games to keep the entertainment flowing. On top of the bonus prizes is a weekly contents with three prizes going to three players: 250% bonus, 150% bonus and 100% bonus. These bonus prizes are on top of the welcome package of 1000% and the loyalty and daily perks.
Promotions & Bonuses
Back to articles
Your feedback
Please enter your comment.
Your comment is added.