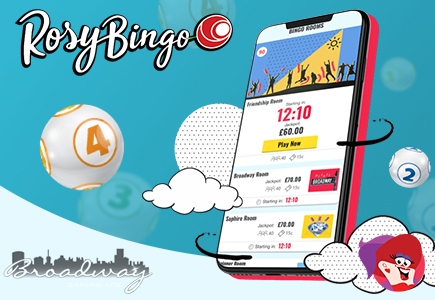 What is it with online bingo sites lately? I've counted no less than three of them which have
dramatically undergone a makeover
and the latest just happens to be Rosy Bingo, and I must admit, it's been needing it for a while. So, what can you expect from this brand-new look? The welcome page is completely different; the light blue theme has been totally binned and in its place is a more adult-looking website.
With the old website, there was very little information on offer to attract new customers. Yes, you had a brief insight into the games, but it was very much standard...
...now, what you have is a section dedicated to independent player reviews which have all been left on the
Trustpilot
website. Currently, the bingo site is scoring a fabulous rating of 8.2 out of 10, which is calculated by the number of
players leaving real, honest reviews
, which point out how helpful support staff are, how generous the bonuses are and how friendly the chat community is. Mind you, all of these were apparent before the change, the only thing that has changed is the reviews being put there for all to see.
Why the Change?
Rosy Bingo
is part of one of the most popular bingo groups - the Broadway Gaming group of sites, and they're currently the third website to undergo a makeover, following in the footsteps of
Butlers Bingo
and
Dotty Bingo
and in all honesty, I can see more following suit. The last time we saw big changes such as this was when the bingo sites first launched, so it has been a long time coming.
New laws surrounding gambling
have played a big part in this and the changes coincide with new government regulations which are to be rolled out this month. Not only has the Point of Consumption Tax risen from 15% to 21% in April (this affects the free no deposit bingo bonuses), but now, the UK Gambling Commission is changing three things to ensure:


Players under the age of 18 are not able to gamble


To stop self-excluded players from being able to gamble


To ensure that players are able to request withdrawals at will.


But what does that have to do with a new website? Firstly, Rosy's previous landing page was very bright and colourful and may have appealed to those under the legal age to gamble, so a new change means nothing that could be seen to attract under 18's, thanks to a more appropriate adult-themed design.
Not only has the desktop site changed, the mobile-compatible one has too! The bingo rooms are
far more attractive and easier to navigate
plus the chat community shows more than just who's talking; view the time until the next game, number of players in the room, the ticket prices and the chat host! When viewing your bingo tickets, the lower of your device (tablet or mobile) will show four options; casino, deposit, buy now (tickets) and pre-buy into upcoming games!
Take a look around and let us know what you think of the new changes below.
Terms and conditions apply
.
Bingo Regulations & Compliance
Back to articles
Your feedback
Please enter your comment.
Your comment is added.