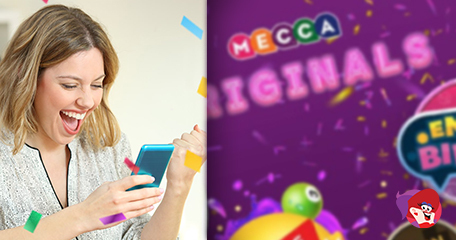 Mecca Bingo's premier jackpots have struck again only this time, the lucky winner had only been a registered member for just 3-hours when it decided to drop! There were six options put before the full house winner – 5 jackpots ranging from a tenner to tens of thousands and that regularly featured 'lose option'. As the wheel started to spin, all roomies looked on in amazement as the jackpot dropped and not just a few quid either, but £30,451.77!
Emma Nowell, a 22-year-old NHS worker who has worked tirelessly this last year decided to sign up to the popular online bingo destination to see if her luck was in. A few hours had passed and she decided to try her luck in the Penny Lane bingo room. Selecting her tickets to the value of just 60p, she sat back and watched as her numbers started to come out. A full house win would be great, but what she won was far more than that!
How's That for Luck!
Fifteen numbers on her tickets were marked and that house prize was all hers, but the thrills were just about to escalate, thanks to the premier jackpot chance! When the jackpot win segment landed on the screen, Laura started to run around the house screaming! After her win had sunk in, Laura from the Mecca Bingo hub called to congratulate her.
News of the win has spread around Facebook quick with users congratulating her on her win. Mecca's social media team have revealed the winner plans to buy a house and will continue to celebrate her win with colleagues and friends over Zoom. That's one good way of forgetting the stresses of a Monday to Friday, 9 to 5 hectic job I suppose!
Anyone can win a jackpot and that includes new players. Existing players may have been playing for years but unless you've bought a lucky ticket, you won't win! Disheartened players are always quick to put winners down by posting mean comments for all to see, but let me tell you, jealousy is not a good look!
To win like Emma and others, you need to play in a qualifying room (look for the red crown!). Next task is to defeat the competition by winning the full house. If you manage this, the next hurdle to overcome is the will-it-won't-it appear jackpot wheel. If it appears, you have a chance to win one of 5 jackpots or nothing at all! Remember, even if lose appears on that wheel, you still get to keep your full house winnings.
Big jackpots are not only a feature of the new bingo rooms either! Hundreds of thousands and possibly even millions can be won in many different jackpot slots and games. From Red Tiger's must drop jackpot games to IGT's Mega Jackpots, if it offers big cash, you'll find it here!
Bingo Society News
Back to articles
Your feedback
Please enter your comment.
Your comment is added.
Member's Feedback (1)
HulioSas 02/27/21, 02:02:55 PM
I can understand why people say it's the new ones that win to keep them coming back because that's all we're seeing lately! But it's just a coincidence.