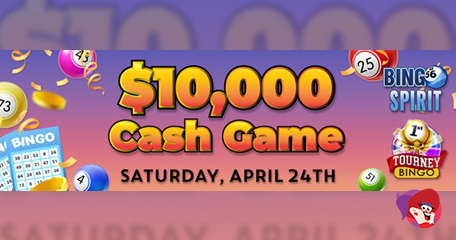 Cash Packed Line-Up This April
Thanks to a mate on the inside, we're able to bring you a look-ahead into what's to come in April, and we can safely say you won't be disappointed! Bingo Fest is pushing the boat out this spring and a lucky few will get to witness April cash showers, but only by taking part in these upcoming specials. As ever, there's the free trial bonus waiting to welcome new players as a reward for joining the online bingo community, and this can be claimed instantly at the point of registration.
Kicking things off in style is the ancient Egyptian-themed slot where a nice amount of cash can be won. Monday to Thursday each week, players will be spinning away with an aim of landing a spot on the leader-board. There's $2K to be won each week with $1K in cash going to the lucky player occupying the top spot.
Move Over March
Tourneys are not just for slots players, they're for bingo players too and if you think you've got a lucky streak in you and can win a few games on the bounce, you could be in with a shot of winning an additional top prize of $200 in cash – every day! And, to make it even sweeter, Bingo Fest will be slapping their famous buy 7 get 3 free offer on the bingo tickets too!
Now for the biggun', the one that is bound to draw in a lot of attention – the monthly special. If you've dreamed of winning a big cash sum on the bingo, it could be your time to shine with the monthly $10K cash game on Saturday 24th April. And, if you've ever taken part in games of this nature before, you'll know there are a series of warm-up games to really get you in the mood.
The kick-off times are being kept under wraps at the moment but as soon as April 1st comes, you will be able to purchase your tickets in advance from the lobby. No April fools we promise. Warm up games are guaranteed to dish out $1K per game with another guaranteed sum of $10K going to the main full house winner.
March is fast coming to a close but that doesn't mean the prize-winning opportunities are! If you were to head to Bingo Fest now you would see just how many promos are still left to run this month. Tuesday for instance, you will receive either a 200% or 500% boost when you make a deposit. Plus, every Tuesday, Weds and Thurs, the sparkling diamond room bingo games could see you winning as much as $15K in cash! Oh, and there are heaps of new games there too!
Bingo Promotions & Bonuses
Back to articles
Your feedback
Please enter your comment.
Your comment is added.
Member's Feedback (1)
bridgetjones
03/28/21, 01:03:21 PM
Lots of good cash to be won here but if you win big, you may have that prize sent to you in instalments.