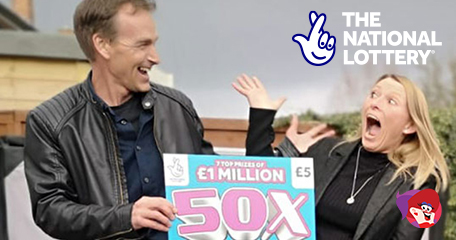 We've all been there; bought a scratchcard and haven't a clue how or if we've won! Sometimes the simplest of instant wins can become mind-boggling, which is why Camelot introduced a 'ping' system. There was a point in time where we relied on the shop assistant to confirm whether we had won or not and we would have to take their word for it, and after many abused this position of trust, a ping was installed on all lottery terminals to alert the customer to their win.
Multiple wins on a single ticket also led to confusion and it was certainly the case for Mark and Sara Plowright from Doncaster. Mark, who prepares private and chartered planes for wealthy fliers – including celebrities, bought the £5 50x scratchcard from a shop in Auckland while doing his essential shopping. After retuning, his life was changed immediately!
Me, when I buy a scratchcard, I make sure I scratch that first before I do anything else, but Mark and his partner and now soon-to-be wife, unpacked the shopping and then took the dog for a walk! Later that evening they remembered the card as Mark sat down to reveal whether or not he had been lucky.
Can't Seem to Get the Figure Right!
Section after section revealed £50K wins and they kept on coming. Looking at his partner, he told her they had won big, but he initially thought they had won £300K! Sara grabbed a pen and paper and worked out the sum she believed was the true sum - £750K! Off they went to the shop where they purchased the card to be told both figures were wrong!
They hadn't won the fit prize of £300,000 as Mark thought and they hadn't won £750,000 as Sara first thought, they had in fact won £1,000,000! Once Camelot confirmed the life-changing win, the fact they were now millionaires started to set in. Mark said: "After working with luxury planes every day, I have always dreamed of experiencing flying first class on a long flight – and that's what we will do, as soon as it's safe to do so."
The first thing on their purchase list was a luxury hot tub and once they shelled out for that, they realised it wouldn't be delivered for a good few days so had to make use of a n inflatable one! Plans to travel are on the table too with Mark revealing: "A few years ago, before I met Sara, I took a trip of a lifetime and went travelling around the world. One stand-out place that I want to revisit and take Sara to is Fiji. Sara is also keen to swim with pigs in Barbados so the Caribbean is a must!"
Source: "Rub a Tub as Mark and Sara Scratch £1m". The National Lottery. February 10, 2021.
Bingo Society News
Back to articles
Your feedback
Please enter your comment.
Your comment is added.
Member's Feedback (1)
MadamMilly
02/23/21, 09:02:25 AM
Wow! What a win! You can check how many prizes are left on the cards online. I always play this one and have never managed to win more than £5x2!