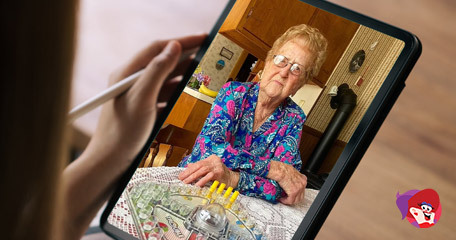 Bingo Is Not Just A Woman's Game – Apparently!
It's 8.7 million TikTok followers and counting for a 93-year-old grandmother who has revealed her tips on how to live a happy life, and one of those is avoiding men who don't like bingo! We love this lady already!
Lillian Droniak, who lives in Shelton, Connecticut, is taking the internet by storm with her canid clips on everything from what it's like on being single for 25 years to red flags in a relationship…
…and by doing so the TikTok star is hoping to help fellow singletons on their journey to long-lasting love. A series of fun, tongue-in-cheek videos have already gained her global notoriety where she insists her followers should avoid a man "if he doesn't like bingo" or "if he golfs." That seems like pretty sound advice if you ask me! But despite her top tips, Lillian recently revealed her first date in 25 years didn't exactly go to plan!
Creating Content Keeps Her Feeling Young
Speaking directly to the camera, Lillian said: "My first date in 25 years and he's going to pick me up in 20 minutes. I'm getting nervous now. I met him at bingo and that's the way it goes." The devil's in the detail and she just couldn't wait to spill the beans on what her love interest looked like, adding: "He's really handsome and I couldn't say no. I might kiss him, you never know but I'm going to still put lipstick on just in case."
Twirling for the camera to show her millions of followers her outfit, Lillian was smiling from ear to ear….
…only her happiness was short-lived. "He didn't even look at my outfit and say that it looks pretty," she told her fans. "He was rude to the waiter, he was just a rude person. He didn't even hold the door for me like a gentleman should. Bottom line he wasn't a gentleman, not my type. And he was shorter than me."
Her eclectic list of red flags include:
"If he doesn't like bingo, I don't date him because I love bingo."
"If he doesn't keep enough soup for me in the refrigerator. I always like soup and eat soup."
"If he doesn't hold the door for me. It's not that hard."
"If he doesn't call me pretty all the time, I don't want anything to do with him."
Lillian even suggested in a follow-up clip that size DOES MATTER but telling the ladies to stay away from a man "If he lies about his height," but she did say "It's okay if you're a short king, we just need to know."
Conclusion (according to Lillian): "Only date a gentleman, when you go out, that's how you find out. And I did not give him a kiss. No way, no way."
Source:
"No Men Who Like Bingo! 93-Year-Old Grandmother Becomes An Internet Star While Sharing VERY Blunt dating Advice – Including The Many 'Red Flags' She's Learned To Avoid – As She Enjoys Her First Date In 25 YEARS". Daily Mail. April 3, 2023.
Bingo Society News
Back to articles
Your feedback
Please enter your comment.
Your comment is added.
bridgetjones
04/05/23, 08:04:12 AM
Good on her! Men who like bingo have sharper minds I find so Lillian is bang on the money with that one!