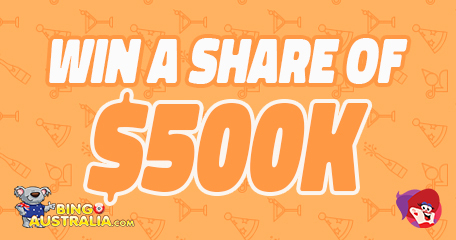 Plenty of Cash to be Won in July!
Every month, Bingo Australia reveal a red-hot line-up of promotions, and July is no different. This month, not only can you play to win mega prize pots, but you can try your luck in a new $5K progressive bingo room to win extra bingo bucks with no deposit needed! The scrabble room is a 10c bingo room where prizes of thousands can be won. All games are part of a buy 15 get 5 free deal, but what do you need to do to win? An hour of non-stop fun kicks in daily at 3am, 5am, 7am and 9am (AEDT), where letters mean prizes.
Understanding how it works may take a little time, but the gist of it is this: If you submitted 'Happiness is yelling bingo' and win, the scrabble score is 36 points which would then equate to 36 bingo bonus funds plus a deposit deal. Plus, if no player submits and entry during the weekly contest period, all scrabble game winners will be entered into a random draw to win one of three consolation prizes! Look out for double or triple word scored while playing!
Double Bonus Spin Delight
How's this for a super no deposit offer? This July, Bingo Australia is giving you the chance to spin the reels of the most popular games for free! Twice a week! Claiming your bonus spins is as simple as logging in! Pop along to the bingo site on a Thursday and a Monday to receive 25 spins on the machine of the day.
Week 2: Play Warrior Queens for free on 8th and 12th of July.
Week 3: Play Lion Explorer on 15th and 19th for free.
Week 4: Take the reels of Wizardy for a spin with no deposit on the 22nd and 26th.
Week 5: Pirates Plunder is the game of the week with 25 free games available on the 29th.
Main Room – Main Attraction
The great road trip of virtual bingo will see up to $150K in cash being won this month, and all you need to do to win is buy your tickets into the road trip bingo games! Make sure you have your windows down because you'll need to spot the unique road signs, landmarks and wildlife in order to win! Lighthouse, fox, buffalo, detour sign, tunnel, Yosemite, share the road, restaurant, red car, flower, train tracks and liberty bell are the patterns you need to be on the lookout for.
Hit the bingo road any time of the day or night, match the patterns shown on your screen to win up to $10K every hour! Not only can you win prizes, but when you win, you will start to accumulate points. The more points you have, the more chance of winning a share of $2,500 in additional weekly bingo draws! That's not all, points also see your details go into an end of contest draw to win cash too!
To make it fair there will be two weekly draws based on the top 5 ranking players and two random draws. Tickets range between 25c and $1 each with a buy 15 get 5 free offer. Extra weekly prizes are as follows:
1st Place: $175 bingo bonus plus 250% deposit bonus.
2nd Place: $150 bingo bonus plus 200% deposit bonus.
3rd Place: $125 bingo bonus plus 175% deposit bonus.
4th Place: $100 bingo bonus plus 150% deposit bonus.
5th Place: $75 bingo bonus plus 125% deposit bonus.
Spinning and Grinning Tourney
Slots this? Another promotion packed to the rafters with cash, bonuses and fun? Join the Cash is King promo by playing any Parlay slots or Mobilots titles this July to win a share of $250K! Complete missions and collect points to be included in weekly draws for prizes on top of prizes! Tasks for this cash-packed promo include:
Get 1 point for every $50 wagered on Parlay and Mobilots games.
Receive 3 points for every $30 wagered on Mobilots.
Five points are awarded for very deposit you make during each weekly tournament.
Weekly prizes include:
1st Place: $300 in cash plus 200% bonus.
2nd Place: $200 in cash plus 150% bonus.
3rd Place: $100 in cash plus 100% bonus.
4th Place: $100 bingo bucks plus 100% bonus.
5th Place: $50 bingo bucks plus 100% bonus.
Plus, like the bingo tourney mentioned earlier, there will be four weekly prize draws for even more prizes – two draws for top 5 ranking players and two for all players who qualified. At the end of the promotion, an end of contest draw will take place for four extra cash prizes.
Tiki-Tastic Cash Jackpots
Last but not least it's the weekend wins tourney, and this one like all other promotions at Bingo Australia, is packing big cash prizes! $750K is up for grabs and if you fancy trying your luck, make your way to the weekend room every Saturday, Sunday and Monday at 1pm to have aloha fun! Will you manage to win in one of the many one-hour themed Tiki parties? You'll want to hope you do, what with a minimum of $2.5K available in cash each game!
To kick-start the fun, free bingo games valued at $100 in bingo bonuses will get underway first. When the free dab and grab is over, the real fun begins with $10K, $5K and $2.5K coveralls! These are closely followed by multi-part games. Everyone has the same chance of winning in this one with a $10 entry fee triggering 45 tickets per player. We hope the Tiki Gods are in your favour. Good luck roomies!
Bingo Promotions & Bonuses
Back to articles
Your feedback
Please enter your comment.
Your comment is added.
bridgetjones
07/13/21, 06:07:32 AM
They always give away so much money and you can read about the winners too! I hope my name makes the list soon!