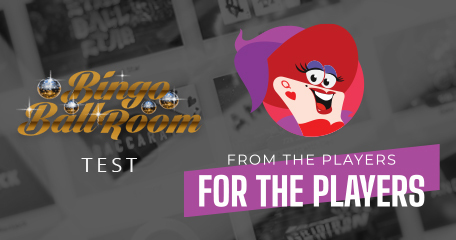 Bingo Ballroom has been through a few cosmetic changes over the years but nothing too drastic; a lick of paint here and there and a few modern changes (mobile technology for gaming on the go) have been installed to stay relevant. The welcome page is bold with the promise of big bonuses (and promotions), a wide choice of bingo rooms and top slots. But we all know what operators claim to offer and actually offer are two different things, so we decided to put Bingo Ballroom to the From the Players for the Players test.
Tester of the day: smilenbehappy
Registration Date: Thursday 12th of May
KYC Verification: Not required on this occasion
Deposit date, amount and payment method: Deposited £150 via Visa Debit on Thursday 12th May
Withdrawal request date: On Thursday 12th of May, a withdrawal request was made for £75.11p via Visa Debit
Withdrawal received date: On Tuesday 17th of May, the withdrawal of £75.11p was processed via Visa Debit
Registration
After supplying all the usual information such as name, date of birth, address, email and occupation, it was time to verify a mobile phone number. The following message "Future bonuses eligibility may rely on a successful verification of your mobile number" occupies the lower screen. Unless you verify your mobile you won't be able to complete the Bingo Ballroom registration process.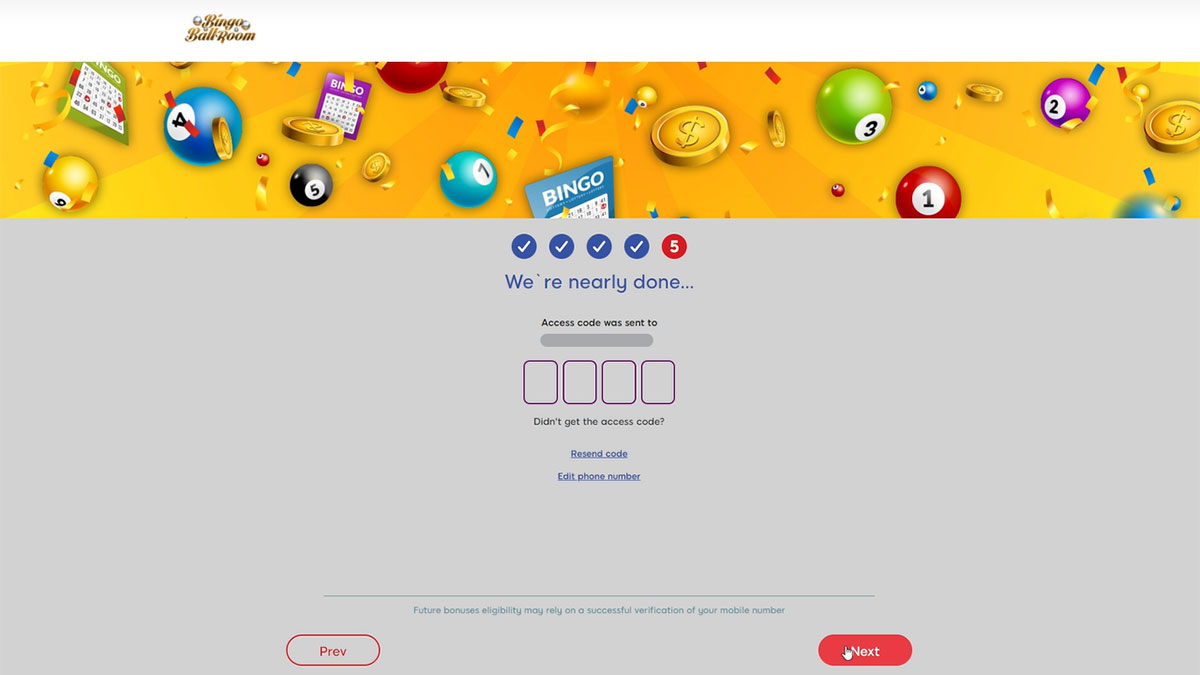 After adding her mobile number in step four, our tester of the day received a 4-digit code instantly and once that was added to the registration screen, there was a big bright welcome onboard for our bingo player.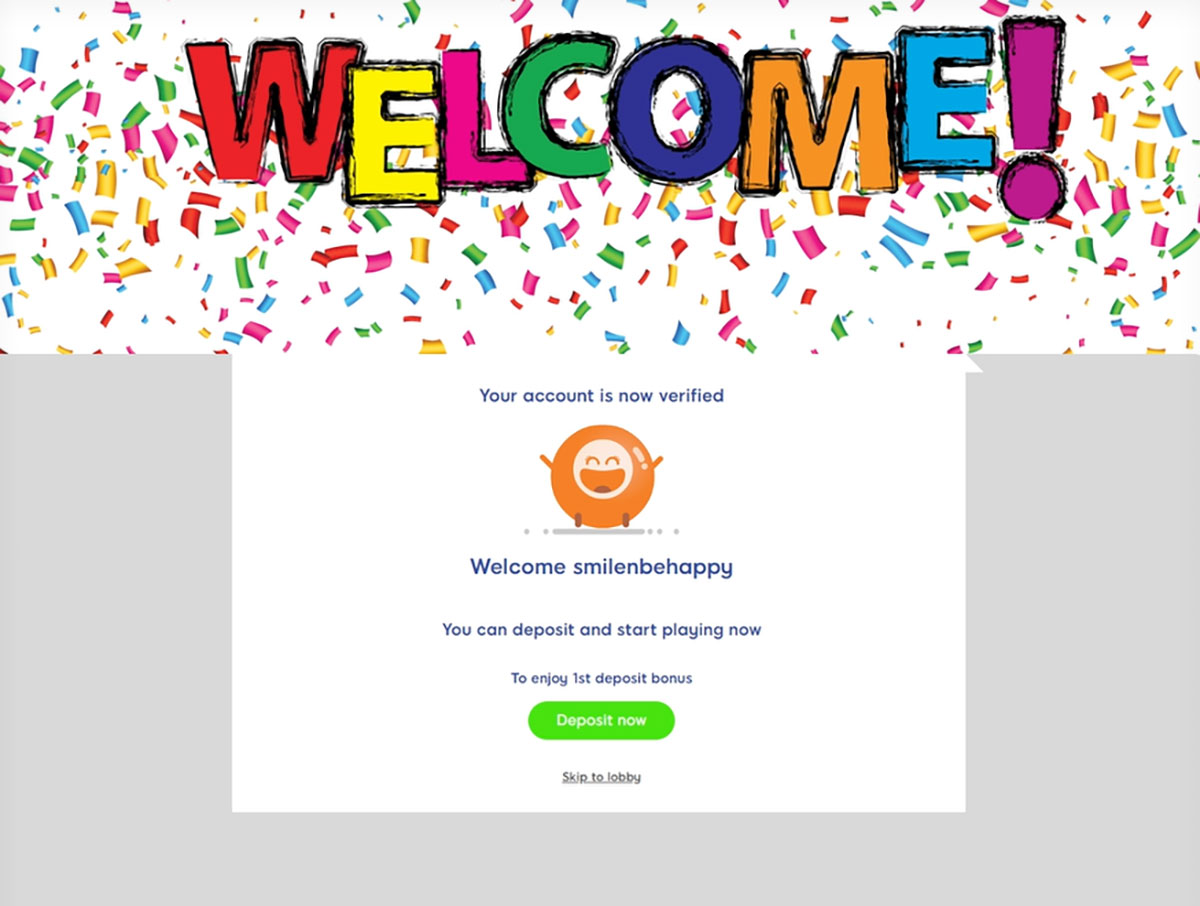 Initial Deposit
Being the first time at Bingo Ballroom our tester was apprehensive, but quickly discovered the layout was user friendly, uncluttered and super-easy to navigate. The main bingo lobby was the landing page with links to various parts of the bingo site.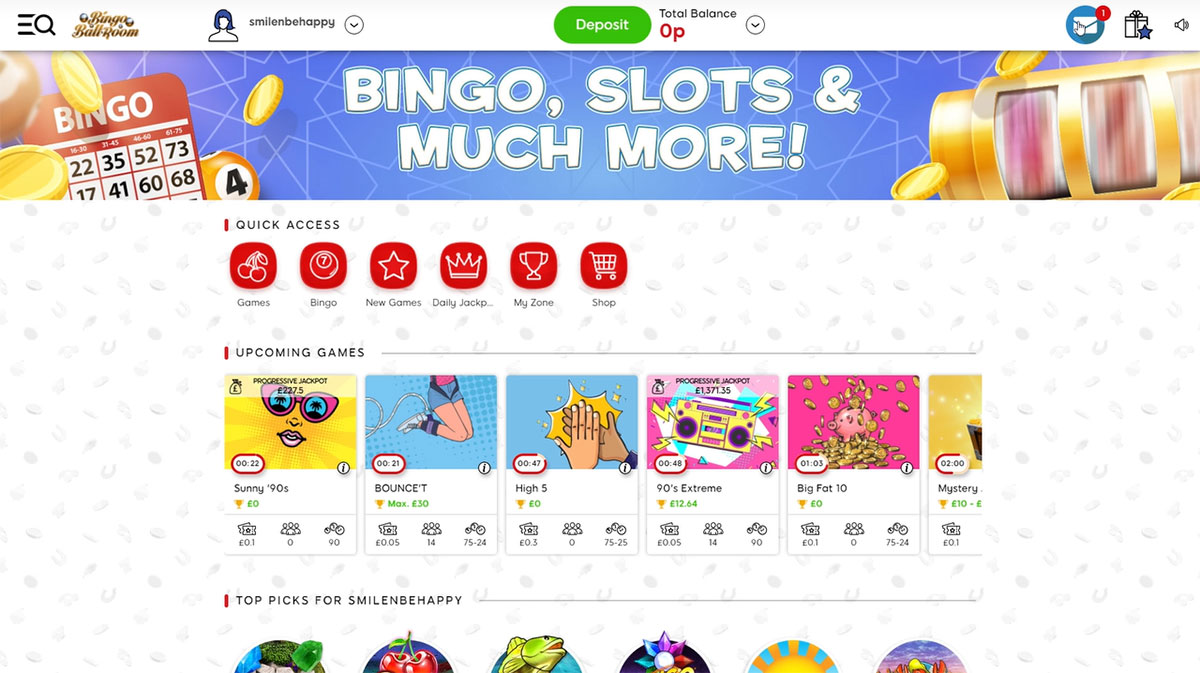 Our reviewer's eyes were instantly drawn to the top of the screen and a big neon green "deposit" button. Within one click the cashier pop-up appeared. Debit card and PayPal were the payment methods offered to our UK-based reviewer. After selecting the debit card option and ticking to confirm she had read how Bingo Ballroom handle player funds, it was time to add her Visa Debit details. Cardholder details are already pre-filled with the details added at the point of registration, meaning one less form to fill in. Once the long card number and expiry date are added, the details will be stored on the Bingo Ballroom secure system for much quicker deposits in the future.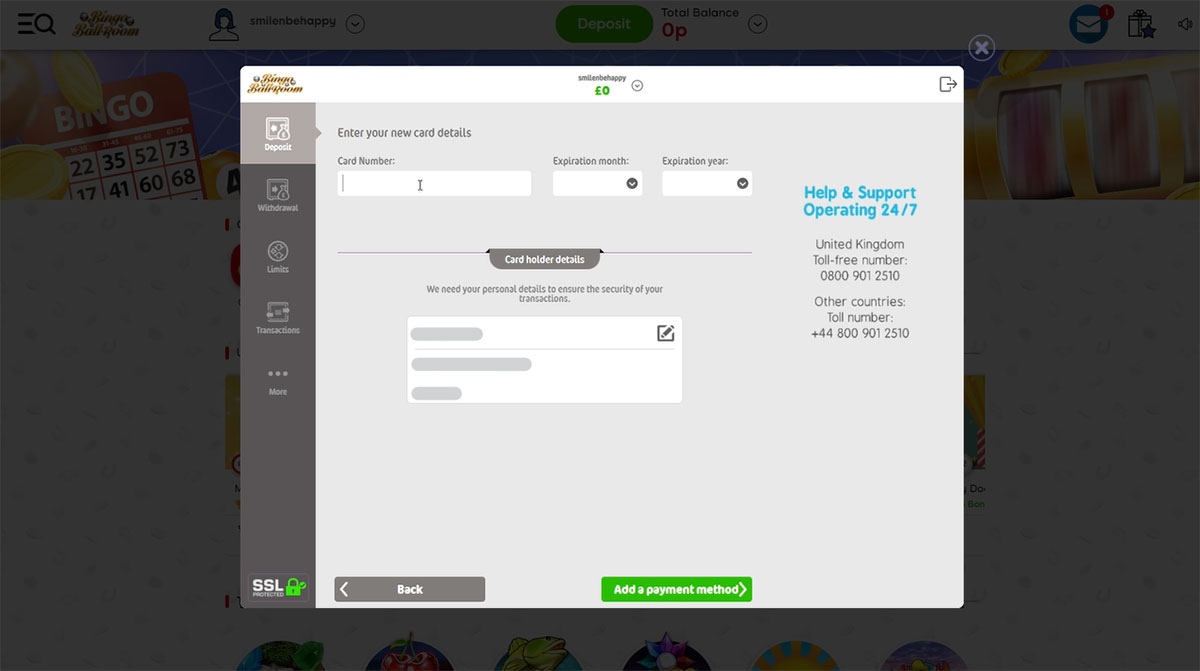 The final step of the deposit process is the deposit amount and whether of not you want to claim any bonuses. Our reviewer made a deposit of £150 on Thursday 12th of May and decided to eliminate herself from any wagering requirements by refusing all bonuses.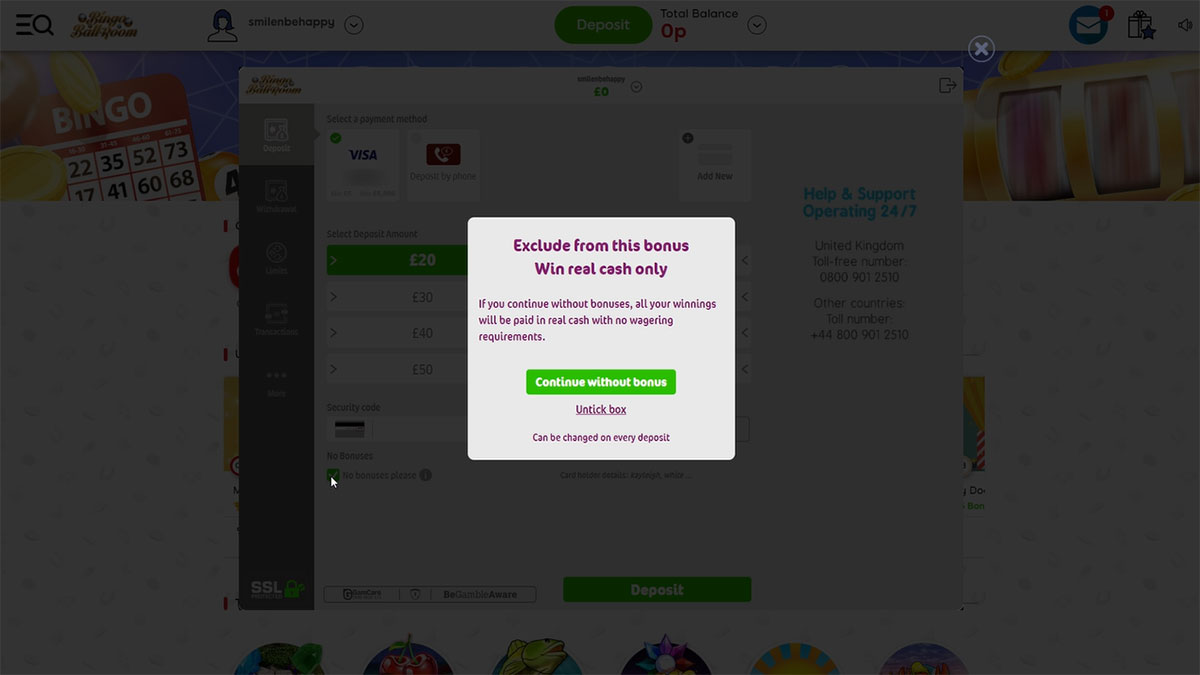 After confirming the Visa Debit transaction with her mobile banking app, £150 was deposited into her Bingo Ballroom account.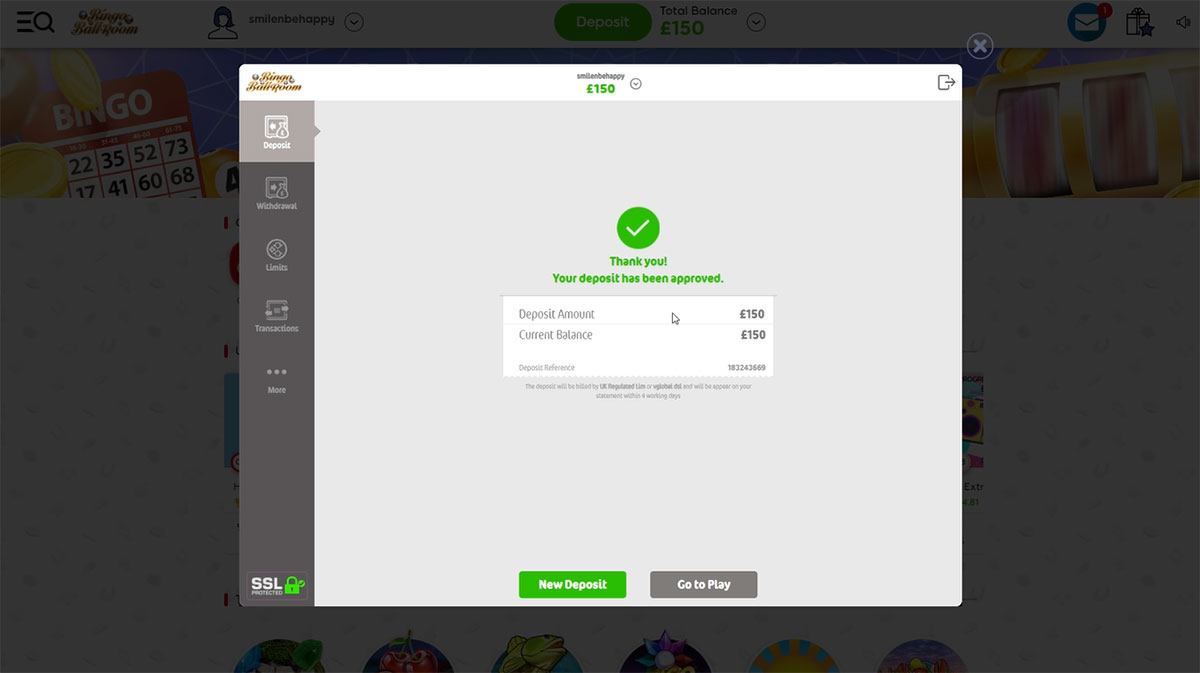 Gameplay
Bingo Ballroom games are placed into 7 categories for easier access, first you have the 24/7 rooms that are open around the clock…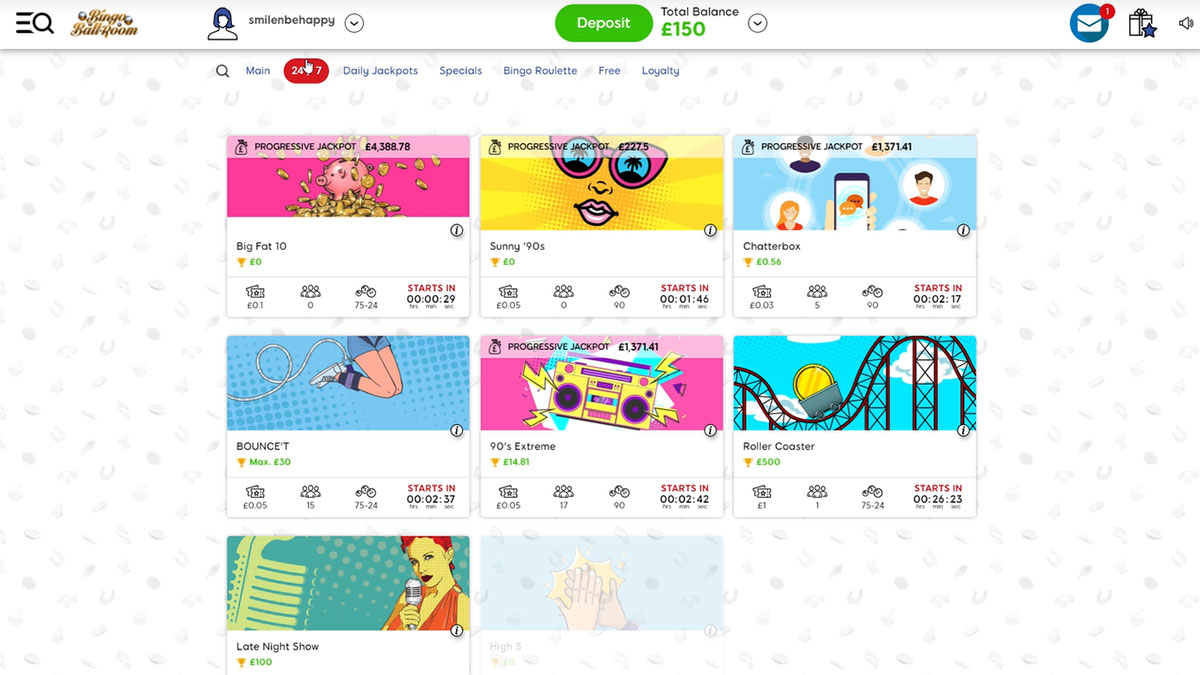 …next up is the daily jackpot rooms with prizes ranging from £50 every evening in the Daily Treat room to £1,500 on a Tuesday.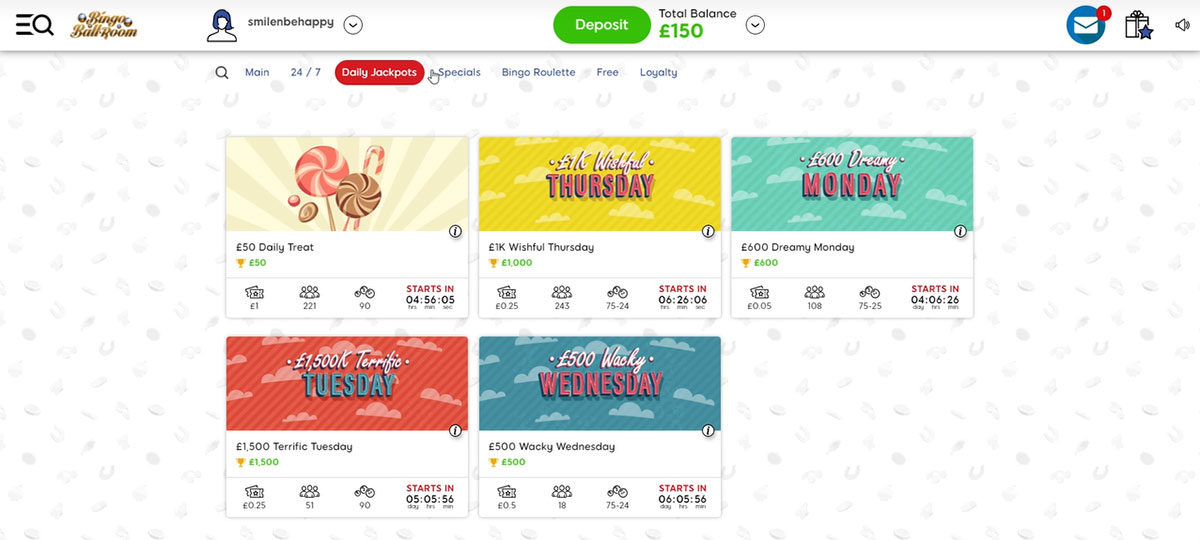 Other categories include specials for card-based bingo, mystery jackpots, equal chance bingo games and the weekend bingo tournaments…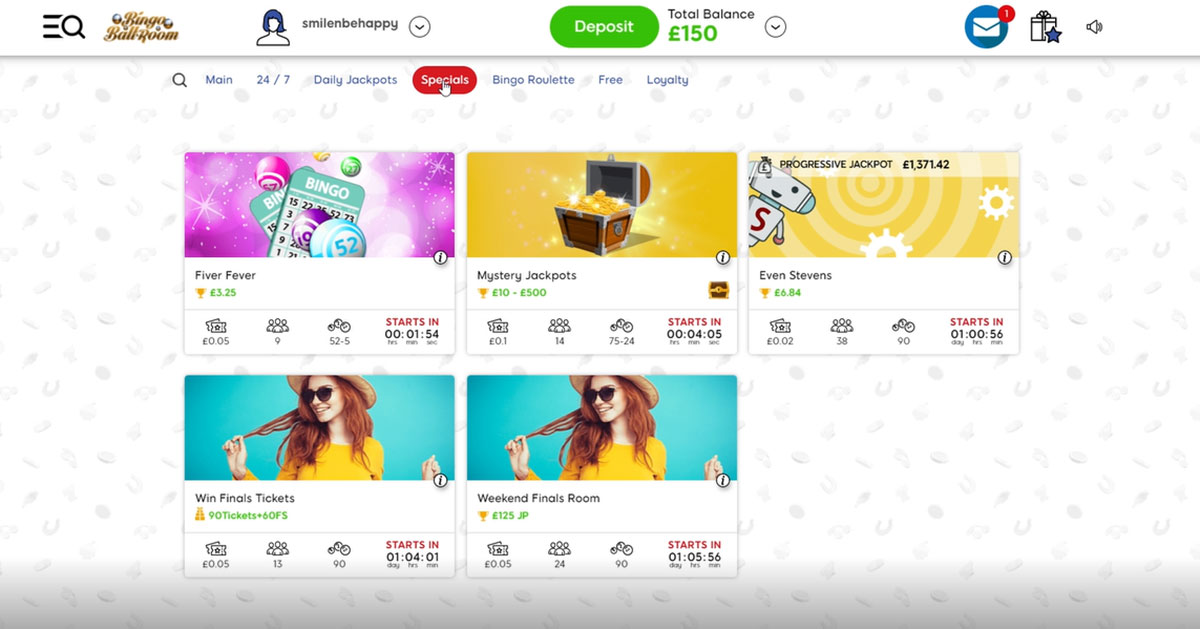 …bingo roulette has its own tab, so do free bingo games and loyalty bingo rooms for coin prizes. What are coin prizes? Coins that can be exchanged for bonuses, bingo tickets, vouchers to play free slots and more in the Bingo Ballroom shop!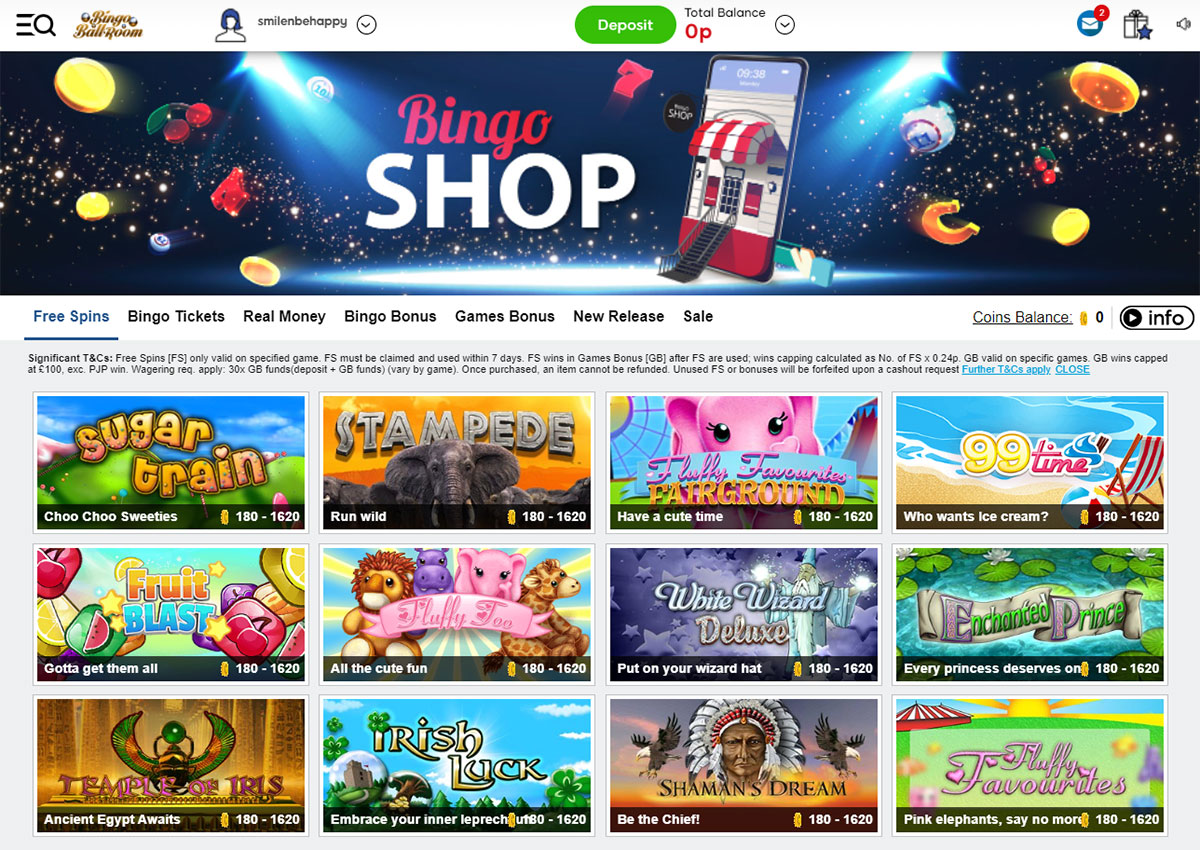 The star room (pulling in the most players) was the mystery jackpots room where prizes of up to £500 are (supposedly) featured. The aim of the game is simple, you buy your tickets (5p each at off-peak times or 10p each at busier periods), the treasure chest will appear (after ticket sales are closed) to reveal a random prize of between £10 and £500, and the first person(s) to complete the pattern on their (75-ball) bingo ticket will win said prize.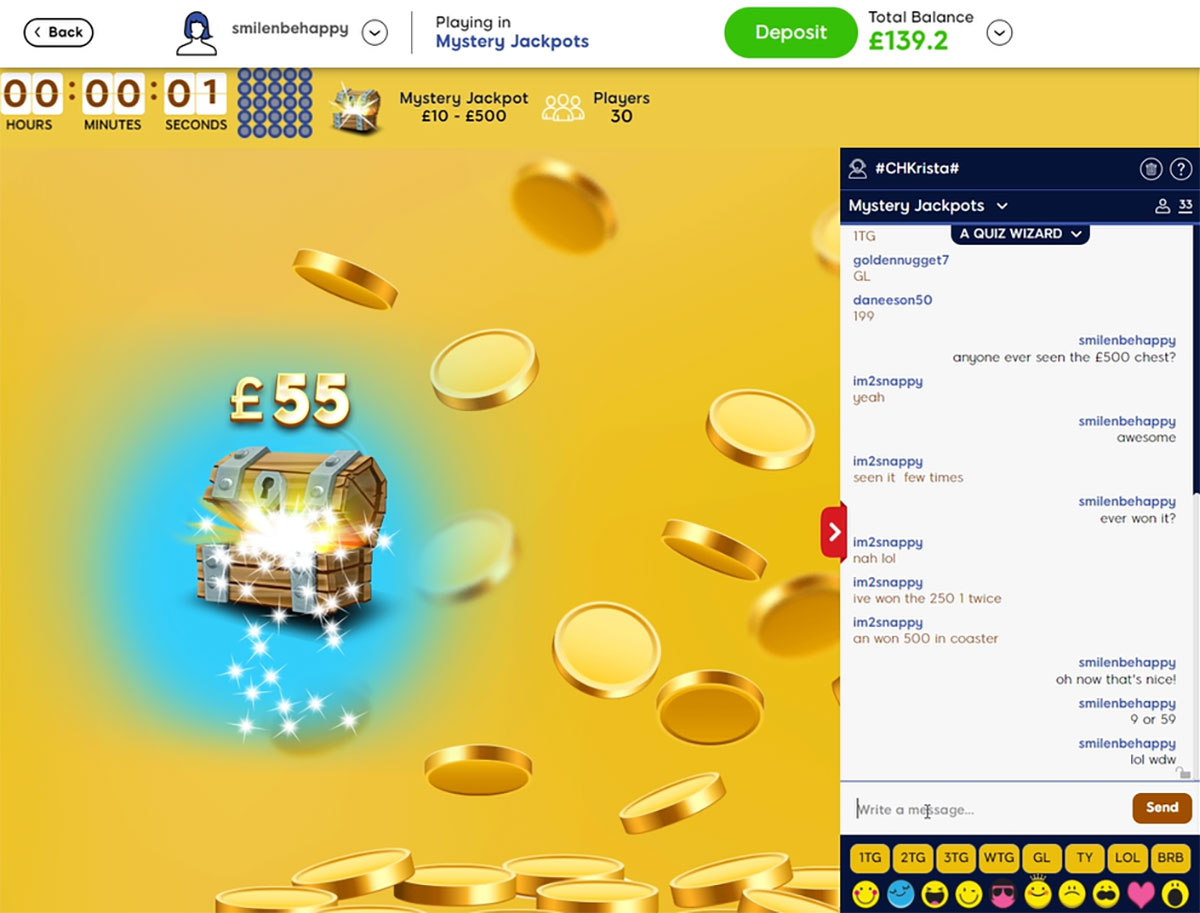 Having played a few games, smilenbehappy was curious about the prizes so decided to ask if anyone had seen the elusive £500 prize chest. To her surprise, the replies in chat confirmed that multiple £250 and £500 prizes had appeared and that one lucky player had won two £250 prize chests! That's good to know!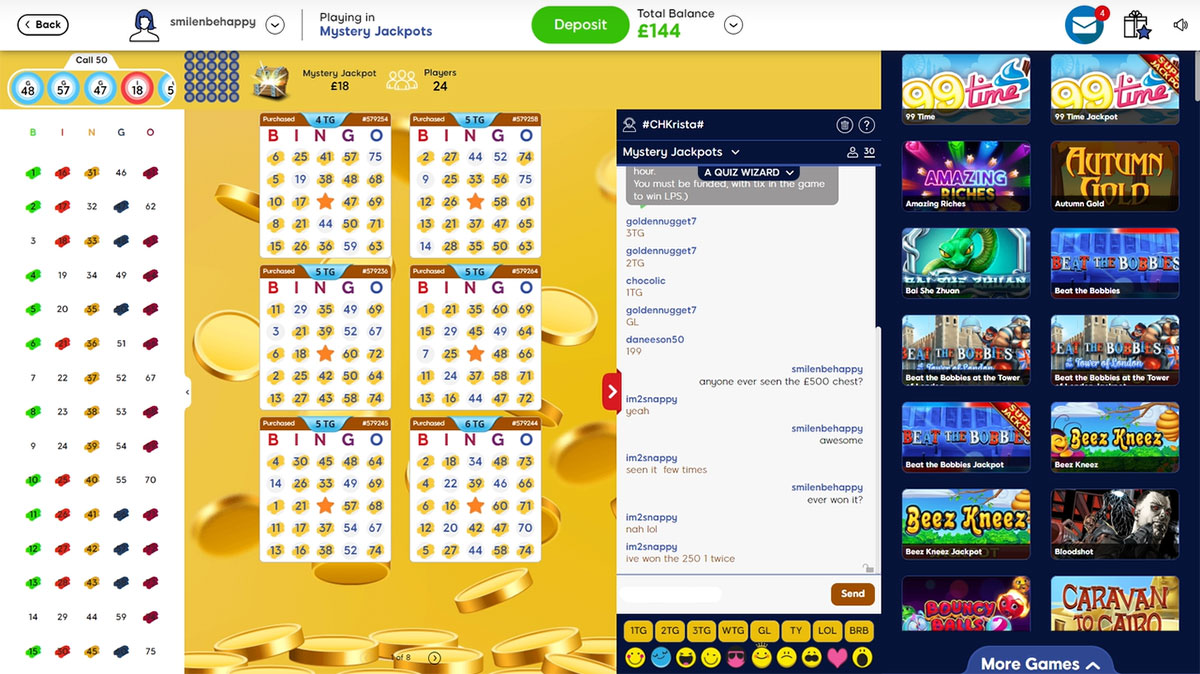 Another popular bingo room is the Bingo Ballroom Roller Coaster room, featuring jackpots of up to £500 for £1 a ticket. Each 75-ball bingo game is a coverall game with a guaranteed prize of £50 being won in each game. Call a full house of 24 numbers in 50 or less for that £500 jackpot. A full house won in 51 calls shaves £200 off that jackpot prize. Calls 52, 53 and 54 reduce the fund by £50 with £25 being deducted for every number up to 58, where the pot stays at £50 regardless of when the house is won after this.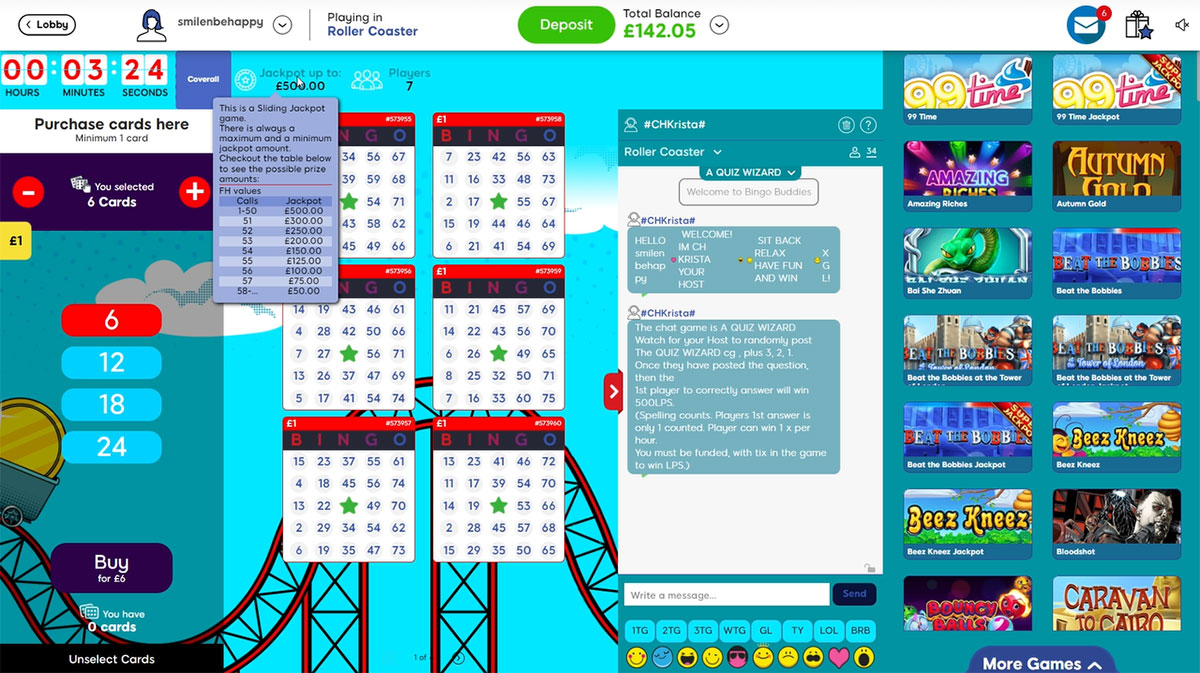 Love slots? You'll love the huge line-up from the likes of NetEnt, NextGen Gaming, Microgaming, Big Time Gaming and Blueprint Gaming! From Megaways to Multi-millions in progressive jackpots, bonus spins features to must drop 24-hour jackpots, Bingo Ballroom has something for everyone!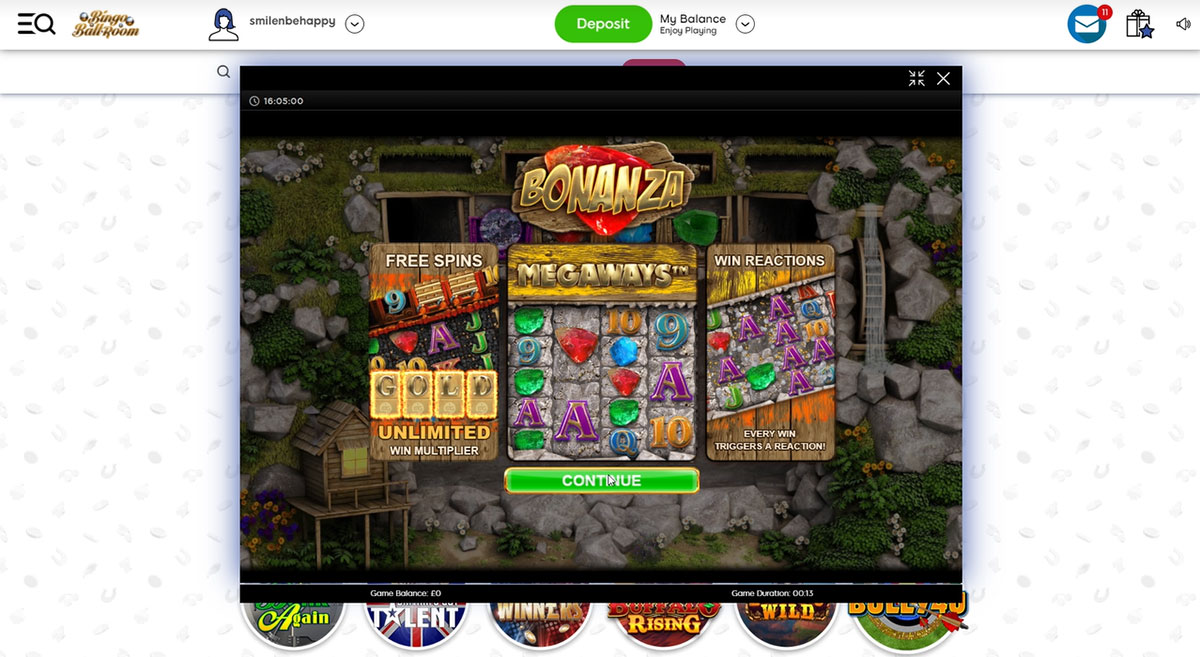 Dream Catcher Live by Evolution is part of the extensive catalogue of games at Bingo Ballroom, however, when attempting to play, our reviewer was met with the following screen and when hovering her mouse over the pop-up, the following message appeared: "www.eurolivedealer.com's server IP address could not be found."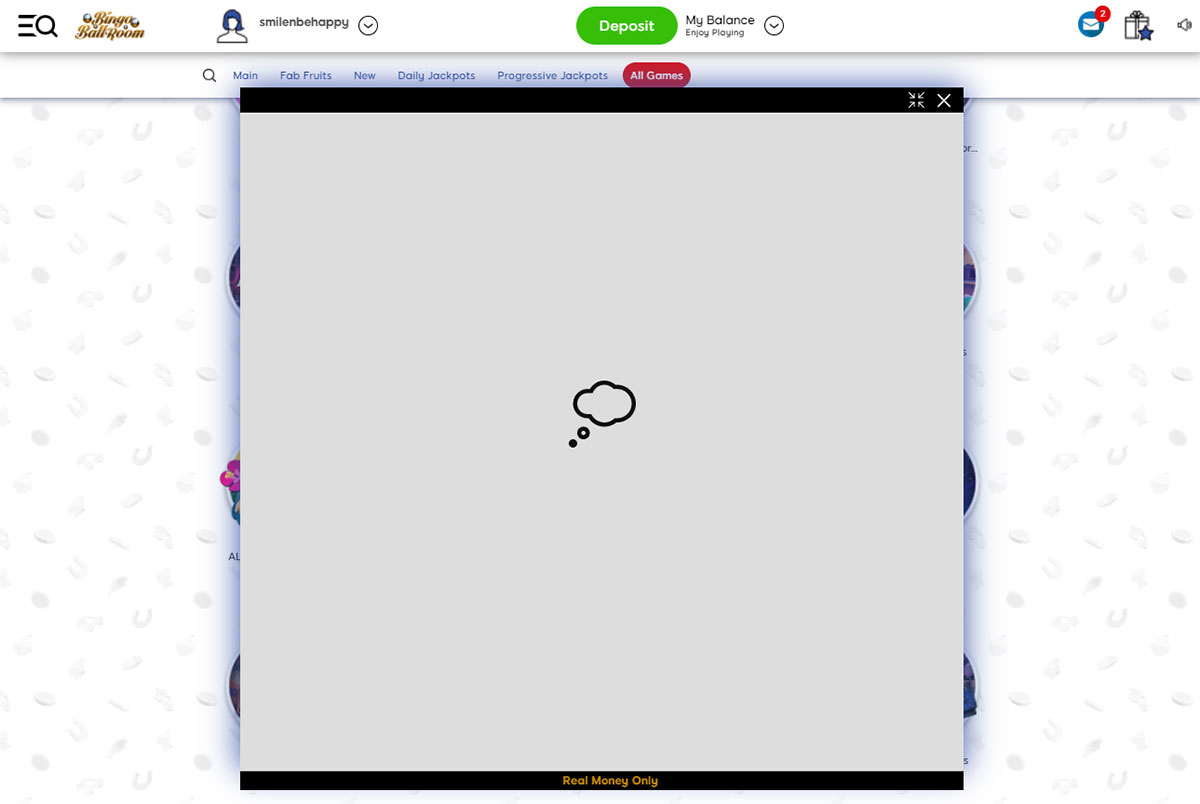 Requesting a Withdrawal
On Thursday 12th of May, smilenbehappy made a withdrawal request of £75.11p via Visa Debit. The deposit section of the cashier houses the withdrawal option as well as transaction history and links to establishing responsible gambling limits. The status of withdrawals can be viewed in the cashier along with its progress and a message that states, "we will attempt to process your request within one business day."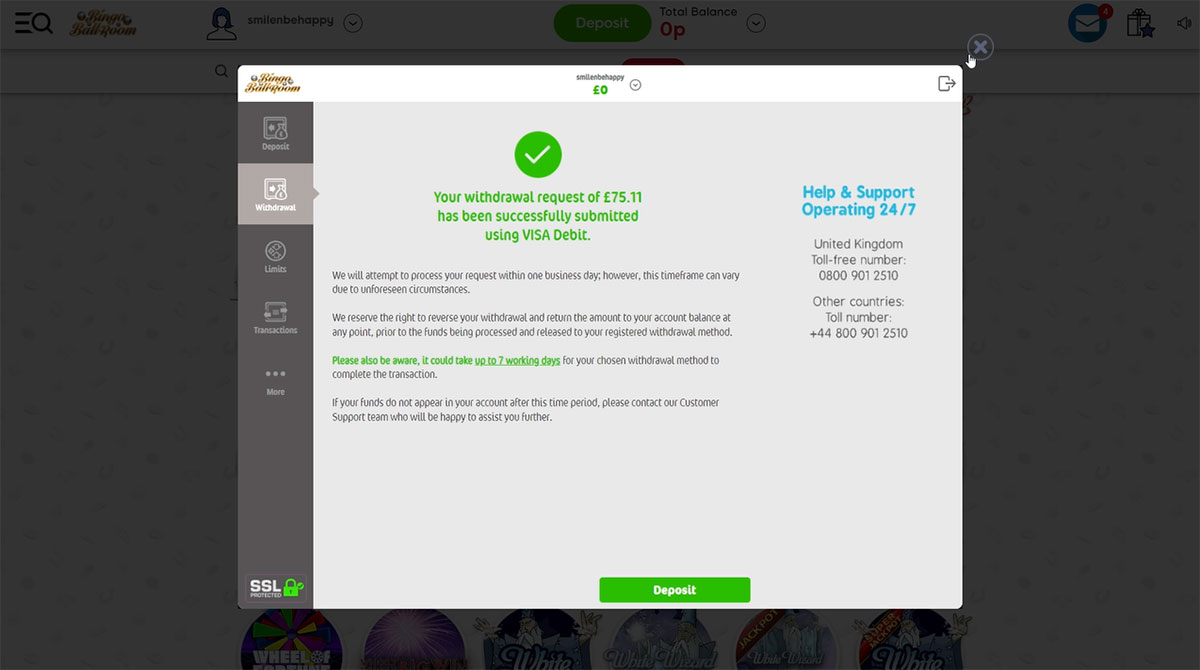 Five days later (three working days later) on Tuesday 17th of May, the withdrawal was processed and the £75.11p was in the bank account of our reviewer shortly after 2am.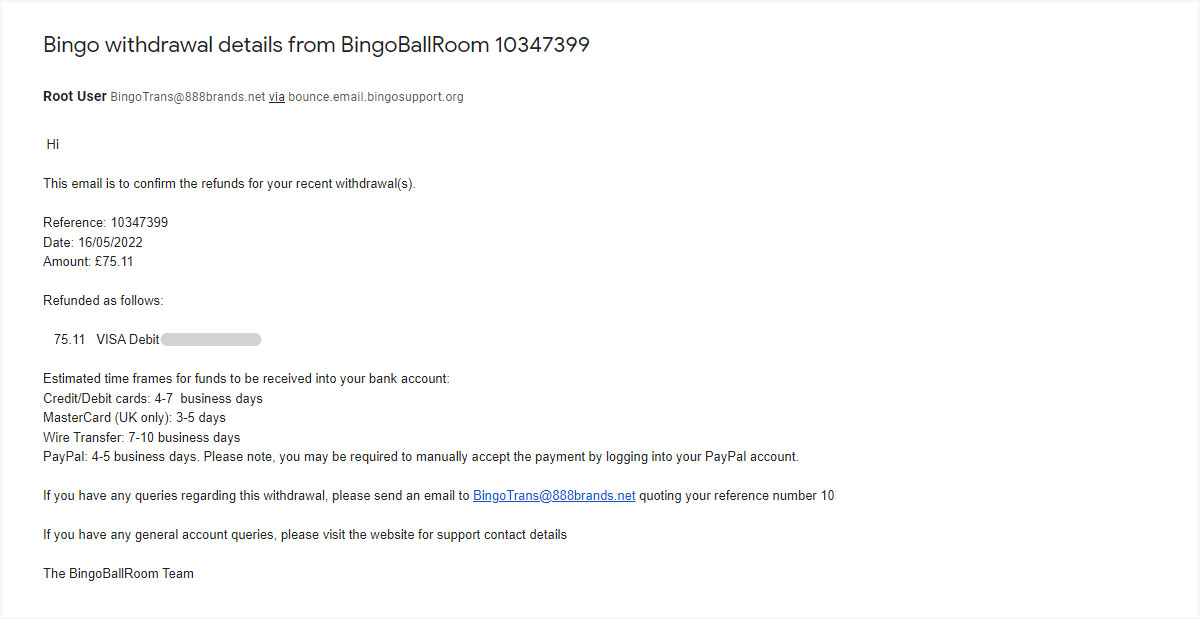 How Does Bingo Ballroom Stack Up?
Withdrawals are only processed on working days. If like our reviewer who requested the withdrawal on a Thursday via Visa Debit, chances are you could be waiting well into the new week for your money. Our test revealed a funds were received within 3 days following the withdrawal request. It's also worth noting that KYC verification was not required for this cashout request although it was the first withdrawal for our reviewer.
My Zone, which houses bonuses and promotions, was unresponsive for our tester until the day after registration. That being said, the welcome offer can be applied automatically (unless declined) at the point of making an initial deposit. Speaking unavailability, the Dream Catcher Live game would not load during our session.
This information concludes this extensive test as part of the project From the Players, For the Players. If you are a member of Bingo Ballroom or consider making a deposit, we hope this report provided some useful information.
From the Players for the Players
Back to articles
Your feedback
Please enter your comment.
Your comment is added.
Bixy
06/03/22, 09:06:55 AM
Perhaps they should change the policy and process the withdrawals on weekends too. The following would bring more satisfied customers.