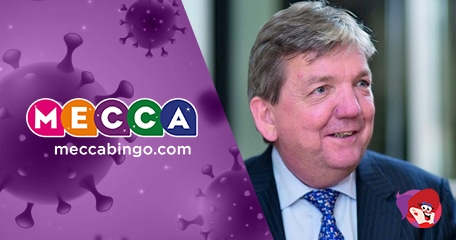 As more and more restrictions are imposed, many of us are being left to pick through the terms to see what it is we can and can't do, but it's not just the general public that are confused – big bingo moguls are too! Earlier this week, John O'Reilly voiced his frustrations on different rules for different people in an interview with the Mail, brandishing them "illogical" and took a shot at the Government by claiming it is "impossible" to plan ahead with regulations that see his venues being closed "on a whim."
In Wales it's straight-forward; from 6pm on Friday October 23rd, everything will head back to lockdown state with 'essential' services open only, meaning there will be no bingo venues open, no casinos, no cinemas etc, just pharmacies, doctors surgeries, grocery shops and food outlets for takeaway only. There will be no unnecessary travelling, no gatherings and no coming in and out of your own areas, let alone Wales. And, this will be enforced until Monday 9th November.
Risk to Jobs
O'Reilly's Rank Group owns 77 Mecca Bingo clubs and 51 Grosvenor casinos across the UK but with some clubs being allowed to open in one area and neighbouring areas closed under the toughest of measures, he said: "It makes no sense! I can open my bingo halls in Liverpool. But I have to shut my bingo hall in Blackpool. We have been clumsily and inadvertently caught up in misdirected measures that do nothing to suppress the virus, but which have put thousands of jobs and livelihoods at risk."
More than £2 million has been…
…invested into Rank-owned casinos with new screens installed and strict cleaning measure that ensure each chip is cleaned after a customer touches it – same goes for the slot machines in the bingo halls. Rank's share price may have doubled in 2019, but as the pandemic swept in from March 20th, 90% of their staff were placed on furlough and now they're facing an uncertain future paid for by the taxpayer as more and more businesses close their doors – and maybe for good!
If like many of us, you're confused as to which bingo venues are open, you can find out more on the main Mecca Bingo website. It's recommended you pre-book a session at your favourite club, or you may turn up only to be turned away at the door. With current regulations, only a set number of people will be eligible to play which is why they advise strongly against turning up on the chance you'll get in, because you probably won't!
Source: "Crippling Coronavirus Rules Just Make No Sense: 'I can Open in Liverpool but Not Blackpool' Says Mecca Bingo Boss". This is Money. October 21, 2020.
Bingo Regulations & Compliance
Back to articles
Your feedback
Please enter your comment.
Your comment is added.
MadamMilly
10/25/20, 02:10:07 PM
The rules are misleading. I don't know what I can and can't do to be honest. We're told to wear a mask, but how many times have the big politicians been snapped...
The rules are misleading. I don't know what I can and can't do to be honest. We're told to wear a mask, but how many times have the big politicians been snapped without one? It's one rule for us and another for them!
Show more