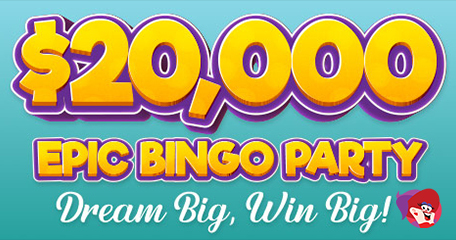 Win a Share of Thousands of Dollars in New Promotions
August is set to be huge for the Bingo Fest community with a brand-new line-up of fun-filled promotions, freebies, competitive games and mega cash prizes! Before we reveal the details on how to get an invite to the biggest (cash) party the bingo world has ever seen, let us just remind you of the current welcome offer…
…you can try the best slot games for free by signing up to Bingo Fest. There's no deposit required to claim bonus spins. How do you claim? You fill in the form, select your offer and get playing! Get 25 additional spins and a 500% bonus when you make your first deposit!
Tournament Time
Bingo Fest is hosting three tournaments this month, one more than usual with extra prizes to be won by playing bingo, slots and now keno! Not only can you win by playing qualifying games but you can win more by knocking your competitors off the leader-board. Which one takes your fancy?
Beach Bingo Tournament: Join in the bingo fun every week between Monday and Tuesday for your chance to win €1,116 in cash! The tropical bingo room is where you'll find multi-part bingo games as well as top of the hour big money games. Play to win a small pattern prize, then a beach pattern prize before heading onto that coverall prize. A weekly prize pool of €2,859.75 among the top 40 players with €1,116 in cash landing in the account of the player who finishes in first place. Cards cost 0.33 each, but they're also running a card promotion of Buy 7, Get 3 free.
Slots Tournament: Every Wednesday and Thursday you will have the chance to win €400 cash. Exactly like the bingo tournament only this time you'll qualify by playing Betsoft slot games. Taking place on Wednesday and Thursday each week throughout the month, you could be among the top 20 players to win a share of a weekly prize pool of €1,400. Player one every week gets $400 in cash – that's cash with no strings attached and that means no issues when attempting a withdrawal! To make it fun and fair, the tournament is not based on whoever wagers the most wins, instead all wins are calculated using the best-equalized win over 3 consecutive rounds.
Keno Tournament: Every Saturday and Sunday there's a chance to win €200 cash! Opt-in, play video keno to be in with a shot at winning one of 20 prizes from a weekly €550 prize pool. Positions will be awarded based on the total winnings by amount. Participating games are Amaterasu Keno, Scary Keno, Candy Keno, Veggie Keno, BBQ Keno and Birthday Keno.
It's All Fun, Fun, Fun
Love a good freebie? You'll love this! You can claim up to 150 bonus spins in the amazing August bonus spins promotion. To get your summer adventure off to a flying start you can get more bang for your buck every week this month. How? By making a deposit on Sunday and Mondays! There are four deposit tiers and bonus spins offers, but the bonus only applies to the first deposit of the day, so choose your offer wisely:
Deposit Deal 1: Credit your account with €30.00 to €54.99 for 30 bonus spins on The Hive slot game. A blooming good selection of bonus features are hiding behind the symbols on the reels. How many will you encounter?
Deposit Deal 2: Making a deposit of €55.00 to €109.99 generates 60 free games on Great Golden Buffalo. Ever seen a stampede of wins before? You may get to witness the flowing of wins in action with deposit deal number two.
Deposit Deal 3: A deposit greater than €110.00 triggers 90 bonus spins on Super Sweets. This video slot is packed to the brim with delicious features and lip-smacking wins.
VIP Player Deal: For players with VIP status only. Deposit €110.00 or more for 150 free games on Flip Wonderland! See Alice, the white rabbit and all her friends like never before.
I make that four fabulous Bingo Fest promotions – five if you count the free trial welcome offer. But the fun, bonuses and cash-winning opportunities don't end there! You can get up to 150% bonus cashback veery Friday and Saturday, up to 25% back on bingo losses between Tuesday and Thursday, win a share of €14,700 every Saturday night in the fantasy bingo tournaments and you get to travel the world (virtual style) in free world bingo games!
They say the early bird catches the worm but the early birds catch big cash in the early bird bingo specials every Friday. Add to that a weekend video bingo tournaments for additional cash prizes, daily equal chance bingo games, reverse coverall prizes and guaranteed cash prizes in back to back coverall games every Monday, Friday and Sunday and you won't know where to start first!
As ever we've saved the best 'till last – the epic Bingo Fest bingo party and anyone whose anyone wants to be there…
…once a month a massive prize pool is unveiled with real players walking away with eye-popping cash with no wagering requirements. On the last Saturday of every month, ten warm up games and the finale pay out €18,200. Will you be the next winner landing a spot in the hall of fame?
What: A one-night bingo event with a prize pool of €18,200. There will be 10 warm-up guaranteed games paying €910 each, and a main guaranteed game with a €9,100 cash prize.
When: Event will take place in the Tourney Bingo Room on the last Saturday of each month at 12:00AM CEST with 10 warm-up games. The main event will be at 5:00AM CEST.
How: Cards for the warm-up games will set you back €1.82 each while the cards for the main event are higher at €4.55 each, what with there being bigger cash on offer. The great news is there is a bingo offer in place with Buy 3 and get 2 Free across the entire session.
Bingo Promotions & Bonuses
Back to articles
Your feedback
Please enter your comment.
Your comment is added.
bridgetjones
08/03/22, 10:08:40 AM
You can win free bonuses in chat games too. There is a free bonuses tab in the lobby that give you info on all the different ways to bag a free offer.