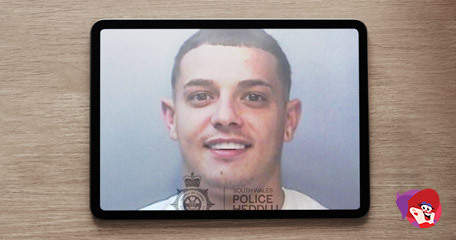 16 Previous Convictions For 41 Offences
A cocaine dealer from Wales whose use of the drug was dangerously out of control, has just been sentenced to almost 5 years in prison after an incident at a bingo hall in Morriston in April of last year.
The then 24-year-old Sie Parsons carried out a lengthy crime spree in just the one evening, starting at Castle Bingo in the town. From there he rammed a van after challenging the driver to a fight and crashed into a police car! The latter resulted in the law discovering his activity of buying and selling Class A drugs and possessing counterfeit currency.
Police only came across his "business" by chance, some three year after the criminal had been supplying Cocaine on the streets. Officers found stash hidden in a safe buried in the garden belonging to his partner's mother.
How Many Previous Convictions?
On April 4th 2020, a police officer on patrol in the Ponterdawe come across a Ford EcoSport with false number plates, with the ANPR highlighting that this vehicle had been in fact stolen just 2 months earlier from the main Swansea area. Pulling the driver over, the officer was told that the car was purchased from Sie Parsons, who was arrested later that same day.
Police officers conducted a search of Parsons home where they found 28g of cocaine worth around £1,300 along with four mobile phones and a set of weighing scales. Not admitting to stealing the car, the criminal insisted he was sold the car for just £300. Further homes linked to the man were later searched where even more drugs and counterfeit currency was found.
On August 28th, while out on bail, Parsons cut up a van and began swearing and using hand gestures toward the driver, who he knew as Jamie Moses. Later that evening Parsons challenged Moses to a fight outside a popular bingo establishment in Morriston. Moses stupidly agreed and went along with his brother-in-law, but on route he developed a puncture and pulled over. Parsons spotted him and rammed his vehicle into the van!
Parsons later sent texts to Moses telling him "Don't start something you can't finish, little boy" and gave him a warning not to give his name to the police. Less than two weeks later the police were informed Parsons was driving recklessly in a BMW. This led to a police chase and Parsons inflicting almost £3800 in damage to the police car.
Having 16 previous convictions for 41 offences including three dangerous driving, aggravated vehicle taking, seven batteries, two assaulting police officers, being drunk and disorderly, using violence to gain entry to a premises common assault, perverting the course of justice, assaulting an emergency worker, and multiple driving while disqualified, resulted in David Harris sentencing the criminal to 4 years and 10 month in prison.
Source: "Cocaine Dealer Rammed Man's Van After Challenging Him To Fight At Bingo Hall". Wales Online. January 13, 2023.
Bingo Society News
Back to articles
Your feedback
Please enter your comment.
Your comment is added.
bridgetjones
01/19/23, 07:01:08 AM
You'd think he wouldn't want to draw attention to himself being in that line of "business". What a fool!