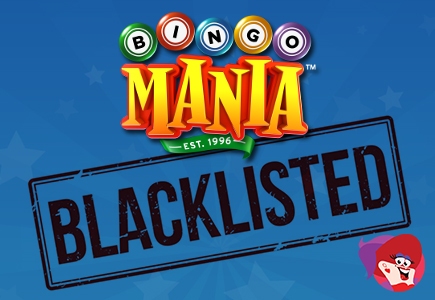 Bingo Mania
has landed on our blacklist, a spot they've earned fair and square. The situation is this, they shut down their affiliate program, which, with or without notice, is a breach of their initial contract with us and all other affiliates. In essence, they've taken the business we've sent their way and are not honoring the commission structure. This matters to you - the players - because it serves as an example of their poor business practices. If they aren't willing to pay their partners what is owed, it's a safe bet that they'll jerk you around too and LBB will not stand for it. It's for this reason, we cannot and will not recommend this rogue operation to anyone.
A bit more background... The truth is, they owed us commission payments for an extensive time period, which led to their previous blacklisted status. They recently reached out to us and made good on the outstanding balance to reestablish our relationship. We proceeded as if things were sorted out, only to notice that the affiliate website, KickAss Partners, was no more. You can see this for yourself if you click on the 'Affiliates' link at the bottom of the Bingo Mania website. Click the 'Become a Partner' button and you'll end up at a dead site.
This wasn't a decision that was taken lightly. In fact, we have made several attempts to contact them to no avail. We're a bit confused as to why they initially contacted us and settled monies owed only to turn around and take shady actions once again.
It is strongly advised that you opt for a better bingo site. Avoid Bingo Mania and its sister site, BonusBingo.com. They are part of the same group and are not to be trusted! Your best interest is at the core of what we do, so please be warned.
Bingo Society News
Bingo Warnings
Back to articles
Your feedback
Please enter your comment.
Your comment is added.