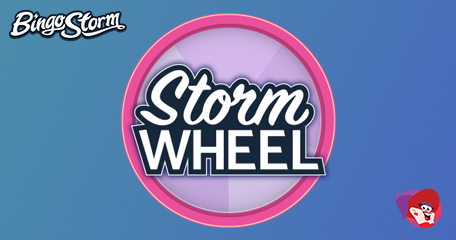 It's Raining Free Winning Opportunities!
Forget raining cats and dogs because thanks to Bingo Storm, it's raining real money prizes! Absolutely every bingo room where free games kick-off every couple of minutes plus the daily must drop bingo jackpots (and everything else besides), carry zero wagering requirements for hassle-free play!
Bingo bonuses are designed to give us more time to play and more chances to win, but usually those bonuses mean anything we do win is then hit with turn over rules. By cutting that red tape Bingo Storm have been able to build up a huge community of real players with one thing in common – they are winning real money prizes and never having a headache when it comes to cashing out their winnings!
Wave Bye-Bye to Boring Bonuses
If you're tired of misleading promotions and bonuses that tie you in to spending more cash than Bingo Storm is worth more than just a look! Get ready to grab your brollies because it's not only raining wager-free offers, but it's pouring with plenty of promotions too! Why play for £1 bingo bonuses when you can play for £4 in cash? Make your way over to the Free4U room to enjoy risk-free bingo games with real money win potential.
"But you can't win big when you play free games!" is a line I hear way too often and it's a completely ridiculous theory. Tell that to Bingo Storm players who not only have the chance to win a share of a fixed prize pot of £250 every Sunday, but they also have the chance to win £1K on Mondays too! All for gratis!
On top of the usual offers, you have some spectacular rewards too, including the Ace Club where perks are activated when you spend your first £1! Bonus spins will land in your bingo inbox daily with all winnings going straight to your real cash balance. WE CANNOT STRESS THIS ENOUGH…
…everything – absolutely everything at Bingo Storm, even the bingo tournaments, prize wheels, weekly rewards and cashback come as with no strings attached! There really is no bingo confusion with this site! You could win £1, £100, £1K or even £10K from free offers and bonuses and get to keep every single penny of it!
Highlights include:
Earn up to 15 Kaching bingo room tickets for free to win a share of a £50 community pot every evening
Earn up to 35 Big Bang bingo room tickets (worth £350) for free to win a slice of £10k every month
Earn 1% to 3% of monthly cashback, paid as real cash, on your losses
Trigger offers and guaranteed wins via the Bing Storm wheel
Deposits greater than £20 mean plenty of extras thanks to the weekly rewards scheme.
Welcome offer: Deposit and spend £10 and get 10 bonus spins and a spin of the Storm Wheel too! Banking options include PayPal and all major debit cards.
Promotions & Bonuses
Back to articles
Your feedback
Please enter your comment.
Your comment is added.