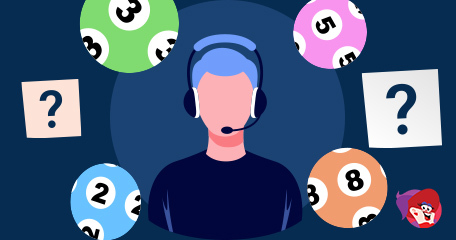 Getting Bingo Help in An Instant!
How to create an account, how to deposit money and how to reset log-in details are among the most common issues facing online bingo players, and while the answer may seem simple to seasoned ticket-dabbers, it's not always as straight-forward as it seems. Whether you've played bingo for a few years, a few decades, a few weeks or never before, there are always instances where you're going to need help…
…just the other day I needed to contact support because my mind went blank! I'd forgotten how to add a new payment method to my bingo account! Thankfully, live agents were on hand to give me all the help I needed.
Here you'll find a bingo glossary of all the frequently asked questions from the wonderful world of online bingo, along with their solutions and much more. If you can't find your problem and answer listed there are a few things you can do, the first is to make your way to the "contact us" page on the bingo website you're playing at and get help from the professionals.
Assistance can be provided through email (contact form or by sending a direct email), telephone (usually freephone in the UK) and sometimes live chat. Be mindful of the words "instant help" as this refers to a help room that is not only public but has limited hours. Instant help rooms basically run on 'post your problem and (sit back) wait for a reply' system, with other players also in the same position it can get a bit hectic at times.
Your Bingo Query Ends Here
In this first section we will focus on the registration process and what comes next. The issues you may face are limited and no matter how simple that sign-up form is, it can throw up a few unexpected questions!
Q: Do I Qualify for The Welcome Offer?
A: If you've recently registered and haven't yet made your first deposit, then, yes! Be sure to read the terms and conditions as welcome offers are time sensitive.
Q: Can I Opt-Out of The Welcome Offer:
A: Absolutely! Usually, the cashier has a box where you can opt-out of offers. If you can't find where to remove any bonuses, make sure you talk to support before you make that deposit as in some instances, bonuses are automatic. If you start playing with the bonus, they won't be able to remove it!
Q: Do I Need to Add My Mobile Number to Register?
A: Some need this, others don't. You'll discover this when registering. You can always go into your account settings at a later date and change it or opt-out of email/text notifications.
Bingo Account Queries
From tracking down that username to proving your income, these questions and their answers aim to provide a quick solution to your problem.
Q: What's My Username?
A: That pesky little username often likes to hide itself and when this happens, you'll only be able to find it by clicking that "forgot username" link. It's usually your email address but can often be something other than that too!
Q: How Do I Create a Bingo Account?
A: Bingo accounts are created when the registration form is complete. Your name, email address, home address and date of birth are required to complete that process. It can take a minute or so to save your details to the website but once this is done you can proceed to the lobby.
Q: Can I Change My Username?
A: That depends where you play! Tombola allows players to change their username via their own account, but only once. After this, username changes are done by request via live support.
Q: How Do I Reset My Username/Password?
A: Click that "forgot your password?" link and follow the instructions that will be sent to your registered email address.
Q: How Do I Opt-Out of News and Promotions?
A: By ticking/un-ticking the offers within your account.
Q: Why Do I Have to Send in Identification Documents?
A: To prove you are who you say you are and to comply with anti-money laundering regulations.
Q: Why Do Bingo Sites Ask for Proof of Income?
A: In the UK, regulations are in place to protect players from problem gambling. Proof of income is necessary to prove you have enough funds to gamble!
Bingo Payment Queries
It's all about the money, money, money in this section!
Q: How Do I Deposit Money?
A: You can add funds to your account by heading to the cashier and selecting your banking method. The next step is to decide on how much you want to transfer to your bingo account. Press the pre-set value buttons or type in your own amount.
Q: Why Has My Deposit Failed?
A: You may have put your details in incorrectly or may not have enough funds in your bank to make the deposit. Double-check your information and try again. You can always contact online bingo support for assistance.
Q: Are There Any Fees to Make a Deposit?
A: None whatsoever! You can make deposits at online bingo websites without having to pay any fees as long as you're using fiat currency. Using cryptocurrency, on the other hand, does involve transaction fees charged by your selected crypto wallet.
Q: What Payment Methods Can I Use:
A: That depends on where you play. Popular banking methods include Visa Debit, PayPal and bank transfer.
Q: Can I View My Transaction History?
A: Deposits, withdrawals and bet history may be viewed within your bingo account or the cashier.
Those Bingo Withdrawal Queries
In this section we focus on cashing out, why you can't cash out and bonuses/promotions that can restrict your ability to make a withdrawal. Each bingo site will have their own processing timeframes, ranging from just a few hours to as many as 10 working days, which is why you won't find the question "how long do bingo withdrawals take?" listed.
Q: What Are Wagering Requirements?
A: This is a term used to describe how much a bonus will need to be turned over before a withdrawal can be made. If a bonus carries 2x wagering and that bonus value is £10, you will need to play that £10 through 2x (£20) before being able to cash out.
Q: Where Can I See How Much Wagering I Have Left of My Offer?
A: The wagering requirements can be viewed within the cashier.
Q: How Do I Make a Withdrawal?
A: To cash out, head to the cashier and choose how much you wish to withdraw. Providing it is more than the minimum withdrawal requirement, you can request this right away.
Q: Is There a Limit to How Much I Can Withdraw?
A: If you have a large withdrawal request (jackpot win), some bingo sites have rules that state the total amount will be paid in monthly installments. You don't need to ask for monthly withdrawals, just type in the maximum amount and the operator does the rest.
Q: Can I Reverse a Withdrawal if I Change My Mind?
A: This depends on the bingo site and the licensing jurisdiction. In the United Kingdom the rules regarding withdrawal reversals have changed and this means that once a withdrawal has been requested, you may not reverse it.
Questions relating to games freezing, fair play, honest payouts, or how to make a bingo complaint should be referred to the bingo support team.
General Bingo News
Back to articles
Your feedback
Please enter your comment.
Your comment is added.
TinTinn
09/08/22, 09:09:34 AM
Very handy guide to have! All questions and answers in one place. I've bookmarked this page for future use.