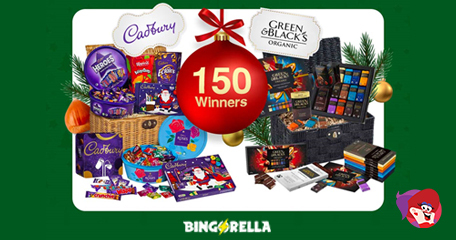 Did you know a typical household spends over £500 extra in December just on food. Over-indulging on Christmas treats is what us Brits like to do every year while lying to ourselves that the diet will kick in on January 1st.
According to a survey ran by Which (2021), the top 10 foods and drinks people overbuy every Christmas are as follows:
Cheese - 20%
Biscuits - 14%
Chocolate - 13%
Alcohol - 11%
Vegetables - 11%
Mince pies - 10%
Christmas pudding - 9%
Cream - 9%
Turkey - 8%
Crackers - 7%
Snuggly Season
You really can't beat tucking into mince pies, tubs of sweets and bars of chocolate while sat all comfy on the sofa in front of the fire watching a festive movie you've no doubt watched a million times before, but we are creatures of habit.
Bingorella knows all too well how much we like our comfort foods which is why they've come up with a seasonal prize draw in November, to not only give us all the treats we could possibly want to indulge in, but to save us some cash too!
Here's How It Works
The Christmas Draw is guaranteeing 150 winners this month with prizes of hampers and bonuses up for grabs, and all you need to do to enter is play qualifying games! Running until the 26th, entry into the prize draw is made automatically upon either depositing a total of £10 (or local currency equivalent) in any qualifying week or by wagering a total of £10 on any single weekly eligible game up to the maximum entries per entry task per week.
Weekly Eligible Games (Mondays to Sundays, inclusive):
Week 1 - 13th Oct to 19th Nov: Very Merry Christmas, Fishin Christmas Pots of Gold and/or Christmas Big Bass Bonanza.
Week 2 - 20th to 26th Nov: Xmas Cash, Sweet Bonanza Xmas and/or Sugar Train Xmas.
You must opt in to this promotion to be eligible. The minimum wager per game is £10 and the maximum is £50. The maximum number of entries that can be collected per game is five.
The prizes! First prize will result in one hundred and fifty winners in draw positions 1 to 150 is a 'Hamper Shop Voucher' for the winner to select a hamper of their choosing. If you're feeling in the festive spirit and you win, you can choose to "gift it on" to pass their prize to the next drawn winner in the sequence of draw winners. How charitable!
If you collect all available prize draw entries in a single eligible week (Monday to Sunday) by depositing £30 and wagering £50 on each of the three nominated eligible games for that week, you'll receive 6 bonus entries for that week and as a reward, you will unlock a spin of the prize wheel where there are bonuses and free games to be won!
Bingo Promotions & Bonuses
Back to articles
Your feedback
Please enter your comment.
Your comment is added.
bridgetjones
11/17/23, 10:11:31 AM
Christmas is about eating though isn't it. I feel more content once I've eaten and especially when it's cold outside. We worry from January through summer about having to look our best so it's good to left off some steam once in a while!