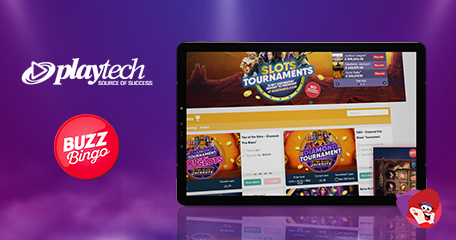 Buzz Bingo is crammed with slots, so it was no surprise to learn of a partnership between them and Playtech – one of the world's leading gambling technology companies. The deal, which has now been signed, sealed and delivered, will see the site's customers being able to compete for prizes via a new slot tournament leader-board product!
Taking part is as simple as jumping in on one of the games and playing to earn points alongside your winnings. Every win on the applicable slot game will see more points added to the player's tally and thus enabling them to climb through the rankings.
It's a points-based system based on a win compared to stake ratio and as ever, there are no wagering requirements! What makes these tournaments special is that every player has an equal chance to progress regardless of the value of their stake – there are no extra points for splashing the cash here!
James Frendo, Casino Director at Playtech, comments: "Tournaments offer a whole new way to engage players, as well as adding an extra level of enjoyment for players at no extra cost to themselves. The element of competition and the chance to win prizes adds a sense of anticipation for players, making every win more exciting. Also, because points are awarded based on the size of the win in proportion to the bet, players who prefer to stick to lower stakes are not disadvantaged, encouraging them to stay within their limits.
And, to promote safer gambling, Playtech have even enabled Buzz Bingo to set a maximum qualifying bet limit! On Wednesday, a tournament featuring the latest instalment in the Age of the Gods franchise; Glorious Griffin Ways Plus, will see players competing for a share of £60 in real cash and 70 bonus spins! Want to join in, it's as simple as 1, 2, 3;
Earn points with your in-game wins and watch as your wins are converted into leader board points.
Collect points based on win bet ratio plus any special points boosts for 10x and 25x your stake wins.
Stake amount and spin will have no impact on your points – it's your winnings that count!
Spinning New Stuff
Prizes won while playing will be credited as cash to your bankroll and the following prizes can be won on top of your in-game winnings:
1st: £30 cash
2nd: £20 cash
3rd: £10 cash
4th to 10th: 10 bonus spins each
James Frendo continued: "Ever since Playtech began working with Buzz Bingo following the brand's launch in 2018, they have been one of our most proactive partners in terms of adopting new tools and functionality, with some excellent results. We're really impressed with the drive and commitment the Buzz team has shown to make Tournaments happen – particularly the addition of the in-game widget, which the dedicated portal team has invested much time in delivering, allowing players to register for and follow the leader board without leaving the game environment."
The slot machines featured will vary from week to week with all of them being Playtech titles. The points system threw me a little so I did some digging and found this; if you were to stake £10 and won £50 that win would be 5x return which will then be converted as 5 x 100 = 500 points. A win/bet ratio of 10x will earn 1,000 points boost and win/bet ratio of 25x will earn 2,500 points boost.
David Swaine, Head of Digital Operations at Buzz Bingo adds: "Following a highly successful exclusive period for selected players, we're delighted to be bringing Tournaments to a wider audience and offering a key point of differentiation. A range of Tournaments will be available every Wednesday from midday to midnight and, with a dedicated homepage portlet and the in-game widget, it's easy for players to find the right one for them. With a chance to win a share of the prize pot, we're confident players will find Tournaments a doubly engaging and responsible way to play."
Source: "Buzz Bingo and Playtech Partner to Launch Slot Tournaments". Playtech. August 21, 2020.
Bingo Tournaments
Back to articles
Your feedback
Please enter your comment.
Your comment is added.
MadamMilly
08/25/20, 09:08:42 AM
Exciting new feature, but how long does each run for and how many spins are involved? There must be limits on one or the other or you could end up spending a fortune!
Exciting new feature, but how long does each run for and how many spins are involved? There must be limits on one or the other or you could end up spending a fortune!
Show more