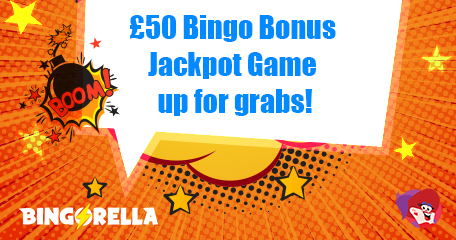 There has been a steady decline in free no deposit bingo bonuses recently and we can thank the UK Gambling Commission and the Government for a hike in tax (point of consumption tax). Basically, the tax is applied to the operator when dishing out free bingo bonuses, which is why the majority have ditched the freebies in favour for a deposit bonus, but it's not all doom and gloom…
…want to know why? More and more online bingo operators are opting for free bingo rooms instead of free bonuses; this limits the amount of tax they pay and increases interest. Speaking of interest, you may be interested to know that Bingorella is one of the online bingo brands which has increased its offering of free bingo games – and not just for newbies either.
Freebie Fun:
Bingorella has plenty of free bingo games, some for newbies and others for depositing players, but you don't have to pay a thing to take part in these games. There's a freebie game starting every 8 minutes from 9am until 6pm with a guaranteed jackpot of £1 for every game, these games are available to players that have joined in the last 72 hours or have made a deposit in the last 7 days. These games are a great way for new players to dip their toe in and learn the ropes of the game in a pressure-free and friendly environment!
If you want to enhance your chances of a big win and choose to become a funded player, then there's loads more free games waiting to be discovered. There is a £35 jackpot game running every day at 8pm for all players who have made a deposit of at least £10 in the last week, these games offer the chance to win something tasty to boost your gameplay and bankroll. Once you make a deposit of at least £25, there's is £10 jackpot games every 15 minutes daily between the hours of 6pm - 8pm. However, all eyes are on the biggest free bingo game – the weekly game which features a £150 jackpot. Every Friday at 8pm, the big daddy of free bingo games is open to all players who have made a single deposit of £100 in the last 7 days.
Gimme More!
Even more free bingo games come with the 'on the house' games; these are played every 30 minutes throughout the day. To qualify for these games, a deposit of at least £5 is required within the last 3 days. Meet the criteria? Great! Now you can take part to try and win a share of £240 in bingo bonuses every day.
Last but not least is the 'freebie' – a popular promotion which run every evening at 8.45pm. There are three chances to win in the 90-ball games; £10 for the one-line, £15 for the two-lines and £25 for the full house. Your account needs to be funded and you need to have registered during the past 180 days for this one.
Bingo Promotions & Bonuses
Back to articles
Your feedback
Please enter your comment.
Your comment is added.
Member's Feedback (1)
JaniceJ 06/24/19, 06:06:02 PM
There's a free bingo section within the lobby and games which offer bonus spins too – but these cost a few pence a ticket.