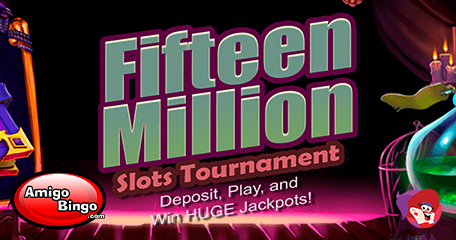 Random and Leader Board Prizes Up For Grabs
Twenty-three years in online bingo is one heck of an achievement and Amigo Bingo have done just that – they've delivered top quality bingo and games, plus big prize-paying promotions since the year 2000! When you think of 23 years ago your mind automatically thinks the 80's, right? As sad as that is, now's not the time to get gloomy, for we're about to tell you how to be a big bingo winner roomie!
Each and every month a new set of offers are rolled out including the famous no-risk bonus spins, free bingo games, Bitcoin rewards, daily bonuses, a player appreciation freeroll, team bingo, knockout lotto, Birthday bonuses and heaps more!
Everything you need to know about the latest Amigo Bingo promotions are on this page so bookmark it, because you would be walking away with a share of over $15 million in slots jackpots this month or a slice of $400K in two fun-filled contests. You ready?
February's New Promotions
#1 - The Ultimate Foodie Bingo Tour is packed with $250K in cash and prizes, all will be won in addition to all other prizes up for grabs, but how does it work? Simple...you take part in the contest by depositing and playing and by doing that you earn points and points mean prizes!
Each contest game win in the special tournament room gets you 1 point into the weekly contest.
Every $10 wagered on contest games gets you 2 points into the weekly contest.
Each deposit made within the weekly contest gets you 3 points into the ranking.
Weekly winners will be selected by the top 5 on the leader board (based on points) or by a random draw to give everyone the chance to win – not just those who win and deposit; the latter will depend on the contest week. Game card prizes range between 25c and $1, with jackpots of up to $10,000 cash to be won and there's a special 'Buy 15 tickets Get 5 Free' deal too. Not only that but you can buy cards for the games with cash, winnings and bonus funds.
#2 – The $150K Roomie Love Weekend Promo is in celebration of it being the month of love, with $150K guaranteed to be won! To win your share of $25K in guaranteed jackpots and prizes, all you need to do is deposit, play and win…it's that easy! Well, the winning isn't easy, but the taking part is!
Play loved-up bingo games from Friday to Sunday where each event offers a whole hour filled with fun as Amigo Players dab to grab $10,000, $5,000 and $2,500 in coverall games, followed by $250-$500 multipart guaranteed seeded games! All bingo games play for a low cost of 50c to $1 per card, plus to make this offer even more incredible, a 'Buy 30 get 5 Free' offer will be running throughout!
#3 – The $150K Circus is back by popular demand and it's packed with guaranteed jackpots and pre-buy specials! As with promo #1, you must deposit and play to be in with a chance of winning.
Each contest game win gets you 1 point into the weekly contest.
Every $10 wagered on contest games gets you 2 points into the weekly contest.
Each deposit made within the weekly contest gets you 3 points into the ranking.
#4 – No Deposit Spins For All: Log into your Amigo Bingo account every Wednesday and Sunday to receive 25 bonus spins on the machine of the day. No deposit needed!
The Regular Offers
Daily Reload Bonus: Every day of the week there are bonuses to be had when making a deposit. On Saturday's for example, a mega bonus of up to 300% will be credited!
Free Bingo Room: Play free bingo games to win big bonuses. The rock 'n' roll freebie room is open 24/7 and even features fun chat, quizzes and weekly contests!
Bitcoin Rewards: Specifically for Cryptocurrency users! Receive 30 bonus spins on Bitcoin Bob, 1 Team Bingo Entry and 200% bonus on top of all regular bonuses, up to $500 (in bonus credit), every ten deposits and benefit from $0 payout fees!
Crazy Slots Bonus Day: Play Amigo Bingo's famous Parlay Slots and minigames with bonus money as well as cash and winnings from Monday to Sunday! Available for a limited time only.
Player Appreciation Freeroll: Depositing players are placed into what's called a player appreciation freeroll, which is a free event kicking off every Wednesday at 7pm for the chance to win lots of prizes! Qualifying players get to play 10 free guaranteed games, each paying cash and bonuses! This free promotion pays over $1K in cash and bingo bucks every month!
Team Bingo: Join a bingo team and get the chance to win even more cash and bonuses! The more players dabbing tickets, the better your odds of winning!
Knock Out Lotto: Deposit $30 or more Friday to Wednesday to receive a free (bingo) lottery ticket. Send your (5) numbers for the chance to win up to $100 bonuses as an extra on Thursday.
Birthday Perks: Every first of the month the roomies with birthdays that month will get entered into an exclusive freeroll event. Not only that, but everyone will get a minimum of $50 bingo bucks completely free on their Birthday – and there's absolutely no deposit needed.
Cashback Bonus Day: Every Thursday, receive 20% (bonus) of the total you deposited the previous week from Thursday to Wednesday. Example: You deposit $30 on Friday, $40 on Sunday, $100 on Tuesday and $30 on Wednesday, that gives a total deposit of $200. This works out as $200 x 20% = $40 bonus back credited on a Thursday.
New Player Offer
Our readers can get an exclusive offer when signing up, an offer not available anywhere else – guaranteed! Fill in the registration form, add our special code: LBB50 and get a free trial bonus of $50 plus 50 bonus spins on top!
Want more? Then you certainly won't be disappointed with what we tell you next! There are bonuses to claim on top of all the other offers you see above, courtesy of the loyalty program. From deposit 3, the rewards scheme kicks in with up to 800% extra bonus funds awarded on every deposit you make.
Good luck LBB'ers! Hopefully we will see your name on the February prize board very soon!
General Gambling News
Back to articles
Your feedback
Please enter your comment.
Your comment is added.