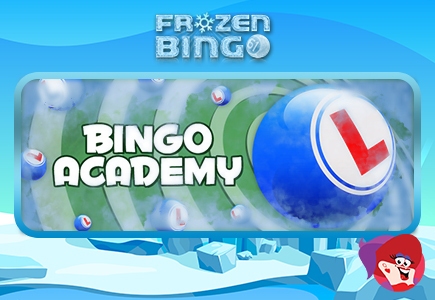 Forget brownies, the girl guides and the league of Ovaltineys, because there's a new academy waiting to welcome you into its ranks and it's all thanks to
Frozen Bingo
! The Bingo Academy is a place for you to learn everything there is to know about online bingo; from how to engage in chat with the friendly moderators (CM's or chat hosts) to understanding how chat games work.
This academy is designed for new players only, so if you're already a member, you'll already understand the inner workings of the bingo community. As soon as you register, you will be granted two full days access to this feature, where you can not only chat with other players, but you will also be able to play free bingo every 15 minutes to win real cash prizes!
In every game, there will be three chances to win; any one-line, two lines and a full house. To find this special room, head to the '
free tab
' within the bingo lobby.
Intrigued?
If you've gotten this far, the chances are you're eager to find out more. The site is a hub for all thing's bingo and games, so not only will you find a
huge choice
of bingo rooms, but lots of different guides to help ease you in gently. Getting started gives you the basics on what you
NEED
to know before playing bingo anywhere online...
...from how to start a game to buying your bingo tickets. There are
many variants
(versions) of bingo games too, so if you're a little unsure on how to play, here's some useful information:


90-ball bingo is the traditional bingo game, where at least three prizes will be won in each game; 1 line, 2 lines and a full house. Some games at Frozen Bingo award prizes for those waiting on one or two numbers when the full house is called – this is known as 1TG and 2TG prizes.


75-ball bingo comes in two varieties here; the game where you have five lines and five prizes and the one where you match the pattern to win the single prize on offer.


52-ball is relatively new to the Dragonfish brand; instead of bingo balls, a deck of cards is used. Each hand has five cards; be the first to match all five to win the cash prize.


What about bingo lingo? Don't get
lost in translation
with the '
shortened
' words in chat! To maximise your chances of bagging a chat prize, you must understand how online bingo players communicate; sounds a little difficult but once you get started, it's like riding a bike! A few
popular
terms include:


LOL: laugh out loud


BRB: be right back


GL(A): good luck (all)


IMHO: in my honest opinion


JK: just kidding


L8R: later


You will find many more helpful hints and tips, as well as many other free games to take part in over at Frozen.
Well, it's time to go make a cuppa, so maybe I will
C U L8R
!
Terms and conditions apply
.
Bingo Games
Back to articles
Your feedback
Please enter your comment.
Your comment is added.
Member's Feedback (1)
JaniceJ 03/21/19, 12:03:46 AM
I started playing through the academy and it taught me so much.